It all began in May of 2006, when the first ever Mr. Hyphen was crowned. Still today, the memory of Miss San Francisco Chinatown 2006 placing the crown on my head and giving me the Hyphen Blinged Out Belt still floats golden and beautifully hazy in my mind.
The much heralded competition was held at the Asian Cultural Center in downtown Oakland, California and attracted the most visionary male Asian American activist contestants from around the country to compete pageant style for the title. Hosted by the riotously funny Ali Wong, six of us partook in what would become one of the most intense pageants of talent, fashion, and intellect the Asian American world has known.
Over the course of two hours, fellow constestants Kevin Liao, Alain Dang, Mario "Nomi" DeMira, James Espinas, Brian Wang, and myself gave our best in hopes of assuming the title of Mr. Hyphen. We strutted our stuff in fashion provided by local designers, we shared our talents, we answered intense questions from a panel of judges and the audience, and we shared our passions for community leadership.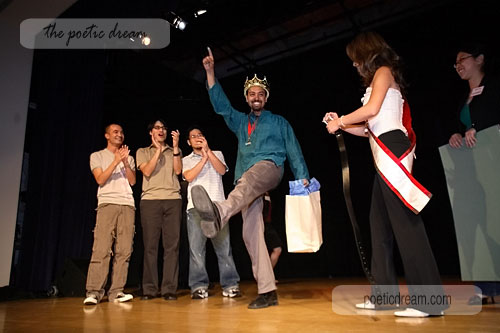 Accepting the Crown and $500 Check for Project Ahimsa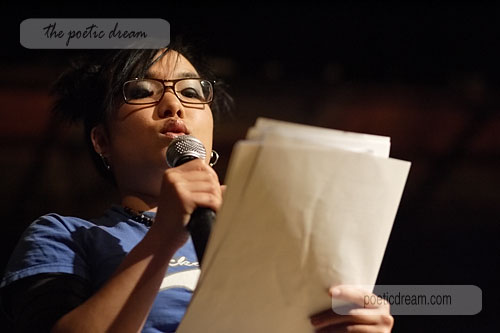 Ali Wong kicked ass as the MC for Mr. Hyphen 2006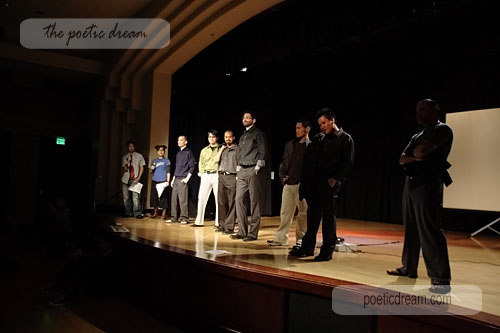 All the contestants dressed to the nines as part of the Fashion Segment of Mr. Hyphen
The competition was fierce and the audience was ruthless in egging us on to outdo one another. In the end, the very core of who were are as men was exposed for all to judge and determine who was entitled to the crown of Mr. Hyphen…I really had no conception that I could be deemed a winner, especially amidst a crew of such talented guys. It all came down to the QA, where we were each asked a series of questions related to our passions and being Asian American. For me, it was a chance to talk about what it really means to be American and Asian, and the importance of working and serving the cultural roots of our identity. I talked about what few Asians these days are talking about: how many of us are lucky to be American because we have been through the struggle of living as illegal immigrants before naturalizing? How precious a gift is that? Sadly, with all the focus on illegal Latino immigrants, Asians have been curiously silent about our own connection to their plight, and how lucky some of us have been to have been given opportunity to prosper immensely here. I also talked about how important it is for Asian Americans to physically return to where our parents have come from and not only see the sights and stay close to our families, but work as activists in the field, to see and touch the issues that are affecting Asia today: industrialization, the environmental impact of hyper modernization, socio political injustice, and the impact of technology everywhere.
Ahh…Hyphen Magazine, our beloved Oracle...who else could put on an event where we men could voice our perspectives on the issues that matter? I must say, I love being Mr. Hyphen mainly because I love Hyphen Magazine…what is not to love?
Fast forward 5 months from that seminal day…Upholding the title of Mr. Hyphen: Sexiest Asian American Male Activist Alive hasn't been easy but it has been glorious. It requires a daily re-evaluation of what I am doing to elevate myself to this incredible bestowal of title and prestige. It requires the evergreen expression of all the best that Mr. Hyphen represents: activist leadership in the Asian American community, eclectic style, and a vision to make a positive difference in the world. It has required me to accept the swooning masses, my Asian American activist peers looking on with respect and covetous disdain, and the paparazzi that follow me with relentless furor.
I know that I am setting the stage for Mr. Hyphen 2007. Perhaps the future Mr. Hyphen is reading this blog entry right now. I hope so, because a one year reign is just too short…and the perks are many. So, to demystify the enigmatic world of Mr. Hyphen, I have decided to share my thoughts and ponderings here on the Hyphen blog, to give you insight into what it means to be Mr. Hyphen.
Ill be writing more, but until then check out my site and the music education charity, Project Ahimsa, that I represent and love...Winning Mr. Hyphen resulted in a $500 check for Project Ahimsa and much appreciated exposure for our charitable work around the world.

Me teaching tabla to street children on a Project Ahimsa trip to India in 2003

Instruments donated by Project Ahimsa to street children in Kolkata, India
Until the next post...
Robin Sukhadia - Mr. Hyphen 2006/2007