From Weekday Lawyer to War Lord: "The Shannara Chronicles'" Desmond Chiam Makes a Case for the Magic of Asian Elves
Christian Ting - November 16, 2017
The dark, enchanted world of "The Shannara Chronicles," a mix of post-apocalyptic and fantasy elements, has been gaining momentum as its second season moves ahead on Spike TV. With elves, demons, and plenty of magic scattered throughout the Four Lands, another entity hopes to seize control — the indomitable General Riga. The actor bringing this ruthless character to life, Demsond Chiam, offered to step out of the Four Lands to share the magic behind the madness.
The LA–based actor and former Singapore Cleo Bachelor of the Year shared his upbringing growing up in Melbourne, turning down a traditional law career, and being the first Asian elf on screen. Did I mention he's an avid b-boy too? Check out my interview with the multi-talented Desmond below. From everyone at Hyphen, we'd like to thank Desmond for taking time to chat with us. You can catch him purging the magic from the Four Lands on "The Shannara Chronicles" on Spike TV every Wednesday, 10 PM ET.
—Christian Ting, Hyphen Film and TV Editor
---
Image courtesy of Ted Sun.
Christian Ting: So you're currently starring as General Riga on "The Shannara Chronicles" on Spike. What originally drew you to the role? How has your experience been with the show?
Desmond Chiam: I think what initially drew me to the role was my background with "The Shannara Chronicles." They're a set of fantasy novels I used to read when I was around 10 or 12 years old. But beyond my familiarity with the series, the character description is what really stood out to me as something I really wanted to do. General Riga is described as bold, powerful, charismatic, cunning yet still charming — and that was not a packet of adjectives that I had the chance to apply to myself in my acting career. It wasn't the packet of words that's usually offered to an Asian person. Getting that character description through to my inbox, I was like, "Awesome, let's do this."
Working on set was amazing. We filmed in New Zealand and basically had a lot of "Lord of the Rings" old hands working with us. Their level of expertise, coupled with the beauty of the location, was incredible. They really constructed this amazing fantasy world. 
CT: One thing I immediately noticed watching some of the episodes of "The Shannara Chronicles" is how diverse the cast is. Do you feel like the diversity and progressive casting choices have helped the show stand out and offer something different? What about the universe is fascinating to you?
DC: Definitely. You and I both know representation matters. Malese Jow and I (and I have to do some research on this) — I'm fairly certain we're the first two Asian elves ever on screen! Elves are a mythology deeply rooted in Nordic mythic histories and I know so many Asian kids growing up loving the trappings of Western fantasy but never looking at these worlds and being like, "I would play this character." But now that we've brought these characters to screen, I think it's fantastic. The peopple of color in these stories are not reduced to one-note characters. We're fleshed out, with different motivations and backgrounds — it brings a richness to the universe. 
CT: Like you said, General Riga is described as both "charismatic and dangerous." What went into the preparation for this larger than life character? What's your workout routine like?
DC:  I'm very dangerous in real life, but I had to work on the charisma part (laughs). Actually, I'm not dangerous at all. I was fortunate to train with a small local stunt team headed by another Asian actor, Yoshi Sudarso. I don't have a martial arts background, so a lot of it was useful knowledge. The rest? Leaning into villains of the past I liked — villains that worked. 
How do we make a villain relatable? On the physical side? There was a certain aesthetic they go for, so we had a personal trainer on set every day. I got there late because I was a late cast addition. But we were working out every single day for a month straight. It destroyed me. If we weren't filming, we were expected to be in the training room. I was the fittest I've ever been in my whole life. 
CT: It sounds like more of a boot camp than a training camp for actors.
DC: (laughs) Some of us actually felt more comfortable in our training room than in our trailers or the green room! It became our home on set.
CT: Picking up on something you mentioned early about not having a martial arts background, was there an expectation or assumption you had a background in kung fu or in martial arts?
DC: You know, I haven't actually hit on that in an absolute sense that if you're Asian you must know martial arts. But what I noticed, for Asians, is that it's definitely a plus and that's a factor of the kind of roles we've been given. If you look at two of the leading roles for Asians in last couple years, both of them have required some sort of martial arts background. I would say a good 40 percent of jobs I pursue have asked to list your martial arts and training background. Nowadays, I'm more grounded in it as a reality of the industry that you need to know at least some of it. It's not a huge disadvantage to not know, but there is that sense that it's there.
CT: You're originally from Melbourne, Australia — a continent known for housing some of the most dangerous animals in the world. Animals that would be no match for General Riga, but what was your upbringing like? 
DC: In Australia, I was fortunate to be friends with my mentor, a bloke in Australia named Christopher Pang. We met as extras on my first acting job ever and we've been friends ever since. There weren't many Asians on screen in Australia, and he landed this one big lead role in "Tomorrow, When the War Began" (2010). I looked at that and was like, you know, if he can, then maybe there's definitely room for two or three of us in Australia (laughs).
But as far as how I got to that point, I had a standard, traditional career as a lawyer and it really wasn't working out. I was miserable. Armed with nothing but two ads and a play I did, I thought, "You know, maybe I can make a living out of this..." I quit law, signed up for an acting class, and the rest is history.
CT: That's so compelling because it transcends both Asian American and Asian expectations all across the globe. The idea of normalized expectation of ABC career of lawyers, physicians, and you in full living color to live that life and to be behind that desk, telling yourself, "I'll try something else."
DC: I'll be honest with you. It really was a complete 180 for me. For the first three years of college, I literally did not know creative careers existed. There were no options for me. It was be a doctor, lawyer, engineer, or a commerce student. I literally thought those were the only four options. I didn't know creative arts were a choice at university. I didn't know you could be a photographer or an actor. I thought there were dynastic things you were born into an that it was my dynastic thing to become a lawyer. It was only when I came to America and took up dancing that I realized I could be creative.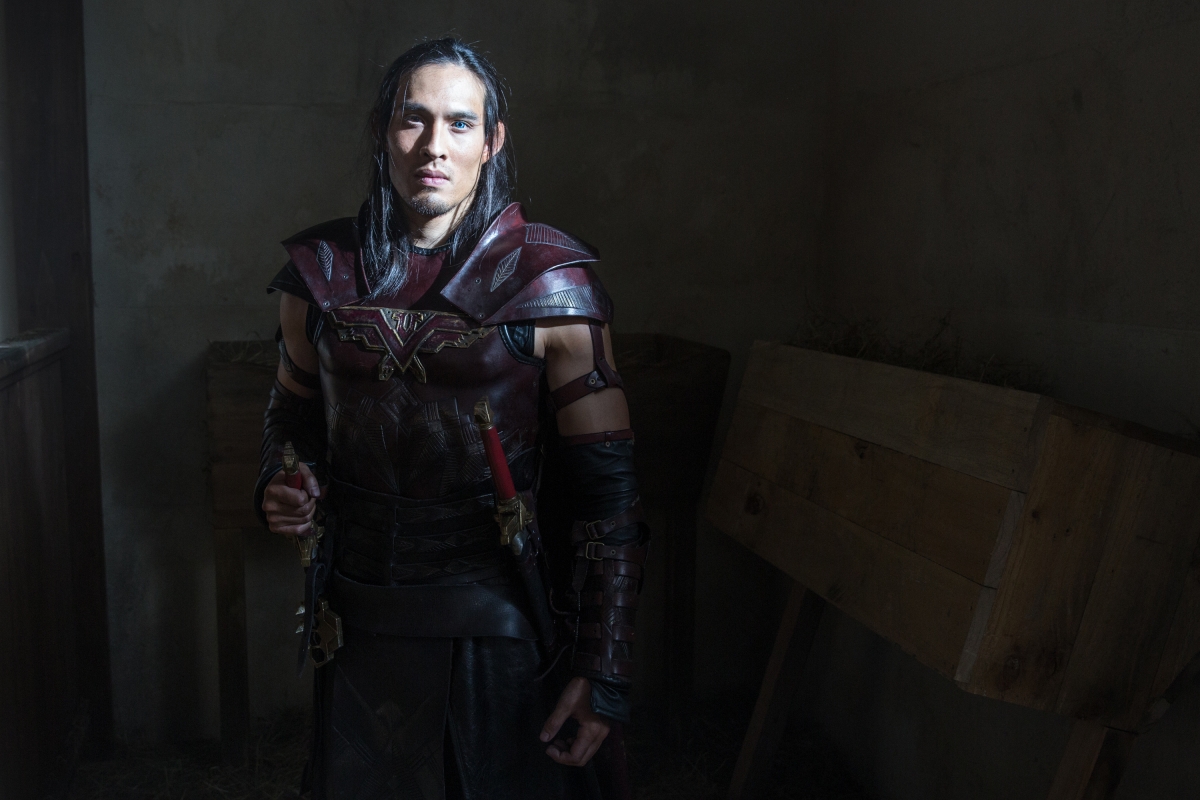 Image courtesy of Kirsty Griffin.
CT: As an Asian Australian working in Los Angeles, how would you describe the state of Asian representation on television right now?
DC: It's funny because Christopher and I moved over here because we decided there was a cresting wave of Asian America representation in the States. There really wasn't space in Australia for more than two or three of us on screen at any particular point. We saw shows like "Fresh Off the Boat," "Master of None," and the whole YouTube renaissance, which was very Asian American driven. Seeing all of that happen, we knew we had to get to the U.S.
Things are better than they have ever been. There's still far to go, of course, but with "Crazy Rich Asians" coming out and "Shannara" casting only people of color for their second season, all kinds of things are happening right now that are very, very uplifting. Having said that, having the door open in America really opened the floodgates overseas. In Australia, there's a few different Asian American ensemble pieces, like "Ronnie Chieng: International Student" (who I went to law school with) and a law show about an Asian Australian family. Seeing America lead the charge as far as diversity goes is great.
CT: What are some of the ways you believe you can make an impact? You also have a background in screenwriting from the University of Souhern California. In the future, would you like to write in addition to acting?
DC: Absolutely! Chris and I are working on something right now, an Asian Australian story. It's a take on quite a serious issue I won't say too much about it yet. But aside from that, you write what you know. When I was in school for screenwriting, the best advice was to write what you know. Borrow from truth. Take your truth and put it on page. It's eye-opening to see on a systemic level how our experiences are rendered on page.
I remember a very distinct experience I had at school where I had to write a scene based in some cafe, but I set mine in a boba tea shop. My classmate wrote hers in an English cafe shop and our teacher had no problem. But when he got to mine, he couldn't understand. He said it wasn't real for him. That's when I realized there are systemic things, gaps in knowledge that an Asian writer has to overcome in order to get his or her experiences onto the page.
CT: You mentioned dancing earlier. With a background as a b-boy, as well as law school, you come across as a true jack of all trades. What are some of your other unique hobbies?
DC: I'm such a geek. I play so many video games. Me and a bunch of other Asian Australian actors are all wrapped up on Destiny 2 right now. I go to Comic-Con and I still dance — it's my safe space. It's a part of my career, but adjacent. If acting ever gets too much, I can retreat into dance and clear my head as a purely creative thing. Those are the main ones.
CT: What future projects currently in the pipeline?
DC: There's a Chinese co-production going on called "The Chronicles of Anatta" (which I know sounds phonetically similar to "The Shannara Chronicles"). It's like a time-travel, sci-fi story. There's also "Magic Camp," which is coming out next year. It was fun because I play a magician and I was filming at the same time I was doing "Shannara." It was funny because I was going from a human who does magic for a career to someone who is anti-magic, like "I will kill anyone who kills magic" — there was a fun little irony there.