GALAXXY: The Asian American Arts Alliance's 25th Anniversary Gala
Melanie - November 5, 2007
It was not a regular Hollywood or Manhattan red-carpet affair. This time the stars lighting up the night were proudly representing a demographic: Asian America. From our young and hip screen stars like Kal Penn (special honoree) and Jason Kyson Lee to those who've pursued music careers such as Bora Yoon and DJ Rekha, this was one evening filled with talented people from all walks of life that can serve as inspiration to a generation with more than enough visions of Britney, Paris, Ashton, LeBron, and Jake Gyllenhaal to go around. For once Asian Americans and several New York icons celebrated the community's achievements and growing representation in the arts, and I caught up with some of them to reflect on their different paths and the event itself.

Former New York Times Editor Gwin Joh Chin takes the podium before a DVD tribute to Willa Kim's achievements.

The evening's emcee was Azhar Usman, an outspoken Muslim comedian who thinks the world of Kal Penn as an actor. Usman remarked that Dave Chappelle will still be talked about 50 years from now while the likes of George Lopez and Carlos Mencia are not well-regarded in the comedians' circles.
"The bottom line is our community is generally under served, but we think that the cultural arts are a very important part of giving our communities a voice. Tonight you won't just see Chinese, Japanese, Korean, but maybe 23 different diverse groups and many different languages."
– Rockwell J. Chin, Board President of the Asian American Arts Alliance.

Will Lee from TMZ.com with media hostess extraordinaire Liliana Chen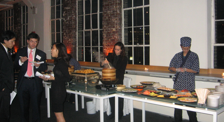 Reporting and photos by Rikki N. Massand.