Abigail Licad and Cathlin Goulding
Ten next-gen Asian American writers discuss the authors who influenced them.
Abigail Licad and Cathlin Goulding - May 15, 2012
By Cathlin Goulding and Abigail Licad
To commemorate Hyphen's 10th year in print, we selected 10 emerging young authors from various genres and asked them to reflect on writers they admire. Their responses attest to the depth and richness that has informed Asian American writing, as well as the exciting directions toward which Asian American literature is expanding. We can't wait to see what this newest generation of writers delivers next.
Here a sampling of 2 of the 10 writers we selected:
Two poets and a critic discuss the current state of Asian American poetry
Abigail Licad and Cathlin Goulding - November 5, 2011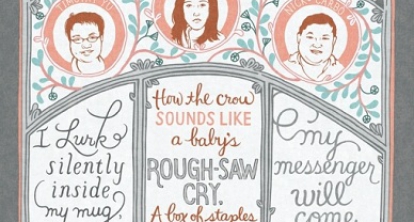 With so many poetry-phobes who claim to just not "get" poems, we decided it was high time to devote some much-deserved attention to poetry.