Audrea - February 22, 2009
I'm late. I know. We're a month into the new lunar year, and here I am talking about it like it was yesterday. But who's to say that this is dated? These winners are still delicious. And, my photography will promise to reignite your celebratory spirit! So, let's get to it...
Chinese New Year in NYC is always a storm of family and festivities. For many, the opening of the new year is celebrated at the NYC Chinatown parade.  The event itself is a magnet for crowds of old school Chinatown folk, children, the culturally curious, and tourists. It's a guaranteed photographic wonderland. This parade is a representation of New York's Chinese. The programming, the police enforcement, the people, the sanitation, the FOOD -- they're all snapshots of local culture.
So, I took the time to rally the constituency to find out what people were eating on the parade ridden streets of Chinatown. The votes are FINALLY in, and I've got to say, this is a list of greats.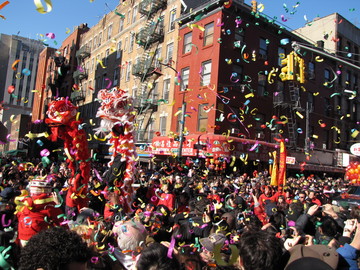 Audrea - February 10, 2009
I was at a party the other night, huddling in the corner with a few
friends, protecting my sampling plate of homemade Japanese culinary awesomeness. The funky-spunky girl that we had just befriended rushed over with a call to action: "You have to see
what's going on back there -- they just broke out a big jar of wine with
snakes in it."  Naturally, I cared. And, naturally, I pushed my nosy
self through the crowd. Centered in the room, sitting on a little footstool, was
a big jar brimming with Chinese wine, Chinese herbs and two rattlesnakes.
At its core, this was something culturally unfamiliar. I barely see snakes, let alone in something I plan on drinking. But I try to understand before I judge.
The
owner of this infused wine is Tamio, a friend of my family. He's one of those
foodie adventurer guys that doesn't identify with being a foodie. You know, the kind of guy who makes statements like,
"Yeah, I'm meeting my friends to have dinner at a cat restaurant,"
without expecting you to flinch. (This really happened, and I was all
teeth-clenched and wide-eyed inside my head.)