Thursday, March 9 & Saturday, March 11 – Oakland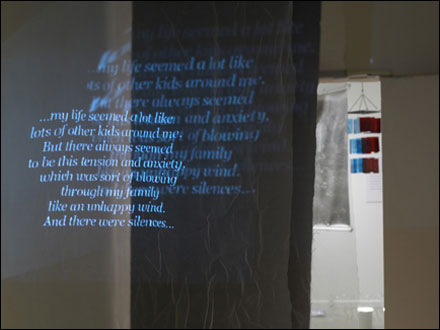 Still Present Pasts is a multimedia exhibit of Korean American artists about the forgotten legacy of the Korean War. Opening program and reception today, including an opportunity to meet California oral history personalities and project artists. Performance of Korean drumming by Oakland's Korean Youth Cultural Center. Artists' Talk this Saturday. (6-8pm opening reception, artists' talk Saturday, March 11 1-3pm. ProArts Gallery, 550 Second St., Oakland. 510.763.4361. www.stillpresentpasts.org, www.proartsgallery.org. Gallery hours: Tues-Fri 12-6pm, Sunday 12-5pm. FREE).
Friday, March 10 – SF
Join the Asian and Pacific Islander Wellness Center in their annual public event promoting physical, mental and sexual health for API women. Free wellness services from acupuncture and massages to STD screenings. (4-7pm, API Wellness Center, 730 Polk St. 4th Fl., SF. 415.292.3400. www.apiwellness.org. FREE).
Friday, March 10 – SF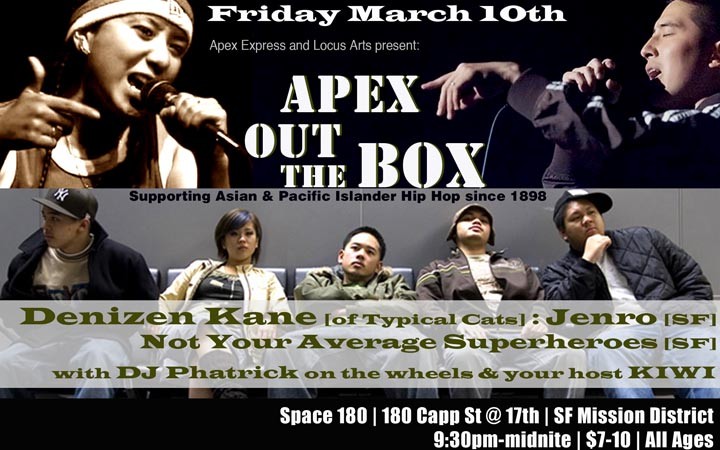 The bimonthly API hip-hop showcase APEX Out of the Box features Dennis Kim, aka Denizen Kane, Jenro and Not Your Average Superheroes. Presented by Apex Express 94.1 KPFA and Locus Arts. (9:30-midnight, Space180, 180 Capp St., SF. www.locusarts.org. $7-10).
Saturday, March 11 – Oakland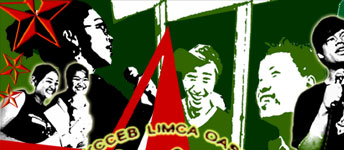 Get Hyphee for Education: Join Asian and Pacific Islander Youth Promoting Advocacy and Leadership (AYPAL) to support their More Funding for School campaign and learn more about the William's Settlement that mandates every public school student should have instructional materials, safe and decent school facilities, and qualified teachers. Free food, educational booths, live performances and music. (11am-3pm, Fruitvale Transit Village, 34th Ave and International Blvd., Oakland. FREE).
email events to: momo [at] hyphenmagazine.com.
Visit www.manja.org for up-to-date API arts events and news in the SF/Bay Area.