Wednesday, May 3 – Oakland
Oakland Chinatown Community Organizations convene mayoral and District 2 candidates' forum. Candidates who have confirmed their attendance includes Ignacio De La Fuente, Nancy Nadel, Pat Kernighan, Aimee Allison and Shirley Gee. (5pm-7:30pm, Lincoln Square Recreation Center Gymnasium, 250 10th Street, Oakland. www.ebaldc.org. Free).
Wednesday, May 3 – San Francisco
Japanese Cultural and Community Center of Northern California hosts "Save Japantown Workshop" for the 21-41 Young Professional Networking group. The evening will start with a brief update on the sale of Japantown properties from the view of sansei and yonsei, then we will break into small groups to learn what would bring more young people to SF Japantown. (6pm, 1840 Sutter St., SF. RSVP required: 415.567.5505. www.jcccnc.org. Free).
Saturday, May 6 – SF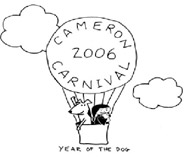 This will be the 56th annual Cameron Carnival. Cameron Carnival is an intergenerational activity where adults and youth work together to put on a carnival with concessions designed by youth, dunk tank, hot meals,
silent auction, homemade bake goods and more. Proceeds help to support our summer programs for youth. Cameron House is a faith-based community organization serving the changing needs of Chinatown and the Asian community of the San Francisco Bay Area. (11am-7pm, Cameron House. 920 Sacramento St., SF. 415.781.0401. www.cameronhouse.org. Free).
Sunday, May 7 – NYC
Kick off Asian Heritage Month with the 27th Annual Asian Pacific American Heritage Festival at Union Square in New York City. The Heritage Festival is the largest Pan Asian outdoor event on the East Coast. (noon-6pm, Union Square Park, NYC. www.capaonline.org. Free).
email events to: momo [at] hyphenmagazine.com.
Visit www.manja.org for up-to-date API art events and news in the SF/Bay Area.