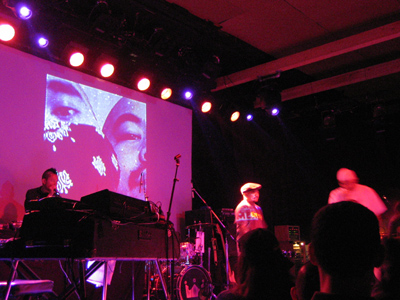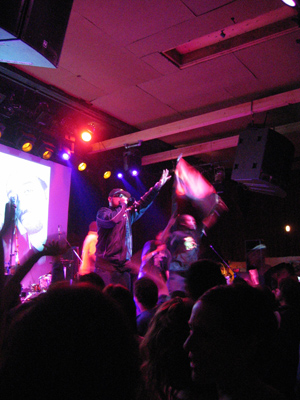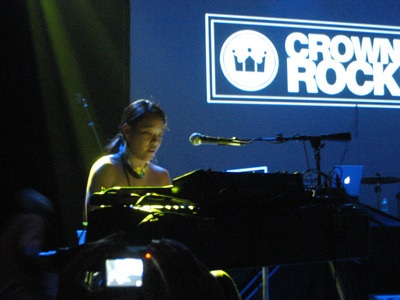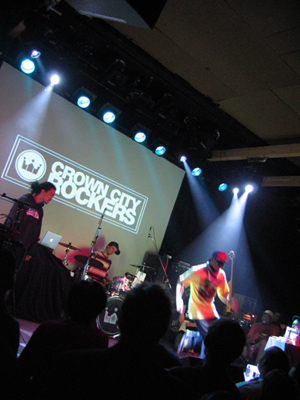 Was it a coincidence that every act had at least one Asian person – actually, Filipino person – in it?
The (Asian) line up was Native Guns – MCs Kiwi and Bambu – who'll be featured in our next issue.
Then there was Jern Eye, an MC from Lunar Heights.
And Crown City Rockers. Kat, the keyboardist – what can I say? She is a-m-a-z-i-n-g.
There were also break dancers, who all appeared to be Asian.
In Hyphen's Issue 9 (just out), I wrote an article about Asian krumpers. They're Filipino guys from Long Beach.
There's a whole history of hip-hop in the Philippines and Filipino communities.
Recently, I've been told that I'm very "Asian-centric." Not sure what that means, if it was meant accusingly, jealously, or just as a harmless observation. But for example, it's not that I don't think all the other people in the bands are awesome - they are. And all good indie bands deserve to be in the spotlight, especially because of how corporate media has gobbled up, and continues to gobble up, more stations. You're probably not going to hear any of these acts on Clear Channel. I just think it's neat that a hip-hop show, not billed as Pinoy/Pinay or Asian-themed, happened to have at least one Filipino or Asian in the act.
If you want to catch Native Guns perform this Sunday, June 11, they're having their album release party in Los Angeles. I've never been to a rooftop party, but it sounds fun, like something from a movie.
Happy summer!!