Thursday, August 3 – SF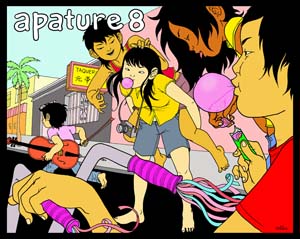 Kearny Street Workshop's APAture 2006 preview party at the Asian Art Museum, featuring performances by Shailja Patel, Goh Nakamura, Barbara Jane Reyes and grooves from DJ VNA. (6-9pm, Asian Art Museum, 200 Larkin Street, SF. Free with museum admission, $5 after 5pm. www.kearnystreet.org. This program is the August event for the museum's Matcha series).
Thursday, August 3 – NYC
The Notorious MSG's "Chinatown Hustler" Music Video premiere and release party! Featuring a live performance by The Notorious MSG with Cipha Sounds of MTV's Direct Effect, Hot 97, Shade 45, and DJ Woody Fu and Get Live. Presented by MTV Chi. (7-10pm, club Show, 135 W 41 Street, NYC. www.notoriousmsg.com $12).
Friday, August 4th – SF
In commemoration of the 29th anniversary of the eviction, Manilatown Heritage Foundation presents "Reclaiming Our Home: A Multi-media Exhibition on the Struggle to Rebuild the I-Hotel." Special Displays: Manong Freddie Comes Home. Manong Freddie was a beloved tenant who always loved to sing, dance and play his banjo. We recently discovered that for years his ashes have been quietly stored in a box in an office file cabinet. On August 4th, Manong Freddie comes home at last to the I-Hotel. Help us celebrate his homecoming by placing flowers and memories on his altar. Poetry, photography, and rare recordings of Freddie's music. Exhibit opens Friday. (5:30-9pm, Manilatown Center, 868 Kearny Street, SF. www.manilatown.org).
E-mail events to: momo [at] hyphenmagazine.com.