I think the producers waited way too long to start this season (it's been over a year), so a lot of fans, including myself, have simply lost the enthusiasm and momentum that the show generated from previous seasons. As for the reason for the long lapse between seasons, I heard rumors about a less-than-thrilling pool of designers to choose from. But it seems like it was worth the wait, since this season's contestants seem amazingly talented and established. As season one winner Jay McCarroll noted on his entertaining and insightful Elle.com blog:
judging on the clients that some off these people have worked with...i look forward to season 5 where some of the contestants will be a young lady from new york named donna karan going head to head with this fun little design duo from the midwest who call themselves heatherette and this guy who has done some work in new york and paris named marcus jacobson. sheesh.
Indeed.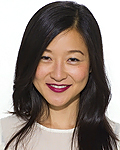 But what to think of our Korean American contestant Victorya? She was one of my top three picks to win this challenge over at Fafarazzi.com's Project Runway fantasy league, based on her looks from the preview fashion show and her Bravo website bio (FAVORITE DESIGNERS: Ghesquiere, Elbaz, Marc Jacobs, FASHION MUST: Patent leather ankle boots & colorful tights [yes!].)

One of Victorya's looks from the season 4 preview runway show
Nina Garcia, my idol, said on her Bravo TV blog: "Victoria [sic] really reminded me of a young Vera Wang. Her black off-the-shoulder dress with brocade flower was very simple yet chic and romantic."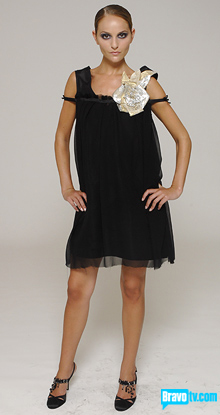 Wang-esque? Victorya's look from episode 1
This comment got me thinking: yes, I can see the obvious similarities between Victorya and Vera Wang - the brocade, the monochromatic look, the simple, chic, romantic aesthetic. But was it also the fact that Victorya was Asian American that planted the seed in Nina's impossibly perfect coiffed head? They also have the same kind of look - fair-skinned, little makeup, straight simple hair, cheekbones. See?

That got me further thinking - is there an Asian American aesthetic? How many Asian American designers do you know with simple, clean, elegant, yet modern designs? I can think of Phillip Lim, Doo.Ri, Derek Lam, maybe Thakoon (all of whom are included in a story on up and coming Asian American designers in our issue 13 - out soon!). You might also include Alexander Wang and Rachel Roy. The only outlier I can think of is Anna Sui, who veers more towards '60s rock n roll chick:
Do you think many of today's Asian American designers share a "look" in their collections? And if so, why do you think that is?