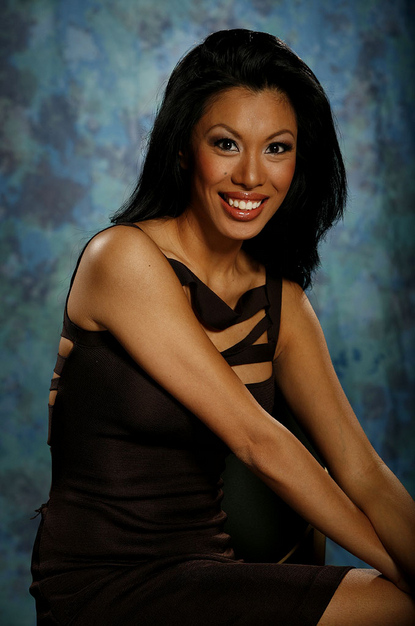 I admit I have been hooked on the whole VH1 Flavor of Love franchise, from the first season with the infamous spitting incident to the second season's notorious defecation act (obviously these shows are all about class). I watched every pec-laden moment of I Love New York and eagerly anticipate the (new and improved) season two. So of course I am a fan of the newest spin-off, Flavor of Love: Girls Charm School, where Flav's cast-offs are "rigorously trained in proper etiquette and manners before competing in challenges to determine their poise and grace under pressure" and overseen by task-mistress and former Showtime at the Apollo host Mo'Nique. One contestant who caught my eye on this show was 25-year-old Las Vegan Smiley (neé Leilene Ondrade), who, according to her Charm School bio, was raised by her grandfather "on a farm in the Filipinas (sic)" selling tomatoes and fishing for frogs. Aww.
Worried she was becoming too much of a tomboy, Leilene's mother enrolled her in ballet classes and she eventually attend the National Ballet School. Her years of training would later benefit her career as an exotic dancer when she dropped out of high school after tenth grade. For a brief period she was a happily married woman with three small children, until her husband left her for another woman. Now a single mother in Las Vegas, she provides for her family with the tips she's earned in strip clubs. Hoping to "quit the pole," Leilene hopes that Charm School will help her find self-confidence and emotional strength...
Wow – model minority that. Count how many Asian American stereotypes she busts in just those five sentences: 1) ballet dancer (with parent's approval!) 2) high school drop out 3) exotic dancer/stripper 4) broken marriage 5) single mother I dig Leilene because she shows us something we don't normally see on TV – a complicated, low-income, non-immigrant-success-story Asian American woman who isn't the overachieving workaholic (ahem, Christina Yang), the ditzy chatterbox (Kelly Kapoor), the ballbusting dragon lady (Lucy Liu on Ally McBeal), or the mousy nerd (Keiko Agena Gilmore Girls). She is even an anomaly among Asian American reality TV stars — more depth than Real World San Diego's Jamie Chung, more heart than Real World San Francisco's Pam, and more natural than America's Next Top Modelbot April. When she screams, "I'm a damn good mother!" after Larissa questions the example she sets for her children by stripping, those tears in her eyes are real. She knows when to sit down (when she could barely comprehend debating concepts) and when to stand up (using her sexuality to sell perfume on the street). She is not afraid to show weakness (having a meltdown when the challenge involves cooking) or strength (selling her mom's wedding ring to a thrift store during a challenge as a show of closure about her mom's death and saying something along the lines of, "If it will make one person happy, it's worth it."). She is a real Asian American woman, in all her complexities, and more than that, it seems like she has become genuinely devoted to self-improvement. Surprisingly, that's what the show is really about. In contrast to the Flavor of Love series, which merely exploited these women for their sexuality, lack of good judgment, and tacky outfits, Charm School seems truly invested in helping them improve their self-esteem and empowering them to take control of their lives in positive, meaningful ways. Mo'Nique teaches them valuable lessons that many women could also learn from, including "Check Thyself Before Thou Wreck Thyself" and "Thou Shalt Work What Thou Art Working With." Part of me identifies with Leilene – there are times when it's evident how hard it is for her to really speak up and assert herself. I have been there for sure, and I know many other Asian American women have as well. Yet unlike other women on the show, who claim their Blackness now and then, Leilene has never once mentioned her Asian background. Other contestants have even commented on her race, with Courtney regretting choosing to compete against Leilene for a challenge involving former Bachelor Andrew Firestone, and jokingly saying: "I shouldn't have picked her ass. Men love Asian women. S***. 'Cause don't Leilene look like she could love him long time?" Some might fault Leilene for not addressing her heritage, but I think her silence about her race shows true authenticity — who has time to loll about mulling their identity when there are three little stomachs to fill? If she were to flaunt her race, it would seem exploitative, or a possible ploy win sympathy. You have to know when to hold the race card. She focuses on being a mother, acknowledging her faults, and learning how to improve her life. In that context, she may be one of the best Asian American role models we've got on TV. We can't ignore those who don't conform to the Yul Kwon/Masi Oka perfect-Asian-American-role-model-in-the-media archetype. Advancing Asian Americans' place in society means baring ourselves as we are, warts and all. Which is exactly what Leilene is doing on the show. Expect to see her bring that $50K prize home to her kids at the end of the season.