He was deemed the winner by the film's cast (Sung Kang, Monique Curnen, McCaleb Burnett) and director Justin Lin:
Along with Roger Fan, who was pulling out the nonstop funny: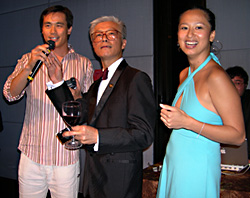 The guy in the middle is Asian Cinevision Board Member Greg Chew, a co-founder of Dae Advertising and now a Gavin Newsom-appointed SF Film commissioner. Mr. Chew knows how to party.
More on the fest to follow...