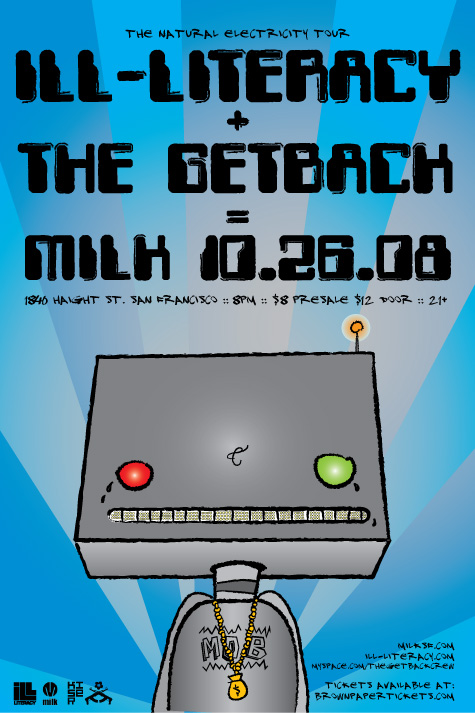 Gardeners to the lyrical fruits of letters unite, as iLL-Literacy's Natural Electricity Tour hits Milk Bar in San Francisco this Sunday for a night of spoken words, hip hop and music.  It will feature iLL-Literacy with its full band, Hi-Lifes,  and a live performance from Bay Area hip hop band, The Getback.  Ruby Veridiano-Ching, the sole female member of iLL-Literacy, will also celebrate the debut of her poetry and short writing book, titled Miss Universe.  More, more, more!  MADE Jewelry will be showcasing the exclusive "Miss Universe Earrings" at the event as well.
iLL-Literacy is an internationally-acclaimed
spoken word collective based in Oakland, CA, consisting of members
Adriel Luis, Dahlak Brathwaite, Nico Cary, and Ruby Veridiano-Ching .  Stop by.  Check out this collective of poets and MCs that have been featured on HBO's Def Poetry and MTV.  Let them move you, let yourself be moved.  Sometimes words do speak louder than actions.
This event is 21+ only, since Milk Bar serves more than just milk.
Tickets are $8 each for pre-sale and $12 at the door.
The excitement starts at 8pm, 10/26.
Please visit iLL-Literacy's website and Brown Paper Tickets for more information and tickets.