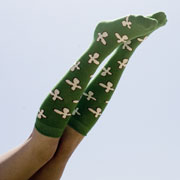 Hansel From Basel 
Los Angeles-based Hannah Byun makes cute knee-high socks and tights. Her fun patterns instantly make any outfit not boring.
Poketo
The purveyor of art wallets and T-shirts has also started carrying accessories, housewares and prints. Right now they are having a sale on their packs, where they bundle up a bunch of items for a discount. There's an additional 25 percent off stationery packs, T-shirt packs, and wallets packs. Buy a pack and knock a few people off your list.
New Leaf Clothing
There's also a sale at New Leaf Clothing, maker of organic,  handmade, and arty limited-edition clothes. If you're in the San Francisco Bay Area and want to see the goods in person, New Leaf will be one of the featured companies at StoreRoom, a five-week long pop-up department store offering up to 40 percent off modern designy goods.
The Paper Princess
Vintage-inspired stationery, cards and stamps by Southern California-based Leslie Saito. She takes custom orders and can put the name of a friend or family member on a sweet stationery set or rubber stamp.
Little Otsu
Little Otsu collaborates with artists to design and print small runs of books, calendars, cards and other lovely paper goods. Their pocket calendars make scheduling your appointments a bit snazzier.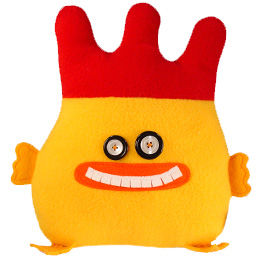 Creature Co-op
Plush animals and funny-looking creatures made in Los Angeles. But why stop at plush animals? Why not monster hats and bags too? A good place to find something for that little one, and for that grown-up with a playful side too.
Children's Book Press
This San Francisco-based company makes multicultural children's books, including bilingual editions. Where else will you find a picture book about the internment of Japanese Americans next to Latin American folklore?
Streetnoodle
One-of-a-kind jewelry, bags and more, all with a vintage twist and handmade by Ellen Ikemoto.
Best of Slant Volume 1
This is a collection of fun and quirky Asian American short films. This is also some self-promotion here, because I curated the collection. I don't think you can go wrong with the filmmakers on this disc though, like Wes Kim, Nobu Adilman, Dino Ignacio and Kip Fulbeck, just to name a few. And lucky you, it's on sale now here and here.
And lastly, how about a membership to Center for Asian American Media in San Francisco or Asian CineVision in New York? Your friends will be thanking you when they get priority seating, invitations to members-only events, and advance and discounted tickets to the Asian American film fests run by each of these orgs.