Pet Supplies
If there's animal people on your list, make them happy by making their pets happy. The dollar store I visited had a decent assortment of pet toys. There were even pumpkin-shaped beds for little dogs.
Stationery
Promote the vanishing art of correspondence by hand by giving notebooks, stationery sets and stickers. Animals and food feature prominently as themes in the stationery section of the Japanese dollar store, but you can also find plain and simple sets for those who are not fond of either or unable to deal with the cuteness.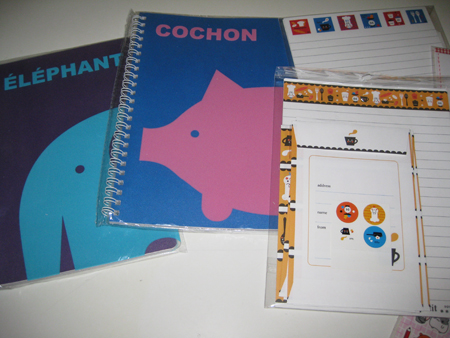 Green Lunch Set
We'll all probably be packing our lunches more often to save money. Do it stylishly with matching containers and utensils. OK, so the box pictured below isn't exactly lunch-sized. It's more snack-sized, but you can gift to-go containers of varying sizes and pick out matching chopsticks. Or, if you want to go all out, matching chopsticks and a spoon and fork and knife. You can find complete utensil sets that come in their own cases. Carrying around your own utensils isn't just cost-saving, it's good for the environment too when you forgo the disposable plastic versions.
Bags and Cases

Another green gift idea can be found in the bags section of the dollar store. The Japanese dollar store has tote bags galore, perfect for carrying groceries, library books and more. They've also got a nice assortment of pencil cases. Who carries around pencil anymore, you ask? Hey, some of us do. And even if your friends don't, these little bags are perfect for so many other things: makeup, change, digital cameras, whatever. Heck, you can even use it instead of gift wrap when presenting your gift of something else. Two-for-one again!