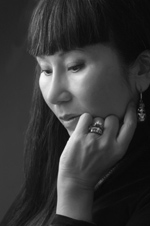 When the Hyphen editorial team discovered that Amy Tan was the recipient of the third annual Litquake Barbary Coast Award for contribution to the Bay Area literary community, there was a flurry of confused emails: What exactly was this award and why did Amy Tan deserve to win it? I decided to go and investigate how the San Francisco literary community celebrates one of Asian America's most (in)famous writers. 
First of all, I looked into the specifics of the Barbary Coast Award. The award was created just three years ago by the founders of the Litquake literary festival. Past winners include
Armistad Maupin
in 2007, for which Amy Tan was actually the host. According to Litquake's Wiki
page
-- and mentioned copiously at Tan's own tribute -- the night of Maupin's tribute, the Chinese American authoress "first appeared in kitschy Chinese peasant garb, only to re-emerge in an ensemble of black leather and a whip." (Tan moonlights as the dominatrix lead singer of the all author rock band
The Rock Bottom Remainders
.) Last year, Tobias Wolf was the recipient of the Barbary Coast award. 
As I sat in the half-full Herbst Theater this past Wednesday, in a crowd that seemed to be made up of mostly middle-aged white people, I considered what exactly I thought of Amy Tan's winning this award. Obviously, as we have covered at Hyphen extensively, though Tan indeed put "the Bay Area on the literary map" -- the point of the award as explained by Litquake's founders Jack Boulware and Jane Ganhal -- The Joy Luck Club and Tan's subsequent bibliography has irked many an Asian American. 
Earlier this year, Hyphen blogger Claire curated a
blog carnival
dedicated to immigration stories in some way inspired by the controversy and success around
The Joy Luck Club
on its 20th anniversary. Tan's work is criticized for over-exoticizing the Chinese American experience and also for her continued dismissal of Asian American men as viable characters. The conversation and blog carnival brought up the real discussion: that we Asian Americans who dismiss Tan's work do it almost more because of the way mainstream America eats it all up with a spoon, therefore marginalizing any Asian American experiences which do not involve high melodrama and escapes from ethnic enclaves into the arms of white men and surburban success. I wondered how you could possibly have a "roast" -- as the Barbary Coast Award night is supposed to be -- when there are so many of us who roast the Amy Tan literary experience on the regular. 
Would there be ironic jokes made about these issues throughout the night? Would someone read a passage from Tan's work and talk about how oppressive the Amy Tan syndrome has been to the rest of the Asian American community when it comes to good writing? I was kind of excited.
Then they brought out the Dragon Dancers from Leung's White Crane Lion & Dragon Dance School to kick off the evening. My hopes were dashed. The audience oohed and ahhed as the dancers took to the stage while six young Chinese American men played the drum and cymbals in the wings. 
Former Rolling Stone editor Ben Fong Torres -- the night's emcee -- soon took the mic in all his jovial-ness and kicked off the event for what it was: a tribute and a roast, toned down to a "braising" (there was lots of bad Chinese humor) -- "not as serious a tribute and not as tough a roast." I wondered if the toning down was taking into consideration some of the criticism that Tan faces -- especially the poor reception of her last book, the comedic Saving Fish From Drowning, narrated by a socialite ghost who accompanies a tour group on a trip to China, who are captured by Karen tribals. Fong Torres brought out some of what I was looking for as the host, saying that he knew Amy "before she turned Chinese again." He explained that when he met her in the early 1980s in San Francisco, she was a business writer who wore jeans and blouses, then when she became a famous novelist she emerged with silk outfits and jade pendants, which he referred to as "Ming Bling". Fong Torres then proceeded to don Elvis glasses and sideburns and sing a Elvis-mash-up with rhyming Amy Tan lines, while fully utiliizing his pelvic moves. It was actually not a bad impersonation of The King. 
The next musical number was San Francisco writer
Andrew Sean Greer
, who sang an extremely catchy number with the chorus "Amy Tan made me a gay man" -- after which he whipped off his suit jacket and shirt to reveal a sequined vest. Then KQED radio host Michael Krasny told an uncomfortable story about witnessing Tan's husband's ... chopstick ... in a hot tub at Esalen (the Big Sur center for mind, body and spirit), where he was hosting a creativity conference. Krasny went on to say that witnessing ... IT ... made him realize so much about Amy Tan's serene nature. Then came another song, this time a rendition of "Hey Jude" with the lyrics "Hey Ame" sung by the mezzo-soprano Zheng Cao -- who was the lead of the operatic version of
The Bonesetter's Daughter
that played San Francisco last year. (Tan was an integral part of the team that turned her novel into an opera.) Cao's song gave us a sentimental and personal view of Tan, who helped Cao through a recent bout with cancer and the rough days of chemo. Cao also thrilled the audience with some of her operatic stylings and referred to Tan as a real mentor who told her things like: "Dress like a diva, don't act like one." Later some of the members of her band The Rock-Bottom Remainders came out and told great stories about Tan's naughty side, her musical talent and her dominatrix role in the band. The audience also got to hear about Tan's philanthropic efforts to help Katrina victims and the National Kidney Foundation. 
Something funny happened during all the songs and obscure Amy Tan details; I kind of started to dig her. I guess that's what's supposed to happen at a tribute/roast -- but I found myself wishing that Tan's writing was more reflective of her kooky and fascinating personality. Her small dog fetish. Her penchant for dominance. These are themes I am much more fascinated by then the themes of her last few books.  
Someone at the Barbary Coast event mentioned Tan's TED talk, which I hadn't seen, so after the "braising" I came home and checked it out. It helped give me an expanded view of her contribution to the literary world. Check it out
here
for your own (possible) moment of warm and fuzzies about Tan.