Five other worthy candidates competed for the title of Mr. Hyphen:
     Amit Singh, Sikhcess
     Danny Le, APIA Spoken Word & Poetry Summit
     Leng Phe, Tiny Toones Cambodia
     R.J. Lozada, Center for Asian American Media
     Tony Douangviseth, Serve the People
Added to that was the star power of the judges -- journalist and
activist Helen Zia, playwright Philip Kan Gotanda, and reigning Mr. Gapa 2009 Eric Yu. D'Lo, the MC for the evening, stole the show between segments with jokes and charm.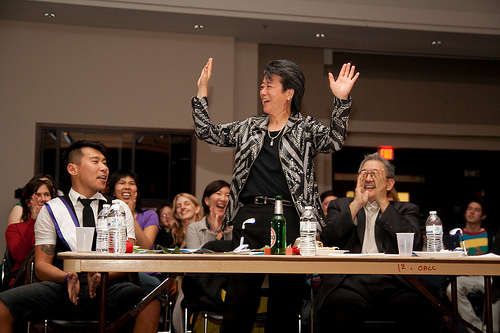 The Judges: Eric Yu, Helen Zia, and Philip Kan Gotanda. Photo by John C. Liau.
"They're
good-looking, down, and they can tap dance too!" said D'Lo of the
show's talent segment. Danny Le's spoken-word poem "Vietnamese Men Are
Lovers" drove the crowd wild, and Amit Singh's intense, heart-pounding
performance on the dhol drums had fans dancing in the aisles. During
the Q&A, contestants were asked tough questions about everything
from Asian American masculinity to the personality trait their mothers
would use to describe them.
Singing His Heart Out: Leng Phe during the talent segment. Photo by John C. Liau.
In the fashion segment, contenders strutted their stuff in designs from
fiftyseven-thirtythree
and
Estrella Tadeo
.
Fans screamed for both the designs and the men wearing them. Now fiftyseven-thirtythree is returning the love with a special discount
code for
Hyphen readers to get 30 percent off any online purchase
between November 17 and 21.
(code: HYPHEN).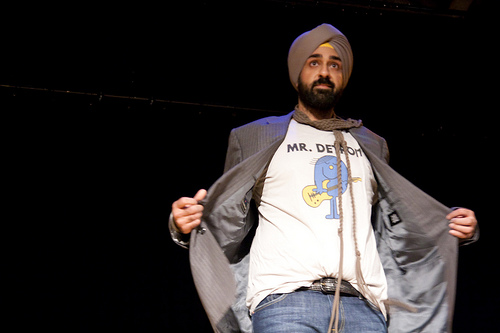 Mr. Detroit: Amit Singh rocks a jacket from Estrella Tadeo. Photo by John C. Liau.
To finish the fashion show,
the guys came out in sleepwear ranging from sexy to silly. R.J. Lozada
stepped out in a traditional bahag, and when Tony Douangviseth drew a
heart on his chest with whipped cream, his large and vocal group of
fans responded by pelting the stage with multicolored candy sprinkles.
Aristotle
Garcia, aka Mr. Hyphen 2008, made an appearance to sing "This Is the
Moment" to an adoring crowd before passing the Mr. Hyphen crown on to
Pahole. Tony Douangviseth took the title of first runner-up. At
the end of the night, each candidate provided the audience with a new
face for Asian American masculinity, as well as an inspiration to make a
difference in the community. Male bonding never looked so good!
A Few Good Men: Mr. Hyphen 2006 Robin Sukhadia, Mr. Hyphen 2009 Pahole Sookkasikon, and Mr. Hyphen 2008 Aristotle Garcia. Photo by John C. Liau.
-- By guest blogger Elizabeth Smith
If you have pictures from Mr Hyphen, please share them with us on our Facebook page or join our Flickr Pool.