I had the pleasure of catching a few films at this year's
Asian American International Film Festival
(AAIFF) in New York. The festival played independent films at three theaters over four days, as well as hosted various social functions. Some films I saw included
You Don't Know Jack
by Jeff Adachi,
Children of Invention
by Tze Chun,
Li Tong
by Nian Liu, and a short called
Red Yellow Blue
by Changhee Chun. This first entry covers Jeff Adachi's film, and later entries will review the other titles.
For those unfamiliar with director Jeff Adachi, he was also the creator of the The Slanted Screen, a documentary featured on PBS and NPR about the marginalization of Asian American actors in historical American film and television. When he isn't making documentaries, Adachi serves as a full-time public defender lawyer for immigrants and the disadvantaged in San Francisco.
His newest documentary is about Jack Soo, a trailblazing entertainer in the mid-twentieth century. Born as Goro Suzuki, Jack Soo was a patriotic American of Japanese descent, with a rare combination of world-class singing ability, love for theater, and comedic talent. Adachi traces Soo's youth, to his initial showbiz career in Ohio, to his big break in the all-Asian-American Broadway musical Flower Drum Song, to eventually becoming a mainstream face through TV shows like Barney Miller and The Jack Benny Show. For me, the most interesting part of Soo's personality was something Adachi revealed during the Q&A session after the screening. Jack Soo never spoke about his internment camp experience or his career frustrations with family, friends, or coworkers, and in person was almost always humorous, upbeat, and likeable. However, Soo made sure in his major media interviews to raise issues about aggressively Asian stereotypes, discrimination, and the lack of non-subservient, non-Uncle Tom roles for Asian Americans.You Don't Know Jack is generally a well-made documentary. The film skillfully weaves together images and performances with Soo, together with interviews with his daughter, internment camp friends, and showbiz coworkers and producers, all showing different sides of the man. There are some recognizable faces who share their stories of Soo, like George Takei and Nancy Kwan. I liked how for the film Adachi unearthed and used multiple never-released recorded songs by Soo as part of the documentary's sound track, and even dug up a high school essay written by Soo about why he was proud to be an American (ironic considering his later internment and career obstacles). When Adachi revealed afterward that all those songs throughout the film were actually Soo's, a few audience members were shocked, remarking that they thought it was Sinatra.The only criticism I have with Adachi's documentary is in its ending, where a commercial of Soo playing an eskimo with some cheap eskimo jokes, seems out of place considering the rest of the documentary's content and message concerning Soo's life. I think a more fitting ending would have involved a song that Adachi used in the middle of the documentary, a song that Soo recorded with a major record label. The music producer interviewed admits that Soo's beautiful voice was intentionally not released by the company, and the song was instead given to Stevie Wonder to re-record (which the producer notes launched Wonder's musical career).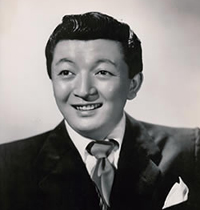 For myself, the most frustrating thought after reflecting on Adachi's documentary, was how much more Jack Soo could have been as an entertainer. This year marked the thirtieth anniversary of Jack Soo's passing from cancer, and during one segment Nancy Kwan commented about how since Soo's death, Asian American actors have been fighting the same battles for media roles that Soo fought while alive. Even with all of Soo's immense singing, acting, and comedic talents, he only reached mainstream America in the last few years of his life as a humorous television co-star, and his promising singing career never really took off. Adachi's piece shows how far one talented, optimistic, persistent Asian American actor went in American showbiz, but at the same time leaves on the table uncomfortable issues related to opportunity for Asian Americans, past and present, in the industry, which appears to be a recurring theme in Adachi's works.