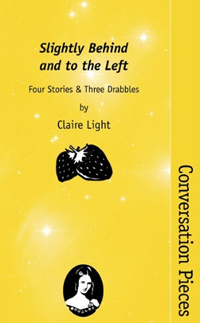 Congratulations to Hyphen co-founder, blogger and contributor Claire Light on the publication of Slightly Behind and to the Left: Four Stories and Three Drabbles, part of Aqueduct Press' Conversation Series.

Aqueduct is a small press dedicated to "publishing challenging, feminist science fiction," including authors like Ursula K. Le Guin (you know, of EarthSea!).


The Conversation Pieces series: "aims to both document and facilitate the grand conversation of feminist sf. Books in the series offer a wide variety of texts, ranging from short fiction, speeches, and poetry to essays, interviews, correspondence, and group discussions."

Claire's book is a great collection of short stories and flash fiction that "shifts our perspective just enough off-center to render the world we know a strange and unfamiliar place." We will be publishing the amazing short story "Abducted by Aliens!" from this book in Issue 20 of Hyphen, which will hit the stands in April, but I highly recommend getting the collection now.

I read Slightly Behind recently on a cold rainy day huddled next to my heater and the stories wormed their way under my skin with their beautiful language and twisted (and twisting) narratives. Even if you are one of those people who "don't read Speculative or Science Fiction" -- check this book out and it will make you understand that good writing has no genre boundaries.