It's been a lucrative pair of weeks for Christopher Nolan. Inception, his new sci-fi dream-heist thriller, is perched atop the box office for the second straight week and -- no offense, Steve Carell and Zac Efron fans -- looks to hold that spot this go-around as well. The film, unlike most box office-rampaging mega-schlock, is no critical slouch, holding steady at 87% on Rotten Tomatoes and ranking well with the director's other dark, brainy, critically-adored flicks.
Neither has it failed to appease its most rabid demographic -- the anonymous masses of the Internet -- who have voted it the third best movie ever made on the film reference site IMDB.com. In short, Nolan has emerged in the wake of Inception, one of the riskiest and most inventive films ever made by a major studio, cemented as one of the best directors of his generation, capable of satiating stuffy film critics, hysterical online posters, and the ticket-buying public with a single reel.

Of course, no box office stranglehold is forever -- curtains close, IMDB rankings fall, and, once in a while, even Christopher Nolan and the team behind Inception come up short. Case in point: the July 12th screening of Inception at the SF Metreon, an event Hyphen staffers and readers were invited to but found far, far overbooked in capacity. Luckily, though the fact that many of us were turned away at the gate evidently didn't dent the film's haul, the studio has agreed to compensate us jilted brides with a number of Inception gift packs -- including hats, shirts, and free tickets. Just comment with your email address and our hard working publisher Lisa Lee (vote! vote!) will arrange to have a gift pack sent to you, supplies permitting.
And, as for the film itself -- if you are among those painfully unhip woodland hermits who have yet to see it -- Inception is absolutely a flick worth catching in theaters.  It's a rarity to see big-budget action scenes seated in rigorously scripted plotlines, and Inception does it spectacularly. There's an elegance to the storytelling that tethers the film's ambition -- a spinning top, for instance, that becomes the film's most evocative symbol, almost functioning as dialogue in a number of crucial scenes. Couple that attention and sensitivity to plot with a number of incredibly inventive shots -- a vaguely Japanese room with a ceiling encrusted in lights, sandcastles (literally) that crumble into the sea, a hotel hallway throwdown that transcends every faceless henchman brawl you've ever seen -- and you have a film whose ambition deserves to be seen.

Inception isn't perfect. If you hated the pummeling nature of The Dark Knight's Hans Zimmer-soundtrack, you'll find Inception's music no less punishing. The film's heart -- a romance between characters played by a masterful Leonardo DiCaprio and a haunting Marion Cotillard -- is cold and painful, casting much of the film in the steely gloom that has become Nolan's signature. And Ken Watanabe, who is perfect in face and body as Saito, a debonair and slightly shady businessman, is at times unintelligible through his accent.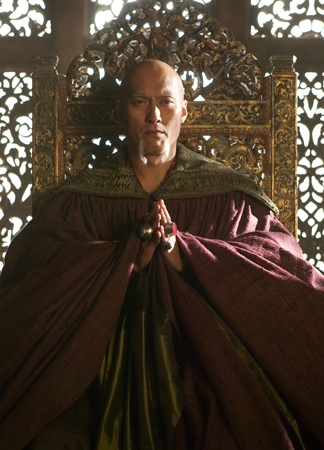 But what a relief when I realized he wasn't still playing the Fu Manchu'd secret ninja army general he played in that other Nolan flick.