(Clockwise from top left: Isaac Chung, Valerie Chu, Clementine Dusabejambo, Fils Habyarimana, and Kayambi Musafiri. Photo by author.)
I'm standing outside the Clearview Cinemas in Chelsea, on a loud, busy Manhattan sidewalk. Theater employees mingle with staff and volunteers of the annual Tribeca Film Festival, the latter given away by the lanyard badges flapping against their chests. In front of the entrance, a group of cinephiles crowds the chain-smoking actress Amanda Plummer ("Honey Bunny" from Pulp Fiction). Nearby huddle Hippie-ish international film buffs and friends of the filmmaking teams. I spot an old acquaintance, a stand-up comic who earns a living submitting to high-risk medical experiments.
Our motley crew has just watched three short films by Rwandan 20-somethings: Saa-Ipo by Jean Luc "Fils" Habyarimana, about an orphaned young musician; Lyiza by Marie Clementine Dusabejambo, about a schoolgirl who meets the child of her family's murderers; and Shema by Kayambi Musafiri, about a teenage amputee struggling to overcome depression. The films are deft, vivid snapshots of a land rarely imagined beyond mid-1990s newsreels.
(Still from Lyiza, courtesy Tribeca Film Institute.)
But my thoughts are clouded by what happened at the post-screening Q&A. As we clapped for the third and final short, the filmmakers approached the front to field questions. Beside them, without introduction, appeared a thin, bubbly Rwandan woman -- the translator, I thought, since Clementine prefers French. Then the woman seized the microphone, interrupting and speaking for the filmmakers. Her banal, chipper comments seemed scripted and her presence directly linked to the distinguished men seated in the center row: Rwandan Ambassador to the US James Kimonyo and Rwandan Ambassador to the UN Eugene Gasana. I later learned that the woman had come at the behest of Rwanda's Ministry of Culture. Among her apparent duties was to handle -- gently, but handle nevertheless -- the three young filmmakers on their first US trip.
After the screening, Fils, Clementine, and Musafiri are honored at a swanky rooftop reception. I attend, too, enjoying a beer and delicate hors d'oeuvres while forcing a perceptual adjustment, from the films' post-genocidal scenes to the vapid luxury car commercial projected behind the bar. In the days following, the young Rwandans would lunch with Robert De Niro and have supper with Lou Reed and Amanda Plummer. Extraordinary events woven together by an unassuming, arty couple I know from college: Isaac Chung and Valerie Chu.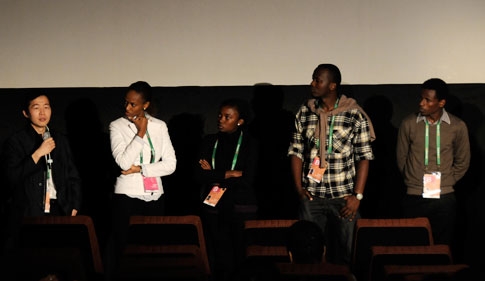 (Photo from Q&A following screening, courtesy Tribeca Film Festival.)
If you follow independent cinema, you'll likely have heard of Isaac. His first feature-length narrative, Munyurangabo, premiered at the 2007 Cannes Film Festival, screened at the Museum of Modern Art, and earned international distribution. Shot in Rwanda, it follows the fictional, redemptive journey of two adolescents in the wake of civil war -- a departure from the staid genre of post-conflict documentaries and Hollywood human rights fare.
Before creating Munyurangabo, Isaac had no connection to Rwanda. He ended up there on account of his wife Valerie, who had first visited Kigali as a volunteer art therapist with a Christian service group in 2004. "I pretty much fell in love with Rwanda and kept going back," Valerie explains, "so when we got married in 2005, I wanted Isaac to come as well." The following year, in the summer of 2006, Isaac and his filmmaking partner, Sam Anderson, indeed accompanied Valerie to Kigali. Isaac recounts, "I'd just finished film school and thought it'd be fun to teach filmmaking and to make a film while we were doing that." Little did he know where Munyurangabo would lead.
(Sam Anderson and Isaac Chung, courtesy University of Utah.)
But the film's success had less sanguine effects, too. "I got over-confident," Isaac reflects, "it inflated my ego." It thus hit hard when his second film, which screened at Tribeca last year, was rather poorly received. A project with deep personal significance, Lucky Life -- named after Gerald Stern's book of poems -- was apparently too dark and meditative for American audiences. "I'm in a humbler place now," Isaac says, as he embarks on his third full-length movie, Abigail Harm, with "the same uncertainty and excitement" he felt before Munyurangabo.
While working on his own projects, Isaac, along with his wife and partners, remains attached to Rwanda. A mentor and fundraiser, he supports Almond Tree Films Rwanda and serves as a liaison for Tribeca Film Institute's "Perspective: Rwanda" program, which brought Fils, Clementine, and Musafiri's shorts to New York.
(Still from Lucky Life, courtesy Almond Tree Films.)
I was so intrigued by these Rwandan artists, and bothered by what occurred at the Q&A, that I set up an interview with them and Isaac's team several days after the screening. Thankfully, they arrive without a government chaperone and initially seem open to my questions. They comment on the theme of reconciliation in Rwandan movies ("Not many years have passed since the genocide, so although we have other stories to tell, we must continue talking about it," says Fils), Rwandans' exposure to the film industry (no movie theaters, but countless downloads and televised reruns of Chuck Norris and Jackie Chan), and that universal obstacle to art-making: parental approval ("When you finish high school in Rwanda, it's difficult to explain to your parents that you want to do filmmaking, which is why I'm studying electronics," Clementine says).
But when I ask about the woman who had commandeered the microphone or whether the government seeks to influence subject matter in Rwanda's nascent film industry, the filmmakers became tersely politic. That woman is our filmmaking elder. The Rwandan government is really supporting us. We appreciate the government. Even the ambassadors came to the screening.
(From left to right: Clementine, Musafiri, Fils, and Isaac. Photo by author.)
Something seems a bit off; the mood tense. I wonder if someone has already transmitted disapproval of the films' protagonists: orphans, cast-offs, and street kids navigating humble, dusty environs. Were there strings attached to this trip, funded as it was by the Rwandan government? What is the price of narrating the margins of a revised nation? Do you become a de facto ambassador? These are more than theoretical inquiries: governments, even democratic ones, may regulate cultural production with sticks as much as carrots.
This has certainly been true in Korea, where Isaac's parents are from, and which, like Rwanda, suffered a brutal, nearly genocidal civil war. But in the face of suggestive and coercive forms of censorship, artists in these countries -- and their diasporic counterparts -- continue to engage and further proliferate their national histories. By undermining a master narrative, they prove in film and otherwise that storytelling is our most natural antidote to state power.