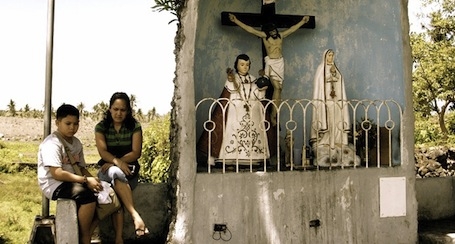 The Learning, dir. Ramona Diaz
Did you know that there are currently 600 Filipino teachers working in Baltimore? I had no idea before seeing the eye-opening documentary The Learning by filmmaker Ramona Diaz. In this 90 minute film, we follow four Filipina women during their first year of teaching in the United States: Grace, who reluctantly leaves behind her one-year-old son to provide for her family; Rhea, whose husband lands in jail for drug possession while she's abroad; Angel, who looks nearly as young as the students in the film and yet must provide for all ten(!) people in her family in the Philippines; and Dorotea, the clear star of the movie who brings a firm hand and a world-weary love to her high school classes.
We watch these women as they learn the ropes of teaching mostly African American students who are nothing like the kids they taught back at home, while figuring out the fees they must pay for their visas, speaking to ever more distant relatives over video chat, and struggling with the culture shock of bleak Baltimore. With so many social, cultural, and personal issues to explore, it's clear there was no lack of material to delve into during filming.
At times I found the amount of things happening overwhelming; maybe I'm biased as an avid reality television fan, but I could have used more differentiation between the women to sort out their stories, and while the emotional arcs are captured nicely, there are so many questions raised about the more technical aspects (Why do the immigrant teachers all seem to be women? What was the story behind their pay, fees, rent, and other finances? Why are immigrant teachers necessary, and why the Philippines?) that I sometimes found myself distracted. Still, there's enough fascinating story here to keep you hooked, and if you have any interest in education, the immigrant experience, or cute children, I highly recommend The Learning.
The Learning is playing at AAIFF '11 on 8/14 at 6:45pm at the Clearview Chelsea cinema. Tickets are available at the door and online.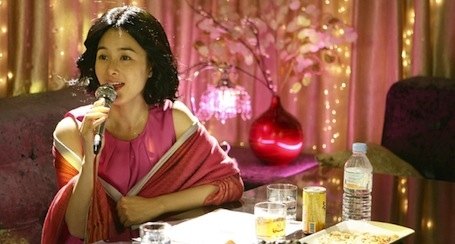 Wedding Palace, dir. Christine Yoo
On a completely different note is the AAIFF closing night feature Wedding Palace by Christine Yoo. This is the fictional story of Jason Kim (Brian Tee, The Fast and the Furious: Tokyo Drift), a Korean American in L.A. whose family is cursed (the origins of which are shown in an imaginative hand-drawn/CGI animation blend), meaning that the 29-year-old must marry by his 30th birthday. A relationship with a long-term girlfriend doesn't work out; neither do set-ups orchestrated by his meddling parents (in one fun scene, Jason and his parents are in a Dating Game-style show to assess potential brides). Eventually, a business trip to Seoul leads Jason to the seemingly perfect Na Young (Hye-jung Kang, Oldboy), but of course several wrenches are thrown in along the way to their budding relationship.
Wedding Palace is clearly inspired by Korean comedies (think My Sassy Girl with a less horrible female lead -- sorry, MSG fans), and much of the dialogue is in fact in subtitled Korean. I was impressed by Yoo's cast, which is composed largely of Korean and Korean American actors (including comedians Margaret Cho and Bobby Lee, natch), and so we didn't have to suffer through too many bad accents or embarrassing pronunciations (here we'll ignore early seasons of Daniel Dae Kim on Lost). The story and characters ring true, albeit a bit silly. As a Korean American tale, Yoo has done a nice job of hitting universal notes of love, romance, family, and obligation. Might this be the My Big Fat Greek Wedding for Koreans? See for yourself. 
Wedding Palace is playing at AAIFF '11 on 8/14 at 8:30pm at the Clearview Chelsea cinema. Tickets are available at the door and online.