Photo credit: Andria Lo
Three times a week, a circle of food trucks forms in San Francisco's Civic Center Plaza, just steps from the office that Phil Ting has occupied in City Hall for the past five years. When the Chairman Bao truck rolls up, wafting the smell of its famous pork belly buns in Ting's general direction, sometimes the temptation is just too great.
"I haven't always been a big fan of fusion food," he says, "but I think Chairman Bao's pretty amazing." 
As San Francisco's Assessor-Recorder, food trucks aren't his domain. But he muses about the scene nonetheless. "You have these trucks with chefs from big name restaurants cooking because it's cheaper, it's faster, you can be more mobile, and you can assume less risk. They're innovating."
He pauses for a moment to digest what he's just said.
The analogy's imperfect, but it's possible that the mayoral hopeful was wishing in that moment that San Francisco's municipal government was a bit more like Chairman Bao and the food truck scene: cheaper, faster, and innovative.
Government 2.0
"We need to make interfacing with the city easier," Ting says.
Last year, Ting launched ResetSanFrancisco.com, a website that uses social networking to identify and think through solutions to municipal problems. Just last week, his campaign released a companion iPhone app.
Why such an emphasis on technology?
"We want to crowdsource and get as much information as possible, and really get the community contacting elected officials," he says. "We want the community to get involved and identify problems."
Crucial for Ting is making governance an ongoing conversation between constituents and their city officials. As he explains it, Government 2.0 isn't just about websites and smartphone apps. "It's also about transparency and accountability."
That makes a lot of sense placed against the backdrop of Ting's career.
The common thread running through his experience is a passion for putting people in closer contact with their communities. For Ting, that's always been more than just a matter of demystifying bureaucracy -- it's fundamental to social justice.
From Sproul Hall to City Hall
Ting's progressive roots run deep.
As an Ethnic Studies minor at U.C. Berkeley in the late-'80s, he helped to revive the Asian American Political Alliance, a group that focused on admissions and affirmative action issues. If the votes turn his way in November, he'll be following in the footsteps of the group's famous founder, Jean Quan, who became Oakland's first woman and first Asian American mayor last year.
After graduating, Ting spent a transformative summer working on tenant's rights issues with the Center for Third World Organizing in Boston. He later parlayed that experience into a Public Policy degree from Harvard's Kennedy School, and has worked tirelessly on housing issues ever since.

Ting interfaces with Chairman Bao.
Upon returning to the Bay Area, Ting figured that he needed "to learn the nuts and bolts of the real estate business." But after spending five years in real estate consulting, he decided he needed to go back into advocacy and activism.
He stepped up his involvement with organizations like Chinese for Affirmative Action and the Asian Law Caucus (ALC), two well-known civil rights groups located in the heart of San Francisco's Chinatown. As a volunteer, he worked on anti-hate crime campaigns as well as the legal defense team of Dr. Wen Ho Lee.
From 2002 to 2005, he served as the ALC's Executive Director -- a position he describes as a "dream job."
In that capacity, Ting continued working on housing and tenants' rights as well as issues like immigration that disproportionately impact the Asian American community. He championed "no-brainer" legislation like the Dream Act, and policies that offer a path to legalization and citizenship. "I would bring that advocacy into the mayor's office," he says.
When it comes to San Francisco's long-standing sanctuary city policy, which prevents law enforcement and city officials from inquiring about immigration status, his support is unequivocal.
"We need to make sure people's civil rights are protected, and [they] aren't in fear of going to law enforcement, aren't in fear of being pulled over, aren't in fear of just going about their own lives," he says.
In 2005, Ting was appointed Assessor-Recorder by then-mayor Gavin Newsom after his predecessor resigned amidst corruption accusations. He was formally elected later that year, becoming the city's highest-ranking Chinese American, and has held the post since.
Ting says that in some ways, he's come full-circle. "As the Assessor, I'm actually dovetailing my early real estate work with policy advocacy." His responsibilities include identifying and assessing all taxable property, as well as collecting revenues for the city from the recording of legal documents.
Ok, maybe not the most exciting job description, but it's impossible to deny that his work gives him a unique vantage point on some of the city's most pressing issues. It's a perspective that he's consistently tried to translate into smart policy and legislation. 
The Family Guy
For one thing, Ting's position makes him intimately aware of the specific ways that middle-class families in San Francisco are being squeezed by this down economy.
So many families are being priced out of the city and moving to less-expensive, more family-friendly communities on the Peninsula and in the East Bay, that, over the past several years, observers have become concerned about a widening class divide.
"This is an issue I feel very passionate about," he says. "In my early-thirties most of my friends were living in San Francisco. I'm in my forties now, and very few of them are actually still here."
As the father of two little girls, Ting is all too familiar with the disconnect between the city's services and the families they're designed to reach. Eliminating that disconnect, he says, is crucial to keeping families in San Francisco.
"We need to bridge services for families to schools. Schools are one of the major points of distribution of services. That's where we can do a lot of effective work. That's where the families are," he says.
As mayor, he would also continue the same affordable housing advocacy that he's been working on since his twenties.
"We need to build much more family-friendly housing," he says. "Most of the housing we build that's market rate is studio or one-bedroom or two-bedrooms. Families need more than that, and they need a degree of privacy." 
Hard Work Ahead
Reflecting on his career, Ting can't help but consider the overall progress the Asian American community has made.
Citing the discrimination that the Asian American community has had to overcome over the course of its long history in San Francisco, Ting notes that "it's only been in the last thirty, forty years that we've made real political gains."
"I'm excited about this election because we have for the first time a full slate of highly qualified Asian American candidates," he says.
At the same time, he emphasizes that the community cannot take the historic nature of this election for granted.
"It's a testament to how far we've come as a community, but also a reminder that we need to remain vigilant. We need to keep participating, we need to keep voting."
And regardless of whether Ting achieves his goal of resetting San Francisco, we'll certainly need to keep innovating as well.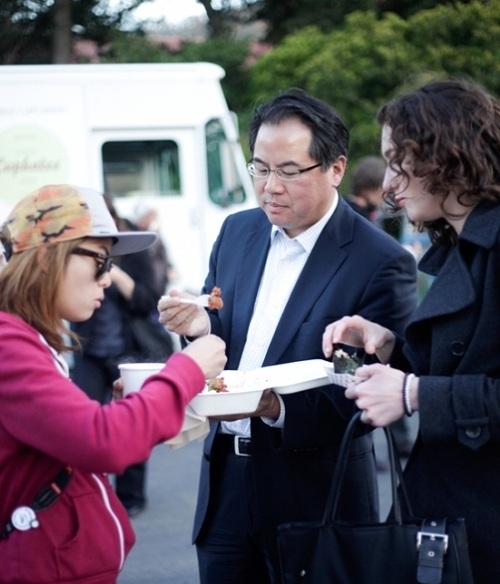 Snacking 2.0.
* * * 
Links to each profile in the series will be added below as they are published. Please click on the candidates' names to read further.
Ed Lee
Jeff Adachi
Leland Yee