Every Tuesday, Dianne Choie brings us her views on Asian Americans on television. Today, we bring you Dianne Choie.
Count on Dianne to catch you up on a week's worth of dedicated viewing, with bonus. Did Asians make a little TV history this week? Or did a show dish up some warmed-over racism? She'll be the judge of that. When things don't pass muster, "I think a lot of it is sort of laziness, like weird costuming, kimonos matched with inaccurate makeup, or whatever," Dianne explains. "It's shortcut portrayals which I don't necessarily find offensive, I just think it's really lazy and I don't like it. I mean, I'm no PC police, but if they're going to just throw it in without thinking about anything, is that really adding anything?"
Aside from being our beloved tube junkie, Dianne pays her bills as an editorial assistant for Grand Central Publishing in New York. For now, she's doing a little bit of everything: choosing jacket art, editing copy, picking projects to start. But she's really excited about her first acquisition: It's a collection of essays called The Choke Artist written by her good friend, Korean American author Dave Yoo. "One of my biggest goals is to develop strong Asian American voices," she says.
So how does Dianne pass the time when she's not watching TV for Hyphen? She's watching TV for herself, of course. "There are so many shows I watch but don't write about because they're not relevant. I like watching anything: Top Model, Project Runway, Top Chef, Louie, the IT Crowd. I watch a lot of late night talk shows, The Daily Show, Colbert, and Friday Night Lights, The Walking Dead, Lost," Dianne rambled. "I watch mostly competition reality shows and comedies: Parks and Recreation, 30 Rock, some dramas … This is sick, it's really disgusting how much TV I watch."
Amazingly, she also manages to do other things. Nice things, like volunteering for an organization called New York Cares, tutoring high schoolers in SAT prep. Of volunteerism and giving back to community she says, "I have the skills and I can help people, so why not? I think everyone benefits in the end."
And yet Dianne claims to have no more than the average hours in her day. "I do a lot of multi-tasking -- reading for work during my commute, having the TV on while I'm making dinner," she says. "When you're determined and you have DVR, you can really get a lot of television in."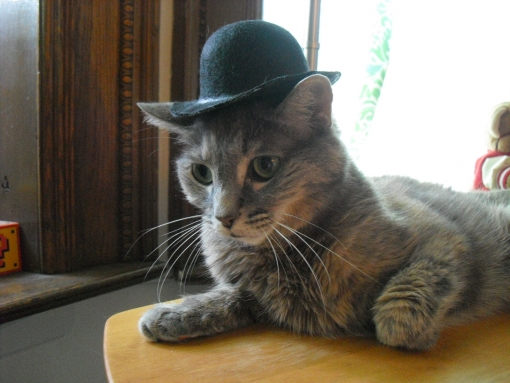 Apparently, if you're Dianne, you can also find time to put hats on your cat. "I've become this crazy, crazy cat lady. I'm always dressing her up and taking pictures with her," Dianne laughed. "I also knit, so sometimes I'm knitting and [my cat] Utah's next to me, and I'm like 100 years old! And my boyfriend and my non-cat friends think it's weird, but you know what? It's fun! I'm not going to fight it."
And neither will we. To check out the cutest cat lady's take on all things Asian American on television, tune in every Tuesday -- same cat time, same cat channel.
Edit: Hyphen apologizes for the misspell of David Yoo's last name. It's Yoo, not Yu.