Jarah Mariano (Photo courtesy of commons.wikimedia.org)
At Fashion Week earlier this year, Ralph Lauren debuted his Fall 2011 collection with Chinese beauty Sui He -- the first Asian face ever to open a RL show. Having trademarked classic Americana style (waspy, New-England prep) for women since 1971, Lauren's choice of Chinoiserie and seven Asian models on his latest runway took an abrupt turn from what had long worked for his empire. The loaded timing, of course, is hard to miss -- China's economic and political ascendance triggering wild thoughts of both fear and opportunity.
Alongside Lauren's 1930s-Shanghai collection, couture designer Riccardo Tisci presented one deeply influenced by Japanese robot toys and dancer Kazuo Ohno. For Givenchy's Spring 2011 couture presentation, Tisci put together an all-Asian model cast, apparently "pushing boundaries," as worded by the press. Even Anna Wintour, editor in chief of (historically exclusionary) Vogue, made room for the golden children. The fashion bible officially confirmed their arrival by publishing a two-page spread called 'Asia Major' in their December 2010 issue, recognizing eight rising Asian supermodels in the high-fashion industry: Liu Wen, Tao Okamoto, Fei Fei Sun, Du Juan, Shu-Pei Qin, Hyoni Kang, Lee Hyun Yi, and Lily Zhi. These women have been seen on the runways of Louis Vuitton, Marc Jacbos, Zac Posen, and Oscar de la Renta, and some have even landed high-status campaigns from Maybelline Cosmetics to Victoria's Secret to Vera Wang.
The trend is clear (Asia's big), and with everyone drinking the Kool-aid, it seems top designers have implicitly named a new It Girl: The Asian Model.
Yet I couldn't help but notice the specifically international profile of these rising supermodels. All of them born and raised abroad, and scouted internationally by American modeling agencies as recently as 2008. That is to say, even as our home cultures are being mined for creative source material, Asian American female models are still relegated to commercial work and low-fashion margins.
Let's rewind: We know that Asian supermodels aren't that groundbreaking. A handful have graced us with their talent in the past: Anna Bayle (1970s), Irina Pantaeva (1990s) and even past Asian American models such as Marie Helvin (1970s), Tina Chow (1980s) Kimora Lee Simmons and Jenny Shimizu (1990s).
I know, the list is skimp considering that this is 2011. Just goes to show that there has been a noticeable spike in the amount of Asian models being signed to American modeling agencies since 2008, with real international careers by 2010.
Anyway, Google "Asian Models" and you see high-fashion modeling links. Search for "Asian American Models," and you get Model Minority-related links (nice one), and a "Top 10 Asian Hotties" list. It seems that more Asian American female models are finding niche work in the nude/porn/import modeling scene, playing up their sex appeal by appearing in magazines like FHM, Playboy, and Maxim. Top names here are Tracy Nova, Natasha Yi, and Tila Tequila. With the import scene specifically, Asian Americans largely created this subculture, perhaps explaining why the ladies turn out in overwhelming numbers there.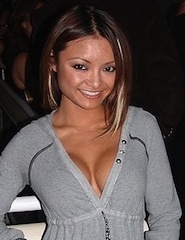 Tila Tequila (Photo courtesy of commons.wikimedia.org)
There are, of course, exceptions to the rule and a number of notably successful Asian American models in the fashion industry, such as Jenny Shimizu, Jarah Mariano, and Devon Aoki. And yet, in terms of representation, their race has been a distant second to other qualifiers in their stories. For instance, an androgynous icon of the '90s, Jenny Shimizu soared to supermodel fame with Calvin Klein's cK1 unisex fragrance campaign. Though she's Asian American, her voice was mainly piped through the gay community, making her an edgy fashion shero of a sexuality politics but not a racial one.
Jenny Shimizu (Photo courtesy of commons.wikimedia.org)
Jarah Mariano would be the most likely poster child for having a successful modeling career through an Asian American lens. She has booked numerous campaigns with Pac Sun, Roxy, Old Navy, Abercrombie and Fitch, and has made leaps for her career by appearing in Victoria's Secret catalogs and a Sports Illustrated Swimsuit Edition. While her achievement as a professional model is highly regarded, she has yet to be allowed the versatility, for example, of walking on a runway for Proenza Schouler. While Jarah is booking jobs for mall stores ... international model Liu Wen is stealing her thunder on the actual Victoria's Secret runway show!
Whether it's racy Asian lingerie models or webcam sex kittens, a theme I notice for today's Asian American models is some type of irreverence always downplaying their work. Even sweet newcomer Levy Tran, an alternative Asian American model, is rapidly gaining attention for her ink obsession, embalming studies, and quirky untraditional poses. While there is absolutely nothing wrong with being a hottie or having tattoos, in the fashion world, this type of work is afforded less credibility and remains stuck on the periphery.
In many ways, high-fashion is about travel -- the glamour of moving between unknown and exotic spaces. International Asian models are often seen as more "authentically" exotic, as opposed to Asian Americans who are sometimes ascribed a relative flatness.
So will the Asian Model make room for the Asian Import Model? The hope here may be that the current influx of international Asian models serve, ironically, to shift the direction of traditional American concepts of beauty -- and that your minority model will finally look not like 1930s Shanghai but America, present-day.