The latest TIME cover.
Obama's announcement last Friday may give temporary relief to up to 1.4 million undocumented young people in the United States. The executive action seeks to end deportations of those who are in the U.S. without legal documentation but who fall under specific guidelines: they must have arrived in the U.S. before age 16, are younger than 30, have been in the country for at least five continuous years, have no criminal history, graduated from a US high school or earned a GED, or served in the military. Those who qualify will be eligible for two years of "deferred action."  
The pledge comes at a time when legislation such as the federal DREAM (Development, Relief, and Education for Alien Minors) Act has been stagnant for at least a decade. In December 2010, the DREAM Act failed to pass Congress by a narrow margin. In the past week, activists from National Immigrant Youth Alliance held sit-ins in several cities, including Los Angeles, Cincinnati, Denver and Oakland, CA.
"I first found out about this announcement when my friends texted me early in the morning, then I saw it all over Facebook," said Ju Hong, an undocumented student and National Korean American Service & Education Consortium (NAKASEC) youth leader from Northern California, in a statement. "I was so excited, I almost burst into tears. I have lived in fear of being separated from my friends, my family. Today, I feel liberated from my fears at least temporarily.  This policy change could allow me to better focus on my school work, provide for my family, and continue to fight for the DREAM Act and immigration reform."
The national United We Dream Network called the move a "momentous act of courage and a profoundly important step toward justice for immigrant youth." "I am incredibly proud of our community!" said Gaby Pacheco, one of the Trail of Dream walkers in 2010, in an email. "This is the first time, in a very long time that our community gets a win! The best part of this win is that it was the people affected by the issue that made everyone else believe."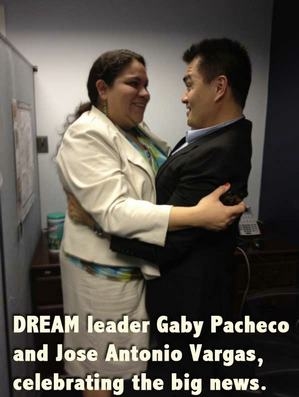 Photo courtesy of Define American
The announcement also comes on the heels of a much-discussed, bold TIME cover story written by Jose Antonio Vargas, an undocumented Filipino who famously wrote about his personal journey as an undocumented, Pulitzer-prize winning journalist in the New York Times a year ago (though Vargas himself will not receive relief under the president's announcement, since he is 31 years-old).
While this new development is undoubtedly a major victory for the thousands of immigrant rights activists and many immigrant communities in general, the initiative leaves a lot of doubts and unanswered questions.
About a year ago, the head of Immigration and Customs Enforcement issued a similarly-worded initiative that has proven to be disappointing to immigrant rights' activists, since those who would qualify for the DREAM Act continued to be placed into deportation proceedings, and continue to be deported despite a promise from the president and ICE that they will not deport DREAMers. Without any hope for the future, some say that life in limbo causes stress, depression and even suicide. 
However, those who have been following the legislation and the White House's response to the communities state that this initiative seems more significant.
"I think the announcement today is more specific than last year's memo," Hiroshi Motomura, an immigration law professor at UCLA, told Colorlines' Julianne Hing (read Hing's report and analysis here). "[It] seems implicitly to be in a context of "we really mean it" as opposed to the fact that much of what the prosecutorial discretion memo of last year seemed to promise never happened."
The other significant difference is that this new announcement promises to grant work permits to those who are eligible. However, people will need to apply to these, and for some, that means stepping out of the shadows and into the government database in order to even receive a work permit.
Unsurprisingly, much of the coverage around the president's recent announcement has been framed as a way for the president to target the Latino voters. Even some newspaper headlines focused solely on the Latino population. While this makes sense for a variety of reasons, specifically that the the majority of undocumented immigrants in the U.S. come from Latin American countries, the undocumented population is very diverse. (If you need to see for yourself, check out TIME's video). Approximately one in 10 undocumented immigrants and immigrant students are from Asia (see Dreams Deferred). 
As many involved in the movement know, the DREAM Act, and the president's move, however bold, is far from a pathway to legal citizenship for the vast majority of undocumented people in the U.S. For one, it is a limited population and does not include the parents of those children, for example, who are often vilified for making the choice to bring their young children to the U.S. 
"Ultimately, we need a more permanent solution to our nation's badly broken immigration system," said Dae Joong Yoon, executive director of the Korean Resource Center, in a statement. "We need Congress to also act and move legislation like the DREAM Act that provides path to legalization and includes those who are older than the current age limits. Parents should also be given an opportunity to stay and work in this country through broader comprehensive immigration reform. During this critical election year, we will make sure that our elected officials know this and will make our voices heard at the ballot box."
The initiative applies to approximately 6 percent of the total of 11.2 million people who are living in fear of deportation in the U.S. The Obama administration has deported approximately 1.2 million people, the largest number under any president in the same time period.
The following is an essay by Ju Hong, undocumented student and recent graduate of UC Berkeley:
One Million Dreams Protected, 10.5 Million Dreams To
Go
by Ju Hong
Although I recently
graduated from UC Berkeley with a major in Political Science, I am unable to
use my degree to work because I am undocumented. Not only did I face a difficult
time to finding ways to work, I also faced constant fear of deportation – until
President Obama announced last Friday an executive action to stop deportation
and provide work permits to a selected group of DREAMers who meet requirements
under a new immigration policy.
This historic announcement would
not have been possible without the courageous DREAMers who stood up and shared
their stories, held events and rallies, contacted elected officials, and led
hunger strikes and civil disobedience actions despite risking deportation. After
many years of collaborative efforts to demand for justice and equality, the
federal government finally made a move to provide a very limited and temporary
relief for many undocumented young people in this country.
For many years, I have lived
in fears of facing deportation, and permanently leaving the country I called
home. The fear of being separated from my friends, my family, and my community;
the fear of not being accepted within my own community; the fear of contacting
the police at a time of need; and the fear of losing my hope and dreams in
graduating from college. Today, I feel liberated from these fears. Because of this
announcement, now I can better focus on preparing for my master's degree
program, provide for my family, and continue to advocate for the federal DREAM
Act and Comprehensive Immigration Reform.
Prior
to June 15, 2012, I was unable to get a job, apply for internships, or qualify
for financial aid. Thus, I had to work more than thirty hours of week at a
Japanese restaurant, mopping floors and washing dishes, getting paid under the
table with below minimum wage, while I commuted to school and enrolled as a
full-time student at Laney College, Oakland. Sometimes I had to stay up all
night to apply for limited scholarship opportunities to meet the deadlines.
Today, I feel free from these obstacles. Because of this policy, I will have
open doors of new opportunities to use my degree to work and contribute back to
society. Not only will I have the chance to work to support my schoolwork, but
also I have capacity to support my family.  Like one of my fellow DREAMers said, "I feel I am normal
again."
With
this new policy change, an approximate 800,000 young peoples' dreams are now
protected, at least temporarily. This is huge victory for the undocumented
community, but the fight is not over. There are thousands of other young
DREAMers who are not eligible to apply for deferred action or work permits
because of strict requirements under the new policy. For example, DREAMers who
are over 30 years old are not be qualified to receive deferred action or work
permits. Moving forward, we must stay involved and pressure Obama's
administration to include the rest of DREAMers because they also have the right
to DREAM.
Finally,
we must continue to fight for the federal DREAM Act and Comprehensive Immigration
Reform because this policy is a temporary solution. Now more than ever, we have
strength, conviction, and power in our hands to organize, mobilize, and take
collective actions to solve our broken immigration system. Soon, we will
fulfill all of the 11.5 million dreams. 
Ju Hong came from South Korea to the United States when he was 11 years-old. Ju attended Laney College in Oakland, CA, where he was elected as the first Asian American undocumented student body president. He graduated from Laney College with a 3.8 GPA and transferred to University of California, Berkeley. This year, he graduated from Cal and is pursuing his master's degree in public administration.
MORE COVERAGE:
See Hyphen's recent feature story, Dreams Deferred, and watch videos, on undocumented Asian students. Read stories written by undocumented Asian students. 
Watch the short documentary, "LIMBO," produced by three undocumented students from Los Angeles along with filmmaker Eliot Rausch.
Note: updated from an earlier version that stated "The Obama administration has deported approximately 1.2 million people, the largest number under any president." It should have stated, "The Obama administration has deported approximately 1.2 million people, the largest number under any president in the same time period."