Made popular during World War II, slim, pre-stamped pieces
of stationery known as aerogrammes first traversed the globe bearing both news
and tales of places unseen. Despite its seeming fragility, aerogrammes held the
promise of privacy and intimacy with its sides that one would glue and fold
together in order to form an envelope. The narratives in James's first short
story collection are very much like those early aerogrammes. They are brief missives
yet brimming with the voices of individuals struggling to understand themselves
in relation to their alien surroundings. And every time one begins to realize
that one of James's aerogrammes to us is coming to a close, you cannot help but
wish that wasn't the case.
In each of these very different stories, James renders profound
portraits of characters struggling for the compass that might enable them
to find their bearings. In her opening piece set in 1910, we meet Gama the
Lion of Punjab who has arrived in London eager to take on any fighter that he
can from Strangler Lewis to the Swedish wrestler Jon Lemme in order to make his
mark as the finest wrestler in the world. Yet, the challengers that seemed to
abound while Gama was in India seem to have disappeared now that he is in
London. Instead, he is left to repeat his rigorous exercise routine with his
brother Imam while awaiting his big moment, should it come. Nuggets of James's
humor further highlight Gama's increasing confusion with his boutless state.
When Mr. Benjamin attempts to explain to Gama that he must agree to take some
falls in order to get other wrestlers to fight him, Mr. Benjamin pulls out his
own empty pockets to illustrate that there is no point returning to India
without making some money from these matches. Immediately refusing such an
offer, Imam responds for Gama saying, "The langot
we wear, it does not have pockets." Confused, Mr. Benjamin proceeds to explain
"in even slower English, what he means by 'empty pockets'" while Gama remains
bewildered by Mr. Benjamin's explanation for the lack of challengers.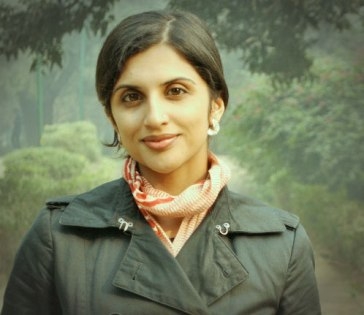 Photo of the author by Ashish Tagra
James's wry humor is a constant across this collection of
stories. It amplifies the estrangement of the characters. In "What to Do with
Henry?" James introduces us to a motley cast of characters made up of a
discontented Midwestern wife who adopts both the product of her husband's
marital indiscretions in Sierra Leone as well as a chimpanzee. In doing so, Pearl
forms her own little family made up of Neneh and the chimpanzee named Henry. We
catch a glimpse of Henry's displacement in this world of human beings when he
develops an affinity for blond women. When Henry ultimately must live in a zoo,
this affinity does not diminish easily. James writes, "The visitors were amused
by the spectacle, especially the blondes, who were happy to play Fay Wray and
blow kisses in return, until they noticed his erection, and recoiled." One
initially sees Henry's interest in the visiting blondes as a flirtatious antic
or a mischievous piece of mimicry. It is perhaps no different than a child
walking around in their parent's shoes or clothes. Yet, James quickly undercuts
the humor and seeming innocence of the moment with a flash of Henry's
dislocation trapped behind the glass with female chimpanzees that held no
attraction for him and hierarchies that befuddled him.
Whether introducing her readers to a chimpanzee attempting
to find a place in a community of animals, an Indian classical dance instructor
who contemplates applying a bleaching cream to her skin, or to a woman coping
with her marriage to a ghost, James's writing captivates us. For those slivers
of time that we get to know her characters, we forget that they are, in fact, invented
characters. And even as we put away James's collection, we are left wondering
what ever did happen to those characters after James placed the final period on
that tale.
Dashini Jeyathurai is
a doctoral candidate in the Joint PhD program in English and Women's Studies at
the University of Michigan, Ann Arbor. She blogs for the South Asian American
Digital Archive and has an article forthcoming in The Journal of Commonwealth
Literature.