First there was the YouTube video rant by Alexandra Wallace referring to Asians' "ching-chong" speak in 2011, then there was that racist sign posted at the UCLA Vietnamese Student Union Office in 2012, and now, just Wednesday last week, another anonymous letter arrived at UCLA's Asian American Studies Center, saying, in addition to other racist, sexist epithets about whites, blacks and Mexicans, that "asian Cunts [sic] are RACIST! they only date Honkie white boy [sic]." (For those sensitive to offensive language, do not scroll to the image of the full letter below.) It seems that at least one discriminatory act occurs each year -- imagine how many more go unreported?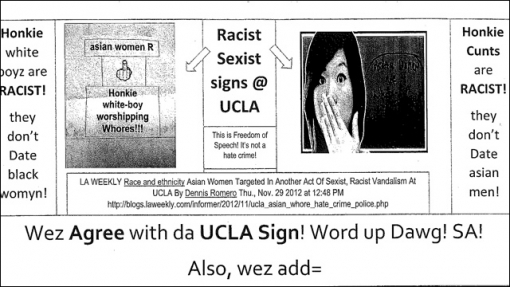 In solidarity with Asian Pacific American students, more than twenty organizations at UCLA and other universities have joined the Asian Pacific Coalition at UCLA, the Pacific Islands Students Association at UCLA, Samahang Pilipino, and the Vietnamese Student Union at UCLA in signing a statement demanding that UCLA administrators, including President Janet Napolitano and Chancellor Gene Block, express their support for the Asian Pacific Islander community.
In the statement, the united groups argued that "[T]o allow these attacks to remain unaddressed … is to tacitly endorse the marginalization of our community, to accept being painted as perpetual foreigners, and to allow for the exotification and objectification of women of color." The groups also called for stronger support of UC ethnic studies programs and initiatives that would lead to a more "inclusive campus."
In addition, the statement pointed to other racist occurrences in past years, including a recent report evidencing ineffective procedures taken by UCLA administrators in handling discrimination among faculty. At one point, a faculty member was reportedly told: "I thought Asian women were supposed to be submissive." The groups also pointed to a report by UCLA law professor Richard Sander in 2012 that accused the UCLA admissions board of supposedly violating Proposition 209 in considering a holistic view of school applicants.
According to CBS Los Angeles, UCLA spokesperson Steve Ritea issued the following statement in response: "Chancellor Block has reached out to leadership of the Asian American Studies Center to convey his disgust and frustration over the letter. Furthermore, he has asked UCPD to pursue a full investigation and keep him apprised." That's nice and all, but Ritea also called the letter an "isolated" incident, unrelated to other hostile, racially-motivated occurrences on campus.
But is the incident really isolated? "Defintely not," says Uyen Phuong Hoang, Director of Asian Pacific Coalition at UCLA. "If it were isolated, then that's a lot of isolated incidents happening. It's all part of a bigger culture of people's negative stereotypes, representations and beliefs about certain cultures." Hoang further asserts that UCLA administrators are not doing enough to address the racist attacks and take concrete measures to prevent them: "Administrators try to prolong the process and wait until people graduate. [...] We're not concerned so much about finding the perpetrator who mailed the letter, we're more concerned about [eliminating the contentious racial and gender] climate at the school." 
The hostile racial climate is even more surprising (or expected based on existing circumstances?) considering that 9,965 Asian undergraduates at UCLA represent the highest student number at the school, comprising 34.8% of the undergraduate population (White students follow at 7,964 -- which make up 27.8%).
To help support UCLA groups in the fight against racism and sexism, Phoang urges people to engage in media campaigns and spread the word about the abuse to force the administration to make radical changes within the UCLA campus.
So much for all those post-racial arguments. As the occurences at UCLA demonstrate, we are not a colorblind society, despite the election of a black President, and you'd better believe that race still matters. It's likely that the slow and inadequate measures against attacks toward Asians taken by UCLA administrators are due in part to the widespread, insidious mentality in the US that Asian Americans -- co-opted as "model minorities" -- no longer suffer from the harmful effects of racism. Many forget that Asian Americans still undergo the harmful effects brought on by the legacies of exclusion laws, segragation, and denial of naturalization rights. And as evidenced by the incidents at UCLA, we are still today targets of overt racism and hate crimes.
So, Hyphen readers, let us support the student groups at UCLA and other universities in rabble-rousing and demanding better treatment from the powers that be. Write a letter, spread the word, donate money, do something. And most important of all, don't forget our collective history and remember that there are still powerful prejudices bent on attacking us, and we should never be complacent until we truly have achieved equal rights.