"The two things I've always hated: Phonies and cowards. Before, I felt I was both, and I could never overcome that until I transitioned."
In 1967, while she was stationed at the 4th Infantry
Division Headquarters of the US Army in Vietnam, Mia Yamamoto sent off an
application to UCLA Law School. In it, she stated that she was a poet, and that
she intended to support her poetry habit by practicing law. Just 24 years old,
Yamamoto had volunteered for the draft a year prior, thinking: "If I die in
battle, at least no one will ever know my secret. It'll never come back."
The secret? That she was born into a boy's body and assigned a male
gender, but she knew she was supposed to be a girl.
A month later, Yamamoto received a letter of early acceptance from
UCLA addressed to "Michael," the name she was then called.
She survived Vietnam, carrying her secret still. In 1968, she flew
out of Cam Ranh Bay and landed back in the US to join the incoming class of law
students at UCLA. Today, she's a highly respected criminal defense attorney
with a long history of building multicultural, interracial coalitions to
advance social justice in Los Angeles. The week I sit down with her for of this
interview, Yamamoto is receiving a commendation at Equality California's annual
gala. The event coincides with her 71st birthday, but in November
she will also celebrate her "re-birthday," marking nine years since
transitioning from Michael to Mia.
Yamamoto was born in a WWII internment camp in Poston, Arizona. After the war, the Yamamoto
family returned to California. "For Japanese-Americans coming out of the camps,
that tradition of racial exclusion was a very specific experience," Yamamoto
says. Her father remained reticent about Poston his entire life, but her mother
told vivid stories about the forced incarceration of an entire community. One
of stories Yamamoto recalls her mother telling: "Dad was an attorney, and he
would go around camp saying, 'I read the Constitution, they can't do this to
us. You can't put people in jail just because of their race.' " With an ironic
smile, Yamamoto says, "Of course he was wrong. Race matters, and it still
matters today, as it did back then."
Yamamoto grew up with four brothers and one sister. The family
settled in east Los Angeles after the war, and she remembers resenting her
older brothers, "bullies and gangsters" who fought viciously with each other
and then turned their violent games on the younger children. "I learned to
fight back," she says. "What I lacked in size and strength, I made up for in
ferocity. But my identity was becoming more and more divergent from my body."
When she was in her teens, Yamamoto read about Christine Jorgensen, the first publicly out transgender woman in
the US. "I remember thinking, there's another person in the world who's just
like me," she says. Excited, Yamamoto showed the newspaper clipping to her
mother, who immediately burst into tears. "I realized then, that feeling
uncomfortable with my gender was taboo." From that moment, she learned to drive
those feelings underground. "You try to overcompensate, to prove to yourself
this is something you can overcome," she says.
Music became a solace. She joined the glee club in high school, and
sang in her church choir. Years later, when Yamamoto starts working as a public
defender, she would be approached to join a country rock band as its lead
singer. "Playing music for people is the most joyful thing," she says.
In her post-high school years, however, Yamamoto says she suffered
bouts of severe depression and entertained suicidal thoughts. She enrolled in
LA City College and got all Fs the first two semesters. In the back of her
mind, she thought of following in her father's footsteps and pursuing law, but
the possibility seemed out of reach. After flunking out of LACC, Yamamoto
worked in a grocery store full-time for a year.
She eventually returned to LACC, managed to raise her grades, and
transferred to Cal State Los Angeles. While she studied for a degree in
Government and English, she also fixated on finding information about gender
dysphoria. "I haunted the psychology section of the library, looking for case
studies," she says. Her research at Cal State LA led her to the medical
libraries at UCLA and USC, desperate to find a cause and cure. Nothing she read
assuaged her mounting anxiety, which was "starting to feel like torture."
After graduation, she enlisted in the army because she felt it was
her duty as a patriot. She says, "Now all these years later, it strikes me that
because of 'Don't Ask, Don't Tell,' the contributions of
closeted veterans are completely erased. Historically, there's no way to
resurrect it. The community will never get credit, because they were
theoretically excluded." She adds, "But anyone who's been in the service can
tell you, there's tons of LGBT people, all over the place."
Yamamoto's 1966 army portrait photo from basic training, D Battalion, 4th Company, 1st Platoon (D-4-1), 6th Army, Fort Ord, California.
After witnessing the brutality of Vietnam, Yamamoto felt adamant
about joining the anti-war movement when she returned stateside. She became
active in the fight for civil rights and self-determination for
African-Americans and all people of color. As a law student at UCLA, she
founded the organization that would later become the Asian Pacific Islander Law
Student Organization. Working in solidarity with the Black Law Students and La
Raza Law Students, Yamamoto demanded that the dean create an Asian-American
minority entry program, hire Asian-American faculty, and implement
Asian-American curricula.
Yamamoto's first job after UCLA was as a Staff Attorney for the
Legal Aid Foundation of Los Angeles. She says she had always known she would go
into public interest law, to empower the socially disenfranchised and the poor.
Growing up in east LA, Yamamoto saw "so much disparity between white people and
communities of color, in terms of income and access to opportunity," she says.
After LAFLA, she moved to the Public Defender's Office.
Though her career was thriving, Yamamoto still floundered in a
personal struggle with gender dysphoria. She sought professional help, and her
therapist suggested that Yamamoto would in all likelihood transition to living
as a transgender woman in the future. Yamamoto fired him.
In 1984, Yamamoto left the Public Defender's Office, and entered
into private practice as a criminal defense attorney. Her legal work sometimes
brought Yamamoto into contact with transgender individuals who were fighting
prostitution and/or drug charges. Yamamoto couldn't help but to imagine herself
in the shoes of the sex workers she defended. "In each case, it represented a
choice I didn't make," Yamamoto says. "The people I met had been severely
hardened by the experience."
Los Angeles Pride Parade, 2012
After years in individual and group therapy, Yamamoto says she
finally realized: "I can't fight this. It's not subject to negotiation or
medication. It just is." The revelation frightened her, because it meant her
first therapist was right. She had to make the choice, "because now it's either
do or die."
For ten years, she delved into research on surgeons, and on other
transgender individuals around the world. She began talking to friends and
family about her decision to transition. Many in her circle were supportive,
but some family members balked. "I knew that my family had the largest
investment in me staying exactly the same," she says. "But if they're realistic
about it, they can't really say it's been that much of a curse. I'm still doing
everything I did." She pauses, choosing her words. "I still have a certain
amount of community respect."
This community support surfaced after she informed her clients that
she was transitioning; not a single one left her side. She'd offered to help
them find a good lawyer to take her place, no hard feelings, but all of them
insisted on staying with Yamamoto. "I was floored," she says. "I took a great
deal of strength from my clients' unwavering loyalty."
She says, "The two things I've always hated: Phonies and cowards.
Before, I felt I was both, and I could never overcome that until I
transitioned."
Yamamoto admits she doesn't write much poetry these days, but isn't
it a poet's job to tell the truth? One might say that Yamamoto is living her
poem.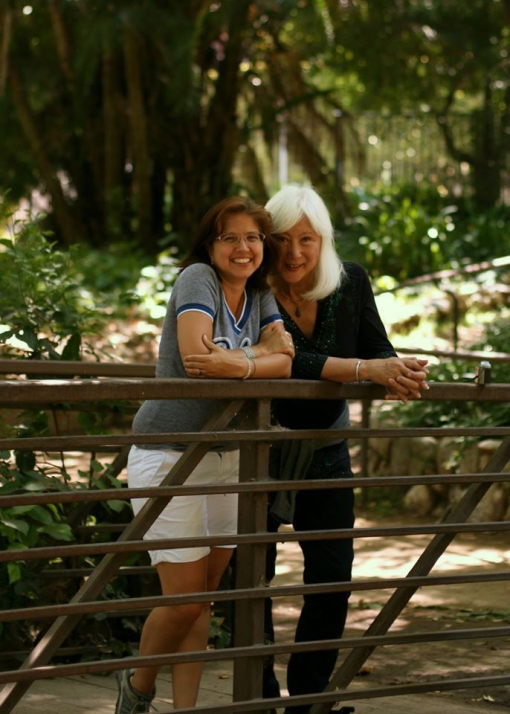 Mia with her fiancee Kim (photo by Suzanne Hickman)