Diana Ross's "I'm Coming Out" is blasting in the background when Maria Hinojosa picks up the phone at the Futuro Media Group office in New York City. Upon hearing the unexpected disco music, I shyly ask the Emmy-winning journalist what kind of party their staff was throwing. "Oh, it's our song of the day," she explains in her warm, exuberant voice.  
After amassing over 20 years' experience as a hard-hitting journalist and news anchor for such establishments as CNN, NPR, and PBS, Hinojosa founded the Futuro Media Group in 2010 -- a nonprofit, multimedia organization that uncovers stories commonly overlooked by the mainstream media. Based in Harlem, the organization also seeks to celebrate Latino art and culture, and encourage cross-cultural dialogue and understanding. The Futuro Media Group currently produces Latino USA, an hour-long weekly radio show that takes a critical look at current events and cultural developments from multiple Latino perspectives.
"We're very serious journalists here. What we're doing here is not just a job, it's really a mission to change the conversation and speak out about who we truly are in the United States of America," says Hinojosa. "As media disruptors, we are seeing some really difficult parts of the world and of the country...it's hard, it's scary, it's risky, there's no path...so we try to keep a really supportive environment here and that helps to save ourselves."
Latino USA has covered stories ranging from Texas border vigilantes to the Haiti-Dominican Republic conflicts and Cuban Organic Farming. In this week's program, Latino USA collaborates with Hyphen to look at relationships and cultural intersections between Latino and Asian American communities with podcasts that discuss Latino-Asian American Political Collaborations, both groups' positions in the "Racial Middle" in the black-white binary of racial discussions, food intersections, Affirmative Action in California, Cambodian Gangs of Long Beach, and Undocumented Students at UC Davis. The program also features artist Shizu Saldamando, Japanese salseros, and activist Marge Taniwaki.
The collaboration with Hyphen to seek commonalities between Latino and Asians in America is but one of Hinojosa's pioneering efforts. Indeed, her career spans a series of firsts, such as becoming NPR's first Latina correspondent, and PBS's first woman to anchor and executive produce a national news series. Highlights among her countless awards and honors include the Robert F. Kennedy Award for Reporting on the Disadvantaged, induction into the Paley Center of Television and Radio Women Hall of Fame, and the National Association of Hispanic Journalists Leadership Award.
But when asked about her proudest moment, Hinojosa focuses on the present: "I have such proud moments every week. We just got off the phone with a man from a small town three hours north of Minneapolis who is scheduled to be deported tomorrow. And he committed no violent crime. His only crime was putting a different name in his job application," she says. "Twenty-two years in the country, four kids, owned a house, always been employed. I'm proud that he was so thankful that we even knew who he was, that we even picked up the phone to speak to him."
Such welling compassion and courage to speak her conviction on volatile topics such as immigration reform might be what distinguishes her most from a host of many other emotionally detached journalists who shy away from expressing their honest opinions. Hinojosa often expresses sympathy for her interviewees, she has cried with them as they told her their stories, she speaks to them always as a kind friend. In past episodes I've watched of Maria in action, she demonstrates how the humanity in all of us should always surpass our differences. In this way, she not only functions as a reporter, but as a guide to the realization of deeper truths and galvanizer of social action.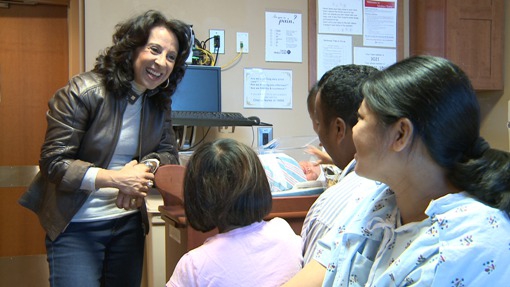 To stay sane and grounded, Hinojosa admits her regular habit of self-coaching: "I talk to myself a lot in my head because I do understand the fact that what's happening now in this country is going to be written about in the history books as a transformative, historic moment," she says. "And I've studied enough history to understand that it is individuals who either lead movements or get involved or do things who can actually make a difference… What [my team and I] are really doing is helping to change the narrative of the country."
Born in Mexico City to a physician father and social worker mother, Hinojosa grew up in Chicago. She received her B.A. in Latin American Studies and political economy from Barnard College, where she discovered her love of radio when creating and hosting her first music program. She lives in Harlem with her husband, the artist German Perez, and their teenage son and daughter.
Beginning this Fall, Hinojosa's Futuro Media Group produced and launched America By The Numbers, a new PBS series that consists of half-hour episodes on American communities facing dramatic changes from shifting demographics. The series broadcasts on Saturdays after PBS NewsHour Weekend (check local listings). Among the most memorable for Hinojosa was the "Island of Warriors" episode, which reports on the total absence of Veterans Affairs (VA) hospitals in islands like Guam and the dire lack of health resources for Pacific Islanders despite their disproportionately high armed forces recruitment numbers and casualties. "It's heartbreaking," Hinojosa says. "I ended up getting PTSD when I was covering 9/11 for CNN…and I never expected to find myself talking and sharing my experiences with Guamanian American vets who served in Iraq or Afghanistan and feeling absolute sisterhood, brotherhood with people who are completely forgotten... It was very powerful."
The next installment (to air this Saturday, November 8th) will be the "Pass or Fail in Cambodia Town" episode, about Cambodian gangs in Long Beach, CA. "I had never had an opportunity to report on this community," says Hinojosa. "The fact that we're talking about second-generation Cambodian Americans battling some of the same issues that their parents and grandparents faced when they first came here as refugees is a problem. Not just for them but for all of us as a country that is supposed to be welcoming in principle to refugees."
When asked about what advice she would give to young people aspiring toward a career in journalism, she responds with no hesitation: "My message is to never allow themselves to believe that they are invisible. We consume so much media but don't see ourselves reflected that we can begin to assume and internalize that we don't fit in and we're not part of the group, and for young people, that can be really disempowering, " she says. "Find the team that's going to back you up, that's going to believe in you, that's going to say 'Go for it.' And never stop trusting that gut that's telling you what's really true. Our young have to learn to convince themselves to own their power and their own voice."