Photos from Bay Area Solidarity
On December 15, Asian, white and Chicano allies answered the
call from the organizers of Black Lives Matter for non-black allies to step up
to challenge police violence and institutionalized racism against black people by
shutting down the Oakland Police Department #ShutdownOPD.
Through coordinated, disciplined direct action, our
#Asians4BlackLives group chained ourselves to the front door to the Oakland Police
Department. As Asian allies we believed it was critically important to put our
physical bodies on the line so that Black organizers could bring their message
directly to the source. 250 people made up of Asian, White and Chicano
allies and the Black organizers, protested police
violence that rainy morning. Our goal was to hold the space for 4 hours and 28
minutes -- 4 hours for the amount of time that Mike Brown was left dead on the
road and 28 minutes to symbolize the killing of a black person by police every
28 hours. Nearly 40 of us were arrested, cited, and released. And we succeeded
in shutting down the Oakland Police Dept for 4:28 hours.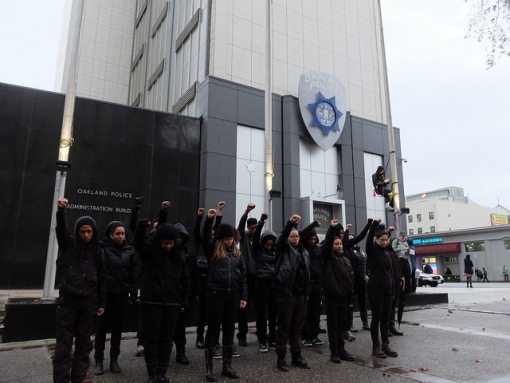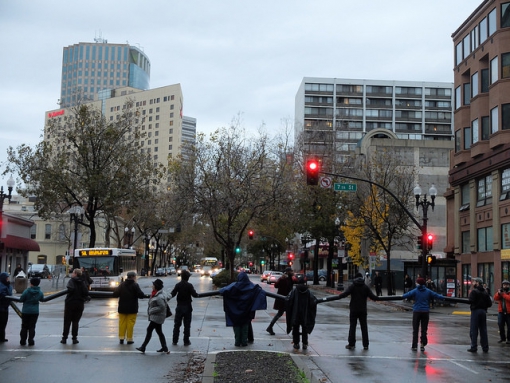 This action was choreographed, practiced and militant.
People chanted and sang in unity. BlackBrunch protestors called out "Allies,
are you with us?" to a resounding "YES!" -- a series of call and responses
chants followed. Then silence as the names of all the murdered black lives by
police were spoken. A flag of the portraits of some of those people waved on an
occupied flagpole.
As a Bengali American, I felt compelled to answer the call
to take action with #Asians4BlackLives.
I did not have a choice. My ancestors fought as Freedom Fighters against colonial
rule. They suffered imperialist wars. This legacy of struggle is in our DNA.
Although our own communities are targeted and profiled by
Homeland Security, I recognize the privilege that we and other Asians have in
the U.S. The mainstream props us up as the "Model
Minority."  Our successes are used to
blame black people for poverty, and to justify police profiling of black
people. We cannot allow ourselves to be used in this way -- and if we remain
silent, we are consenting to the daily violence and brutalization of black
people. We as
a community of immigrants in this country have directly benefited from
anti-black racism.  By perpetuating the
mythology of the American Dream, we have been allowed to climb up the economic
and social ladder and perpetuate the systematic racism against black people.
Fellow #Asians4BlackLives arrestee, Gopal Dayaneni said it best: "The
path to the liberation of all our communities travels through the liberation of
black people in America." 
Yet, putting our bodies on the line to call for an end to
the war on black people was not the only way to show support and
solidarity with black communities. A few blocks away, behind the scenes,
was our #Asians4BlackLives team which played crucial roles doing media
outreach, social media coordination, technical skills, legal support and
communications. As immigrants and non-US citizens, some of us wonder how much
one can one step up in actions, especially these actions that involve risking
arrest. You can support acts of protest that will not jeopardize your
immigration status.
There are many indispensible, legally safe roles that
support direct action organizing. Every action is backed by a team that might include:
artists, media & communications folks, video editors, people who can
navigate social media, medics, legal observers, jail support providers, cooks,
childcare providers, and more. The ways you can support are limited only by our
imaginations.
As South Asian Americans, we fall somewhere in the middle of racial and
economic lines in this country. Yet we must choose a side.  We are on the freedom side. We are
demanding an end to state sponsored violence and echoing the national
demands coming from the community in Ferguson. We need our
communities to join us in challenging anti-black racism by talking with
family and co-workers, showing up to a protest, or supporting organized direct
actions like the one we participated in, to call for an end to the war on black
people. Our liberation depends on the liberation of black people. We don't have
a choice -- we need to stand up for justice because Black Lives Matter.
If anyone asks who we are
Tell him our name is rebel
Our duty is to end the tyranny
Our profession is to launch revolution
That is our namaz, this is our sandhya
Our puja, our worship
This is our religion
Our work
This is our only Khuda, our only Rama.
— Shaheed Kartar Singh Sarabha (Sikh revolutionary Gadar
activist, Berkeley, CA circa 1913)