Seniors and staff enjoying the sun at Boston's South Cove Manor. Image credit: Southcovemanor.com
The largest
generation in U.S. history is cruising into their golden years. Over the next twenty years, the number of
folks in the U.S. aged 65 and older will double in size and climb to 20% of the population. These
staggering numbers loom over national debates regarding the budget and healthcare as we tackle the issues raised by the aging of
our parents and grandparents.
Many public figures have joined the discussion,
including Lisa Ling and Martha Stewart -- Stewart, for instance, has channeled her
energies and star power into setting up the Center
for Living at Mount Sinai Hospital, a geriatric primary care facility, and publishing
the book Living
the Good Long Life: A Practical Guide to Caring for Yourself and Others.
In this richly designed guide, Stewart offers up "Golden Rules" for seniors to
abide by for a long and satisfying life, including tips on travel, exercise,
skin care, and safety-proofing one's sunlit home.
Of course,
for the millions of AAPI seniors who live in the U.S., Stewart's guidelines for
aging gracefully may seem wistfully out of reach – if they're able to
read them in English at all. Although today's AAPI elderly are a heterogeneous
group, the majority of them arrived after the 1965 Immigration Reform Act and
the Vietnam War. But while AAPI seniors over age
65 – expected to grow to 2.5 million by 2020 and 7.6
million by 2050, from fewer than one million in 2000 – are one of the most
rapidly growing elderly sub-groups in the U.S., "they remain largely invisible"
in national discourse and public policy, as the National Asian Pacific Center
on Aging states. And they are facing many troubling challenges as they grow older.
Everyday challenges
"Because we are different and do not speak
English, Americans
seem to ignore us. Another day, my husband got on a bus and then he paid the fare. While
he waited to receive
his change, the driver threw it on the bus floor. He cried and could not stop
crying. It is hard to live in this foreign land with our language problem."[1]
By far the most critical issue for a
majority of AAPI seniors is their limited English proficiency. "For AAPI seniors who immigrated to the U.S. in middle age or later,
cultural and language isolation can be a major factor," says Sam del
Rosario, LCSW, a social worker who works with older adults.  Language
barriers can certainly turn dangerous, as we saw in January when 84-year-old
Kang Chun Wong was beaten and bloodied by NYPD after jaywalking and purportedly
resisting arrest because he couldn't understand English. But the problems
exacerbated by language barriers needn't be so violently realized in order to
impact a senior's life in fundamental ways. For many seniors who choose not to "burden" their children by living
with them, not understanding English means not being able to navigate the
healthcare system, be civically engaged, apply for subsidized senior
housing, or access community social services on their own. It means a million daily indignities, like
the one experienced by the Korean American couple above, who can't shake off a
sense of their own "foreignness" even on their daily bus rides.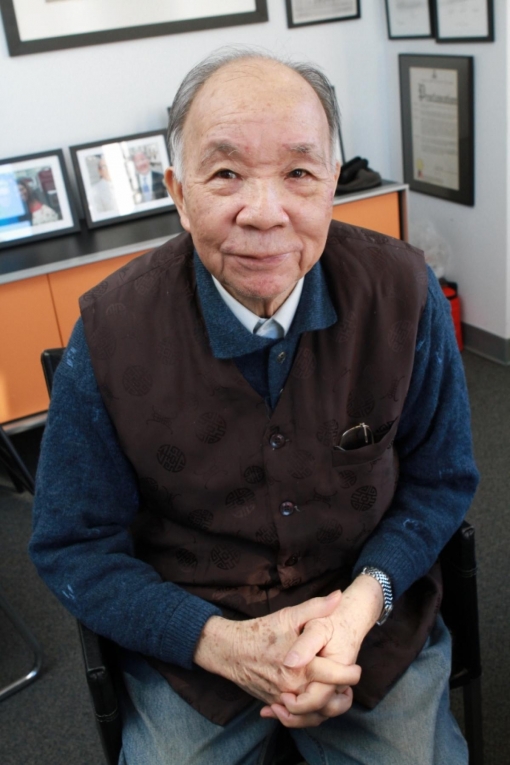 Former restaurant owner Kang Chun Wong, 84, of Manhattan, who was beaten and bloodied by NYPD police in January for jaywalking. Image credit: Jesse Ward/New York Daily News
Barriers to community
For many, it also means
living in nursing homes and other long-term senior care environments that
aren't always attuned to AAPI seniors' linguistic and culturally specific
needs. As Tanzina Vega writes in The New York Times, "Finding a home health aide or nursing home
supervisor who speaks Spanish is usually easier than finding one who speaks,
say, Khmer." Diet is also a concern; it's hard to find food at senior homes
that are tailored not only to the tastes but also the dietary needs of Asian
American elderly, who often have specific nutritional concerns such as calcium
and vitamin A and C deficiencies.[2]
The lack of welcoming communal areas in their places of residence has driven
many seniors out into the open to seek out makeshift watering holes to
socialize together in their own languages. This can lead to even more difficulties, however: In one high-profile incident in January 2014, elderly Koreans were
escorted by police from a McDonald's in Queens after managers complained that the
seniors were overstaying their 20-minute dining limit. While the incident ended more or less amicably
after protests led by Asian American community leaders, it drew
national attention to the need for more inviting social spaces for AAPI
seniors.
Invisible problems
Other, often unacknowledged problems plague the
elderly in our communities, including mental health challenges. Compared to the
general senior population, older war refugees from Southeast Asia exhibit
"unusually high rates of psychological disturbance, particularly posttraumatic
stress disorder."[3]
Stressors seem to hit elderly Asian American women especially hard: suicide rates among AAPI women over age 75 are almost double the rate of other women in the same age
group. 
The financial situation is also precarious for too many Asian American seniors. A 2012 survey found that 12.3% of Asian Americans
over 65 lived in poverty, compared to 9.1% of the general population
over 65. (The dismal figures are compounded for those within the LGBT community.) Many AAPI seniors are uninsured, while nearly 40% – including my own parents – rely on
Medicare and Medicaid as their only sources of health insurance.
Like so many other Asian immigrants, my
parents were small business owners with limited English. Living on the margins
of the mainstream economy, they never learned how to navigate the
bewildering world of Social Security and retirement planning. Their story is
sadly typical: recent Census numbers
from Chicago, where we live, indicate that two-thirds of elderly Koreans like
my parents are living under the poverty line, and nearly all of them are
immigrants who have resided in the U.S. for more than ten years.[4] The tragic irony is that an increasing number of these seniors are choosing to "reverse emigrate" back to Korea because they foresee a
future where they die alone in a country that no longer feels like home.
How can we help?
These statistics
are simply unacceptable. So what can be
done to help our folks and other elderly in our communities?
Fortunately, some national and local trends indicate cause for hope. Growing awareness about the
diversity of the aging population in the U.S. has prompted organizations such as AARP to reach out to Asian American communities. The National Institute on Aging has sought to educate health care providers about their patients' culturally
specific needs, and also recommends increasing seniors' access to professional
interpreters, who are mandated by federal policies to be made available by
healthcare providers who receive federal funds such as Medicare. And despite incidents like the McDonald's
controversy, much progress has in fact been made, especially in major cities,
to provide spaces for AAPI elderly to socialize, learn
English, vote, enjoy free lunches, obtain information about housing and social
services, and even become politically active in their
communities.
As family members and caregivers, we can help and advocate for our elders by educating ourselves first. As the only child of older parents, I've long felt frustration and despair over
the lack of information and support networks for Asian American seniors and
their children/caregivers. All too often, it's incumbent on us to seek out
resources on our own. Some of the most helpful mainstream resources I've found
are the National Council on Aging's website, and books such as Virginia Morris's How to Care for Aging Parents and Joy Loverde's The Complete Eldercare Planner. 
As for AAPI resources, we're fortunate to have the National
Asian Pacific Center on Aging, the nation's leading organization for AAPI elders. In 2012, the
Diverse Elders Coalition, to which the NAPCA belongs, published a
comprehensive report on minority and LGBT elderly that you can read here. (For those
in the Chicago area, the Coalition of Limited English Speaking Elderly provides
a list of all the
various community organizations that serve immigrant elderly in the region.)
If the seniors in your life are able-bodied and healthy, check
in on them regularly and encourage their independence as long as possible.
According to Jisun Sohn, Deputy Executive Director of Chicago's Hanul
Family Alliance, it's
important to include seniors in everyday social activities and encourage them to volunteer
and be active in the community. "They
might actually not be physically capable, but we should always remember to ask,
invite, and keep them in various circles of social life, because it is so easy
for them to develop depression when they feel they are alone and no longer
productive members of society," Sohn advises.
As your
loved ones grow older, talk with them about their preferred living
arrangements. Do they want to live alone, with family, or friends? In a
retirement community – perhaps one that is specific or sensitive to their cultural needs, whether a single floor or an entire facility? Do they need to be in a nursing home, or do they require hospice care? (The U.S. Department of Housing has information about senior living options here, and A Place for Mom works directly with you for free to help find the best senior residence for your loved one.) Wherever
they live, be vigilant and check for signs
of elder abuse. In the meantime, keep a copy of their medical, financial,
and other important records close at hand, and open up a conversation about the
difficult topics of end-of-life wishes and arrangements.
And don't
forget political advocacy. As Ai-jen Poo, Director of the National Domestic
Workers Alliance, encouraged in her Colorlines bucket list earlier this year, "Call each and
every candidate running for office in your community this year, and let them
know that caring for our aging loved ones and the [predominantly women of
color] workforce that supports them is a priority for you."
As our family
and loved ones get older, it's important for us to think seriously
about how we can ensure their health, dignity, and well-being well into their
golden years.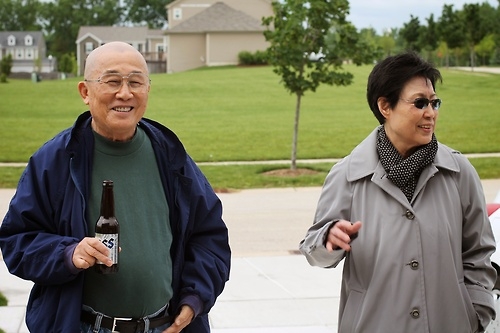 The author's parents. Image credit: Author's own
---
[1] Young-Me Lee, "The Immigration Experience among Elderly
Korean Immigrants," Journal of
Psychiatric and Mental Health Nursing 14.4 (2007): 403-410, pp. 407-408.
[2]
Katherine K. Kim, Elena S. Yu, William T. Liu, Jaekyung Kim, and Mary Bess
Kohrs, "Nutritional Status of Chinese-, Korean-, and Japanese-American
Elderly," Journal of the American
Dietetic Association 93.12 (1993): 1416-1422.
[3]Amy Weisman, Greg Feldman, Cynthia Gruman, Roberta
Rosenberg, Rebeca Chamorro, and Irene Belozersky, "Improving Mental Health
Services for Latino and Asian Immigrant Elders," Professional Psychology: Research and Practice 36.6 (2005):
642-648, p. 642.
[4]
Kiljoong Kim, "The Korean Presence in Chicago," in The New Chicago: A Social and Cultural Analysis, ed. John Patrick
Koval (Philadelphia: Temple University Press, 2006), p. 166.