"What i want people to take away from this film is that it is not just LGBT seniors, it's seniors everywhere. Everyone gets older, and everyone is going to -- if not currently -- face this ageism and discrimination. LGBT seniors are extreme cases of this. That's why I hope people can watch my documentary and see it as an entry point to understand it in their own lives whether they identify with the LGBT community or not."  - PJ Raval
by Jaime Woo
Whether shooting music videos with long-time collaborator, self-described "drag terrorist" CHRISTEENE, or following the lives of three elderly gay men shunned by an ageist society in his critically well-received documentary Before You Know It, Filipino American filmmaker PJ Raval's work places a huge spotlight on parts of culture rarely portrayed in popular media, and thus all too often ignored or unknown by the general public. Raval's artistic courage has led to his inclusion in Out Magazine's Hot 100 in 2010 and Filmmaker's 25 New Faces of Independent Film in 2006. "My work looks at outsider narratives," says Raval. "I'm really interested in exploring stories, concepts, themes and ideas that are more outside the mainstream view, even within the LGBT canon of work."
Raval enjoys how his work with CHRISTEENE represents "the more extreme, unapologetic, radical side of queerness." Take, for instance, CHRISTEENE's form of drag: the more familiar versions of drag are rooted in either pastiche or parody of womanhood—the former mastering gender illusion and the latter poking fun at the social expectations around femininity—as seen on many of the polished contestants of the popular Logo television show "RuPaul's Drag Race." CHRISTEENE instead dons an unkempt and sloppy wig, sunken eyes, smeared lipstick and unwashed panties, rejecting the gender binary of male and female and skewering the idea that impersonating a woman necessitates hewing to society's construct of beauty.
Since 2008, the pair have created seven videos, often raw, grungy and raunchy enough to be banned by YouTube. "They're definitely in the spirit of NFSW," muses the filmmaker. One such video, "African Mayonnaise," includes scenes of CHRISTEENE, clad in a torn one-shoulder dress, walking through a suburban mall alongside two male backup dancers, dressed in only too-small t-shirts and purple briefs. Raval captures the startled and disgusted looks of the patrons, and there's a sense that the duo are toying with how LGBT people sometimes have the insult "freak" thrown at them. Here, it's thrown right back in their faces. Yet, this act isn't arbitrary. There's a dark humour underneath: there's never any danger of CHRISTEENE harming the patrons, it's all a performance—the fact that Raval shows some patrons smiling in amusement highlights this point.
The legendary drag queen RuPaul has spoken about the role of drag in highlighting the artifice in life: "People who have lived on the outside understand that what's inside the box is a hoax, actually a big illusion." While on one hand, LGBT rights have progressed through the presentation of a wholesome image nested within normative structures such as marriage and fitness for military participation—images that fit the illusion—CHRISTEENE is a rebuke to polite society. The videos, with their anything goes spirit, highlights the freedom in being the outsider, and serve as a reminder to parts of the LGBT community that have conformed to the mainstream in a bid for legitimacy.
While the CHRISTEENE videos are about an in your face persona, Before You Know It examines the lives of those who have been rendered invisible in society: LGBTQ seniors. While LGBTQ visibility has increased in recent years, the faces broadcast in the media continue to be similar and predictable, slow to break out of certain stereotypes. "When the common person thinks of a gay man, for instance, they think of some 24 year-old gym-bodied person in Chelsea or in the Castro," notes Raval, referring to the two well-established LGBTQ neighborhoods in New York and San Francisco. "They don't think of an 80 year old person living in Florida or in Galveston, Texas," he adds, two states from where his protagonists hail. 
According to Services and Advocacy for GLBT Elders (SAGE), which provides services and supports for LGBTQ elders, there are at least 1.5 million LGBTQ Americans over the age of 65. By 2030, that number is expected to double. Before You Know It draws attention to this growing group, one where loneliness is a rampant issue. Statistics show that elder LGBTQ Americans are twice as likely to live alone compared to their straight counterparts. In a touching scene from the documentary filmed at a SAGE gathering, when elders in the room are asked to confirm that they live alone, almost all hands shoot up. "If you think about it, it makes sense: a lot of them don't have kids, a lot of them don't have partners, they don't have the family structure in place," says Raval. "It is hard to age alone." 
The spark for Before You Know It came in 2008 during a screening in upstate New York of Raval's last film, Trinidad, a feature-length documentary about three transgender women living in Trinidad, CO. This screening had an almost exclusive audience of LGBT elders. "At that moment I realized how little I'd seen or heard of them as a community, and I started to question why," he wrote in Huffington Post about the experience.
The title for the documentary comes from one of its subjects, Robert, a gay bar owner from Galveston, Texas: "You never think about getting older when you're younger. But, before you know it, it creeps up on you and you're there already." As the film unfolds, viewers realize how often elders find themselves unprepared for aging and struggle to adjust to how society now perceives them. Another subject, Dennis, a former Player of the Year for Badminton Magazine in mid-life, affirms this idea when he tells the camera: "I really don't feel very old. When I look into the mirror I said who the heck is that in there?"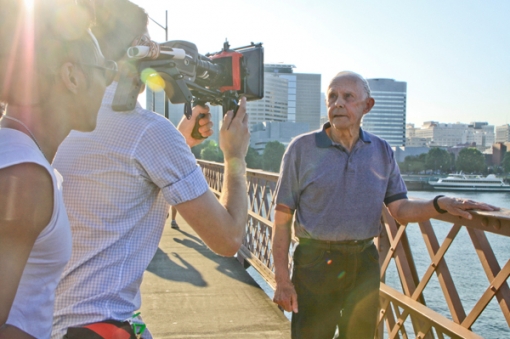 Before You Know It had a limited theatrical release in May and is currently touring the country. But while the film centers upon LGBTQ characters and their unique specific obstacles -- such as feeling pressured to hide their orientation or seeing large parts of their support system pass away during the HIV/AIDS crisis -- Raval is quick to point out the experience of struggle in old age explored in the film is universal, and therefore relevant to larger audiences. 
"What i want people to take away from this film is that it is not just LGBT seniors, it's seniors everywhere," he notes. "Everyone gets older, and everyone is going to -- if not currently -- face this ageism and discrimination. LGBT seniors are extreme cases of this. That's why I hope people can watch my documentary and see it as an entry point to understand it in their own lives whether they identify with the LGBT community or not." 
In a youth-obsessed culture, it can become easy for people to resign themselves to a "best before" date on their lives, lowering their expectations of what they can accomplish later in life. In part, this comes from our short-sighted perceptions on age and aging. Raval, who just turned 40, had felt this but the experience of filming Before You Know It has helped him become more comfortable with getting older. "I think, like everyone else, there's a certain nervousness with time passing, but one thing I learned from these seniors was that they are living life to the fullest." 
There are few certainties in life let alone when it comes to aging, which is perhaps why it is so important to acknowledge and tackle problematic issues around it now. When asked about his own ideal vision of the future, Raval says: "When I'm, say, 75, I hope that I'm surrounded by great friends, hopefully I'm with my partner, hopefully I have a place to go to and feel included and understood and heard and seen. You know?" Luckily, films like Before You Know It could make that dream more of a reality.  
***
Jaime Woo is a writer based in Toronto. His book, Meet Grindr: How One App Changed The Way We Connect was released in 2013 and was a finalist for the 2014 Lambda Literary Awards.