Opinions will always be divided on Wong. Some see her as a
cinema pioneer who fought hard to succeed in a racist industry. Others feel she
embarrassed herself -- and her culture -- by agreeing to play stereotypical
dragon ladies and oriental sexpots. There is one thing, however, on which both
sides can agree: Anna May Wong was one of the most photogenic actresses ever to
grace the silver screen.
Wong grew up in and around L.A.'s Chinatown. Her father, a
second generation Chinese American, ran a laundry. And while the family
business generated a decent income, Anna May had bigger dreams. As a
schoolgirl, she'd skip class to go to the movies and then run home and act out
the scenes in front of her mirror.
Film studios did a lot of location work in Chinatown back
then, so Wong started hanging around the shoots. She scored her first acting
gig (an extra in Alla Nazimova's The Red Lantern) in 1919, when she was
only 14 years old. Her roles slowly got bigger until, in 1922, she was chosen
to play the lead part of Lotus Blossom in The Toll of the Sea -- the
fist Technicolor movie ever produced. The film was yet another version of the
old Madame Butterfly formula (white
guy and Asian girl fall in love, white guy leaves, Asian girl kills herself),
but it was a hit, and Wong's performance made her a hot commodity in Hollywood.
Wong went on to work with Douglas Fairbanks in The Thief
of Baghdad and Marlene Dietrich in Shanghai Express, hugely
successful pictures that increased her international renown.  But she found herself playing the same parts
over and over again: half-naked slave girls, prostitutes and dragon ladies.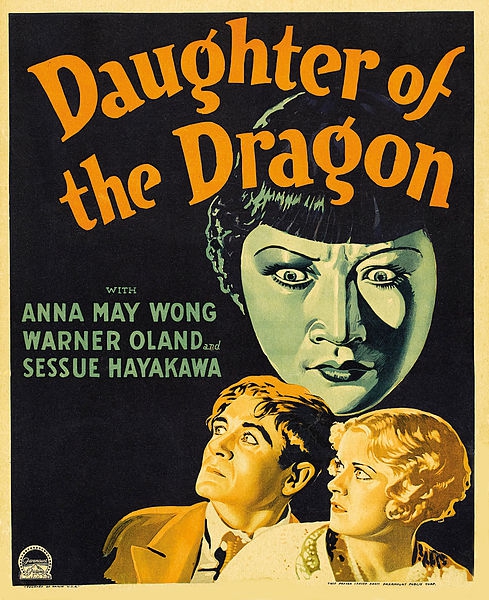 Wong grew to dislike these roles, but there was little else
available. Due to censorship laws, an Asian actress wasn't allowed to kiss a
white man onscreen, so how could she hope to play a romantic lead?
Eventually, she went to Europe in search of better parts. Her
charm and beauty enchanted the intellectual elite in Berlin, and she started a
fashion craze in London with her elegant gowns and hairstyles. Unfortunately,
the movie roles she was offered were only marginally better.
Wong was equally frustrated in her personal life. She tended
to fall for white men, who, because of miscegenation laws, could never marry
her. Even if they had, the scandal would've ruined her career. So she contented
herself with affairs, affairs that ended like Madame Butterfly, minus the suicide.  
As Wong got older, the movie offers dried up and she moved
on to stage, radio, and television, where she was the first Asian American to
star in her own show (The Gallery of
Madame Liu-Tsong). Throughout the 1950s, Wong's health steadily
deteriorated. Excessive drinking led to cirrhosis of the liver, and she died in
1961 at the age of 56.
It's easy to view Anna May Wong's life in a tragic light,
but it wasn't all heartbreak. In the 1920s she was a jazz-age darling -- the
"Chinese Flapper," partying till dawn and leading cops on wild car chases. In
the 30s she hobnobbed with British royalty and formed lifelong friendships with
kindred spirits the world over. In the 40s she did everything she could to help
the US and China win the war against Japan.
A Wong biopic (Dragon
Lady) is currently in development, and two excellent biographies are
already out, but to truly understand the actress's fascination, you have to see
her on screen. In addition to Toll of the
Sea and Shanghai Express, the
following titles are available on DVD:
The Thief of Baghdad (1924). Wong plays a treacherous
Mongolian slave girl. It's a small role, but a crucial one, and features
perhaps the most titillating scene in early cinema -- a bare-chested Douglas Fairbanks
pressing his knife against Wong's nude back as she trembles in fear and erotic
anticipation.
Piccadilly (1929). Wong is a pot-scrubber in a
Limehouse nightclub. When her boss catches her dancing in the kitchen, he
decides to put her on stage. Her exotic jazz baby-meets-ancient Cambodia
gyrations cause a sensation, and the club owner makes her his willing mistress.
A Study in Scarlet (1933). A Sherlock Holmes mystery
with Wong as the wife of a murder victim. Photographer George Hurrell said that Anna May Wong always gave the impression that she
had a dagger hidden in her sleeve, and you'll see what he means here.  
Chu Chin Chow (1934). The evil Abu Hassan infiltrates
Baghdad's high society by posing as the great "Chu Chin Chow of China." Wong
plays yet another slave girl. Watch for the cult classic scene in which a
sweaty Wong labors on Hassan's torturous slave wheel.
Bombs Over Burma and The Lady From Chungking
(1942). Wong made both of these low-budget films in the same year, but she
was proud of them, and for good reason. Set in China during World War 2, they
dramatize the brave exploits of Chinese guerillas battling a superior Japanese
war machine. Wong played the heroine in both films, successfully encouraging
her American audience to support the fight for freedom in China.
Editor's note: We have since removed the note that Anna May Wong was the first and most famous movie star after corrections and contributions from readers about Sessue Hayakawa and other prominent Asian American figures in Hollywood.