The cast and crew of 99 Histories at one of their first rehearsals. The play opens September 13. Photo credit: Nicholas Pilapil
"Artists do their best to bring every part of who they
are to their work," says director Leslie Ishii. "To be a fine actor or a fine
artist, you have to know yourself. You can't skip over any of your history, any
part of your identity; you need to feel safe enough to choose to be
seen and heard to whatever degree you need. AAPI artists, other artists of
color, and those from underrepresented and marginalized groups deserve a
theatre community and a society where they can be holistically recognized." 
A director and educator with East West Players, the country's largest
Asian American theatre company and longest-operating theatre of color, Ishii
has spent years working to increase AAPI visibility in theatre and develop more
inclusive arts training and education. Now she is directing Julia Cho's 99 Histories with Artists at Play, a Los
Angeles-based theatre collective dedicated to presenting work by Asian American
playwrights, featuring Asian American actors, in an artistic community that
strives for diversity but still -- quite often -- falls short.
Artists at Play was founded in 2011 by Peter Kuo, Julia Cho
(not to be confused with the playwright of the same name), Marie-Reine Velez,
and Stefanie Wong Lau, who had all gotten to know one another working in L.A.'s
vibrant theatre community. While Artists at Play is dedicated to telling the
stories of Asian America, its founders have purposefully sought out plays that
contain universal themes, relatable to a contemporary audience. Their mainstage
productions -- including Lauren Yee's Ching
Chong Chinaman, A. Rey Pamatmat's Edith
Can Shoot Things and Hit Them, and Michael Galamco's Cowboy Versus Samurai -- have centered on issues ranging from love,
family, and identity to interracial dating, bullying in the LGBTQ community,
and what it means to be a "foreigner." Now Artists at Play is in rehearsals for
99 Histories, a play focused on
personal history and mental illness -- and how different family members choose to
face both.  
"All our mainstage plays have been L.A. premieres, which I
still can't believe sometimes," says actor/producer Julia Cho, who plays
Eunice, the young Korean American protagonist of 99 Histories. Cho is perhaps best known for portraying Charlotte Lu
in the popular web series The Lizzie Bennet Diaries, and has had
recent roles on Scandal, Castle, and other television shows. "But
even though we're in a major city with a huge Asian American population, there
are still so many plays by Asian playwrights that just aren't being produced."
Julia Cho, who plays Eunice in 99 Histories, at an Artists at Play rehearsal. Photo credit: Sadie McCoy
Cho also notes that despite the success of actors like
Sandra Oh ("a real inspiration to me and to so many other Asian actors") and
John Cho ("he's like our James Shigeta -- this good-looking, talented Asian
American lead"), it's still rare to see Asian Americans in major movies or TV
shows. "I sometimes find myself at callbacks for TV roles, and it's four or five
white women and me," she says. "There's no reason it should be that way. And
theatre should also be more representative of society at large."
"We often hear 'Asian casts and Asian American stories don't
have universal appeal,'" says Ishii. "The same mainstream normative that often
makes the AAPI experience invisible is also at work throughout the theatre
field."
Peter Kuo believes it can be difficult for white male artistic
directors -- who dominate the leadership of many theatres -- to latch on to
works by writers of color. "Companies get tons of scripts every week, and
artistic directors are reading quickly and looking for something to grab them,"
he says. "If you're reading about characters that you may not immediately
relate to because they seem unfamiliar to you, it's harder to imaging producing
that play for your audience. Which is unfortunate, because artists of color,
and audience members of color, always have to find a way to connect with
stories that don't necessarily reflect our
lives."
The Artists at Play founders don't believe the lack
of Asian American representation can be chalked up to clear-cut intentional racism or exclusion. "Most of the time it has more to do with people not even
realizing we're there, and feeling comfortable with the norm -- which is white,"
says Cho. "That's what we've grown up with. Even as people of color, that's the
world we expect when we watch a show or go to a play. But slowly, more and more
people are realizing that that isn't the world we live in."
Stefanie Wong Lau also hopes that the status quo can eventually shift. "There are stereotypes and misconceptions, there are issues of privilege, but many people are trying to change the way things
are run," she points out. "Artists at Play has had the opportunity to address
acting classes; we've been getting inquiries from other theatres, asking for
assistance reaching out to a larger pool of actors of color. These are small but important steps."
All the Artists at Play co-founders say they are grateful
for the support they've found within their community as they work to showcase Asian
American writers and artists and reach an ever-wider audience. And they can also
envision a future in which their company mission might shift. Theatre
-- like so many other industries -- will need to evolve if it is to remain
relevant and appeal to a younger and increasingly diverse population. 
"There are certainly a lot of theatres and a lot of artists out there who want more
diversity, more inclusion -- so hopefully, as that happens, that will challenge
Artists at Play to adapt and figure out our place in a more integrated theatre,"
says Marie-Reine Velez. "Theatre is about change. It's supposed to be
transformative for the audience, for the artists. The hope, the goal, is that
by existing, Artists at Play is already changing the landscape of L.A. theatre."
"This is why I wanted to work with Artists at Play," says
Leslie Ishii. "They do so many things so well. They are working hard to
increase opportunities and visibility for AAPIs in theatre. And they want to be
allies and work with other groups to move everyone forward together. They're a
force."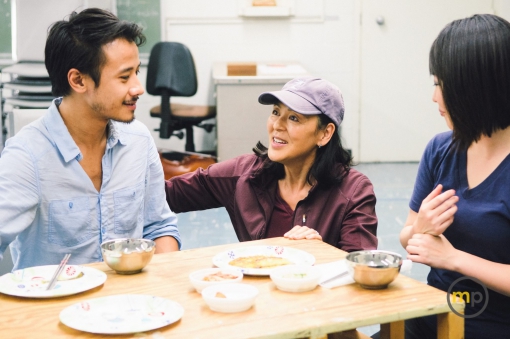 Leslie Ishii (center) directs David Huynh and Julia Cho at a rehearsal for 99 Histories. Photo credit: M Palma Photography
***
Artists at Play will present 99 Histories (by Julia Cho, directed by Leslie Ishii) on September 13-28, 2014, with preview performances on September 11-12. You can buy tickets here.