During the outpour of media coverage that followed President Obama's announcement of his Executive Action (EA) last November 20, 2014 that announced an expansion of the 2012 Deferred Action for Childhood Arrivals (DACA) and a new deferred action program offering relief for parents (Deferred Action for Parents of Americans & Lawful Permanent Residents, or DAPA), only two sentences could be found in any mainstream media outlet that addressed how the EA would impact LGBTQ communities. In the Washington Times article "Obama amnesty leaves most illegal immigrants still in fear of deportation," consideration of LGBTQ communities was limited to the short statement below:
Gay rights groups argued that tying the policy to children is discriminatory because gay couples tend not to have children. Advocates also said gays, and particularly transgender women, are more likely to have criminal convictions in their past, making them unfairly ineligible.
Stated with little context and no further elaboration, the excerpt marginalizes LGBTQ communities and fails to unpack the connections between immigration policy and LBGTQ advocacy. It presumes in its sparseness that mainstream readers are not eager or even willing to inform themselves in more depth about how immigration reform impacts LGBTQ community members.
In the next month, to help spread awareness on how immigration reform impacts the LGBTQ API community, Hyphen will feature articles written by community members and allies. These posts will be in partnership with the National Queer Asian Pacific Islander Alliance (NQAPIA) as a part of their "Rise Up! NQAPIA Week of Action on Immigration." We will feature articles that focus on the particular needs of LGBTQ Asian, South Asian, Southeast Asian and Pacific Islander people to galvanize comprehensive immigration reform and (1) call for an end to racial and religious profiling, (2) push for the elimination of immigration detention for vulnerable communities including LGBTQ communities and (3) demand an end to deportations under the Cambodian Repatriation Act and to all countries until the U.S. implements human and civil rights for all communities.
Little quantifiable research exists on how LGBTQ members are affected by immigration policy. What is known is that out of the 4 million undocumented immigrants that will be granted administrative relief due to Obama's Executive Action, 1.3 million are APIs, as estimated by the Department of Homeland Security. According to the Center for American Progress "LGBT adult undocumented immigrants are more likely to be male, younger, less likely to be Hispanic, and more likely to be Asian".
During the week of April 13th, the 40 grassroots LGBTQ AAPI organizations that make up NQAPIA's federation are rallying via the battle cry RISE UP! to rouse community conversation about immigrant rights. Among the activities planned include over a dozen local conversations led by LGBTQ AAPI organizations,  a national call that took place on Monday, April 13th featuring Kris Hayashi of the Transgender Law Center, Sarath Suong of Providence Youth Student Movement and Sasha W. of the Queer South Asian National Network (recordings will be available at www.nqapia.org) and a national twitter chat using #RiseUpNQAPIA on Saturday April 18th from 4-5pm EDT/1-2pm PDT.
Although the expanded DACA and DAPA programs have been halted -- hopefully temporarily -- by a lawsuit and resulting injunction by Texas Judge Andrew Hanen, Pabitra Benjamin, NQAPIA Director of Organizing, was optimistic during our phone interview that Obama's move presents a step forward in the right direction. However, she did agree that the widespread ignorance and nearly-absent coverage in the mainstream media about LGBTQs affected by immigration policy poses a huge problem.
When I bring up the Washington Times excerpt, she responds with a slight hint of exasperation: "What you've heard is the mainstream argument which fails to mention other issues that affect non-traditional families," she said. "For one, a number of states do not legally recognize LGBTQ couples, and with that being the case, how do you apply for status for your partner or parents of your partner? ... The mainstream also fails to have a conversation about how a lot of LGBTQ people may be estranged from their families which lead us to choose our own families which may not fall into any legal definition of what a family should be."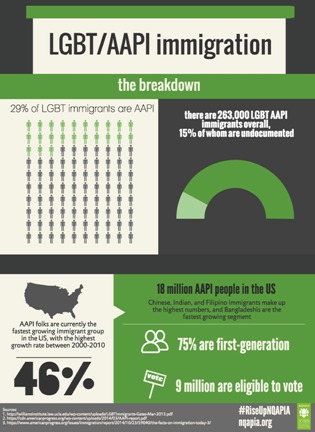 Benjamin also stressed that not all LGBTQ members are estranged from their families: "A lot of us may struggle with our families but it doesn't mean we're estranged from them, so another thing we're working really hard for is ensuring that those who qualify for DACA and the expanded DACA and new DAPA program take advantage of the programs. Undocumented immigrants from Asian countries have the lowest rates of participation. One study commissioned by Unbound Philanthropy found that California and New York have the nation's largest numbers of AAPI DACA-eligible youth, at almost 50,000 combined. But only roughly 6,300 and 4,000 AAPIs applied in the first seven months of the program, respectively. The Migration Policy Institute found that, nationally, while an estimated 27,000 undocumented youth from the Philippines are potentially eligible for DACA, only 17 percent of them have applied. Twenty-six thousand Koreans are eligible, but only 35 percent applied. Among 19,000 Chinese, only 5 percent applied.  Among 17,000 Indians, only 25 percent applied. DACA is temporary and must be renewed, but a study of pre-screened DACA applicants found that between 15-20 percent are eligible for permanent relief from deportation under other immigration provisions. We stand strong behind these programs while they are being dragged through the courts by anti-immigrant politicians."
"While we work to progress administrative relief programs, we also fight for those left out of Obama's EA." Benjamin further explained the Washington Times' mention of transgender women and the perception of their greater likelihood of being ineligible for administrative relief: "We have people in the transgender community who have been ostracized by family at young ages and live alone in poverty, and so there are stories of transgender folks who have turned to sex work as a means to survival. These community members may not qualify for relief. Instead of relief, some immigrant trans* folks find themselves in immigrant detention centers where they are housed by their "official sex" rather than their gender identity. These individuals are harassed, beaten, raped by inmates and then put into solitary confinement for their own protection. We know that solitary confinement is itself a form of torture. Our LGBTQ folks are vulnerable communities and although the President's EA emphasizes the discretion to not house 'vulnerable communities' many LGBTQ folks are still being detained. Lots of people get turned away by immigration and we want to be able to protect all of our communities."
Benjamin further points to the "dichotomy of the good immigrant and bad immigrant" as another hurdle to surpass in pushing for immigration reform: "In the President's speech [where he discusses replacement of the Secure Communities program with the Priority Enforcement Program that would focus deportation efforts on "terrorist," "gang members" and those immigrants convicted of crimes], he talks about how we want to keep the 'good' immigrants here and highly skilled laborers to help build our science and technology fields, and it's feeding into all these stereotypes of AAPI individuals ... but we know this opens the door to profiling of our South Asian and Southeast Asian communities and yet there is no accountability of immigration enforcement agencies who profile. There are also folks who have paid their dues to society and others with misdemeanor criminal histories for crimes they did at a very young age, and they're going to be left behind. We are particularly focused on Cambodian communities who fled from genocide and came to the U.S. as refugees. Because they may have committed a minor crime, such as one instance of shoplifting or being caught with a small amount of marijuana, they are being deported to a country they fled or, left when they were infants and that's scary ... we don't know if people being targeted were convicted because they were profiled and fed through the school to prison/deportation pipeline. We know that it's time to focus on educating our communities "
So while the resounding reaction of immigration reform advocates stresses that the EA falls short for not granting legal status or creating a path toward citizenship, strong hope can be found through working with organizations like NQAPIA. Follow the Hyphen series on Wednesdays to learn more about how LGBTQ AAPI communities are impacted by racial and religious profiling, detention and deportations.  Get involved in RiseUp! by attending a local event, joining NQAPIA for a twitter chat using #RiseUpNQAPIA on Saturday April 18th from 4-5pm EDT/1-2pm PDT and signing the petition to end racial profiling, detention and deportations.
---