In need of some last minute holiday gifts? The Hyphen fam offers up a few recommendations on small businesses, films, and other ventures from our current and former staff and friends. Happy gifting!
Hyphen's LGBTQ Editor Mia Nakano is one of the only people in the country creating tintypes from digital files as a "historical photo lab".   What are Tintypes? They are photographs printed directly onto aluminum plates, created in a darkroom using a 19th century photographic process called Wet Plate Collodion. Each has it's own beautiful imperfections from hand processing techniques. 
The Tintype Photo Lab can make a tintype from digital images you upload and ship them to you.  The Tintype Photo Lab was created out of a love for slow thoughtful photographic processes, and it honors the craft of printmaking and puts an old/new twist on digital images.
Orders placed by December 18th receive 30% off and will be shipped by December 21st via USPS priority mail. 
Discount code: HyphenAA
This documentary by Ursula Liang "uncovers an isolated and unique streetball tournament played by Chinese-Americans in the heart of Chinatowns across the USA and Canada. Largely undiscovered by the mainstream, the game is a gritty, athletic, chaotic urban treasure traditionally played in parking lots and back alleys. A 9-Man tournament grew in the 1930's, at a time when anti-Chinese sentiment and laws forced restaurant workers and laundrymen to socialize exclusively amongst themselves. Today it's a lasting connection to Chinatown for a dynamic community of men who know a different, more integrated world, but still fight to maintain autonomy and tradition."
9-Man can be purchased here (20% off Holiday sale + free shipping through December 19th) 

This candle, fragrance and body care business created by Hyphen's former music editor, Tanwi Nandini Islam features a #GETLIT line of candles that PAIR with books by writers: 
"#GETLIT is a HI WILDFLOWER collaboration with today's most compelling writers. Inspired by the olfactory stories embedded in each author's work. " Part of the proceeds from this line go to Girls Write Now.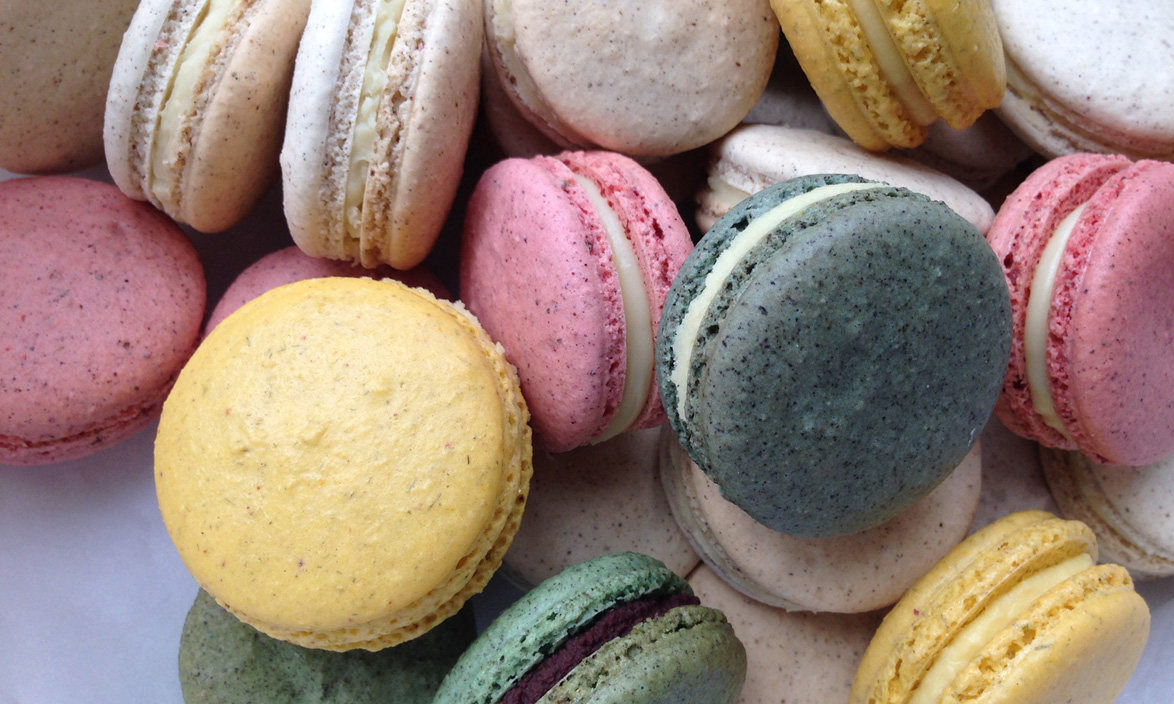 Seasonal and signature macarons and other baked sweets from Shades of Sugar in Oakland, CA. Choose from some of their unique offerings like Toasted Honey Champagne, Elderflower Pear, and Ginger Yuzu. They'll even work with you to create a custom flavor! Check out their current menu and how to order here. 
The mission of Kwohtations Cards is to spread joy and bring people closer together by making cards that recognize, embrace, and celebrate the diversity and absurdity of life. The cards celebrate everyday occasions and life-changing milestones often underrepresented in the mainstream card industry, such as "Sorry I Was Hangry," "Thanks For Watching Me Ugly Cry," and "Yay You Have A New Pronoun." They reflect the wonderful diversity of race, gender, sexual orientation, and life experiences that make up our communities. Owner and artist Janine Kwoh, based in Somerville, MA, prints and paints each card individually with a combination of letterpress and hand-cut linoleum block prints, so each one is one-of-a-kind and made with love.

Based in Oakland, Kitazawa Seed Company is the oldest seed company in America specializing in heritage Asian vegetable seeds. They are packaged in awesomely vintage packages, and you can gift your loved ones a Asian culinary garden kit, or individual packets ranging from shiso to bok choy to chrysanthemum greens. Kitazawa Seed Company has been independently run since 1917, and can ship all over the country.