Nobu (Peter Shinkoda) and his henchmen in a montage at the end of the Daredevil's Pilot ("Into The Ring")
Season 1 of Marvel's Daredevil recently made its debut on streaming platform Netflix to rave critical and audience reviews. The series is a gritty, neo-noir re-imagining of a beloved Marvel character (that didn't receive as favorable a reception when rendered in a prior 2003 movie starring Ben Affleck), which fleshes out truly complex characters: by day, a blind defense attorney (who graduated summa cum laude from Columbia Law) named Matt Murdock (Charlie Cox) runs a two-man shop with his friend, Foggy Nelson (Elden Henson) while their "first client", Karen Page (Deborah Ann Woll), assists them as a secretary. By night, Murdock exacts justice as a masked vigilante, in his view making New York's Hell's Kitchen a better place – a perspective shared by archvillain Wilson Fisk (brilliantly played by Vincent D'Onofrio) who believes he is doing the same thing, only by ruling the city's various criminal organizations with an iron fist. Among these criminal overlords are the series' two main Asian characters – Nobu (Peter Shinkoda) and Madame Gao (Wai Ching Ho) – each leading their own criminal faction in their own ruthless ways. I got the chance to speak with Shinkoda about his role and his thoughts on being a part of the Marvel Cinematic Universe. Netflix also recently ordered Season 2 of the series, so we may be seeing more of Nobu soon.
Nobu (Peter Shinkoda) and Madame Gao (Wai Ching Ho): The Two Asian Crime Lords of Daredevil's NYC Hell's Kitchen
Congrats on doing an incredible job portraying the character of Nobu, possibly the most badass and toughest villain in the world of Daredevil (who probably, out of all the villains, gives Murdock the "most difficult time" to say the least). Can you describe how you initially got involved with the show?
Thank you for your very kind words.  It's always a great challenge and a great pleasure playing a villain who is not only evil, but complex too.  I love exploring the emotional depth that underlies what is initially perceived as malevolence.
When the role of Nobu came to me via my outstanding manager, Dani Del and agent Mike Carr, I was being considered for several roles, some for leading characters on new shows on other networks.  But the opportunity to work as one of the major villains on Marvel's Daredevil property was just something I could not pass up, particularly when I recognized that the role was both action-oriented and smart. 
Did you undergo any special training or research to bring Nobu to life and do the character justice?
I think research is fundamental to any serious actor's craft.  I brushed up on my knowledge of Japanese criminals and warriors, both ancient and contemporary, to try to give a distinct realism to my portrayal of Nobu.  I reread all of the Daredevil material I could get my hands on. In addition, I received specialized training both for the hand-to-hand combat and for use of specific weapons under the tutelage of gifted stunt coordinator Philip Silvera. For my Japanese dialogue, I didn't have to look any further than my mother and all of my family in Japan. Marvel did provide a linguistics school in Manhattan that I visited a couple times to ensure that my "heritage" Japanese was aligned with what was needed for the show.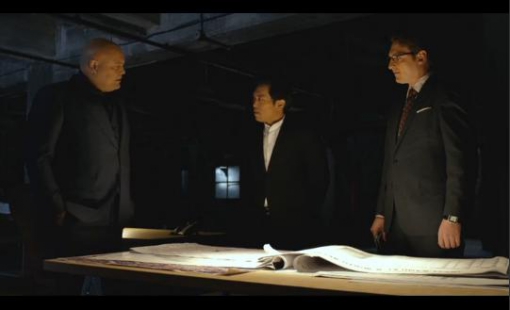 L-R: Wilson Fisk (Vincent D'Onofrio), Nobu (Peter Shinkoda) and James Wesley (Toby Leonard Moore)
How does it feel to be a part of the Marvel Cinematic Universe? Were you a fan of Daredevil or any other Marvel comic books growing up? 
I cannot begin to tell you what a thrill it is to be part of the Marvel Universe.  I am a lifelong devout fan of Marvel characters and one of my dreams that was actually fulfilled was meeting Stan Lee a few years ago, long before I was cast as Nobu.  He did my cousin and me the immense honor of naming us the very first members of his POW-er Brigade, named for his company, POW Entertainment. We were "knighted" official Brigadiers by Stan The Man! Excelsior! 
People will think I'm just making this up, but out of all the Marvel characters and series that I love, Daredevil was my 2nd favorite after Spiderman. I particularly liked what Frank Miller did with the comic and think that it is quite possibly THE best work of his illustrative career.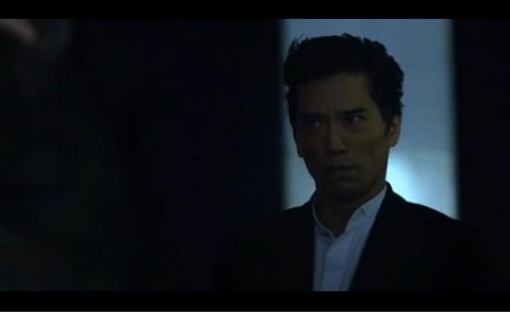 Nobu (Peter Shinkoda) from the Pilot Episode ("Into The Ring") 
What are your thoughts on the future of Marvel related shows on new media platforms such as Netflix? Can you clue us in on any of the other related "Defender" Marvel shows such as Luke Cage, Jessica Jones and Iron Fist?
I think that Netflix is the perfect platform for Marvel shows because it allows for a creative freedom and grittiness that broadcast networks simply cannot match.  That doesn't mean that superhero shows on broadcast networks can't be fantastic and successful, it just means that the flexibility of a Netflix-like platform is ideally suited for brining to life visions of hyper-realistic environments and activities, built around psychologies that are quite likely too intense for traditional media.
I can't speak of the specifics of the other three Marvel shows slated for Netflix, but what I can tell you is that the culminating miniseries, "The Defenders," will be one of the most incredible "event spectaculars" in television history. Like all fans around the world, I too, am highly anticipating that show's arrival!
Nobu (Peter Shinkoda) negotiating with Wilson Fisk (Vincent D'Onofrio)
Outside and within the Marvel Cinematic Universe, do you think a greater diversity of roles will eventually emerge? Especially via new bolder platforms such as Netflix willing to take risks - e.g. do you see the creation of new content and roles particularly for Asian American actors or actors of Asian descent being imminent? 
Well, within the Marvel Universe, we are already seeing that diversity, particularly on the small screen.  While Samuel Jackson plays the definitive Nick Fury in the movies, we've seen the TV show "Agents of S.H.I.E.L.D." have a very racially mixed cast with part-Asian actress Chloë Bennett's character becoming increasingly central to the plot of the entire series and Ming-Na's character emerging from a somewhat taciturn beginning to being one of the most dynamic heroines on TV.  The episode about her backstory that just aired was frankly one of the very best of the entire show.
Meanwhile, "Agent Carter" was a minor period masterpiece.  The gorgeous Hayley Atwell is a favorite of mine, but the whole theme of women being under-recognized for their skills, abilities, and intelligence while all-the-while proving every bit as capable and effective as their male counterparts is one that rings very true to me!  I think it's wonderful for a TV period piece to show strong women since I honestly believe a lot of women are a lot more capable than most men, at least the men I know.
I think Netflix does provide an opportunity for more risk-taking regarding minorities, particularly Asian characters.  "Marco Polo," is a great example of that.  It's a strong show, built around characters of Asian descent.  Mind you, the new incarnation of "Hawaii Five-O" on CBS that I was blessed to guest star on, last year [Season 4, Episode 18 "Ho'i Hou"], has also done a fantastic job of using actors of Asian descent as both principal cast members and guest stars on a continuing basis.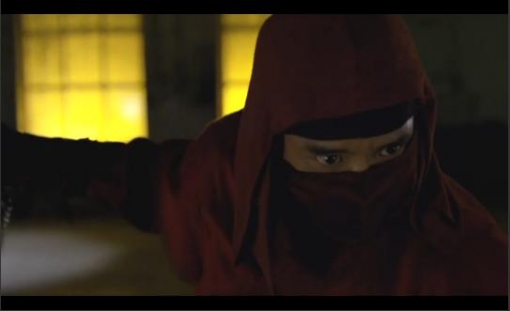 A possible alternative identity for Nobu (Peter Shinkoda): See Season 1, Episode 9 ("Speak of the Devil") 
Without giving anything away, can you tell fans of Nobu what may be next for the character or the show? Can you also disclose more about the organization that Nobu is involved with, and what to possibly expect for Season 2 or other future Marvel shows? How do fans best support you or Nobu to ensure that we will be able to see more of him down the line?
As you can imagine, I can't really say too much about Nobu or the future of the show.  Let me just say that it's been a privilege to portray him in Season 1 of "Daredevil".
As for how fans can support Nobu, please celebrate the character and his exploits on social media, particularly Facebook and Twitter. #NobuLives
What else are you working on currently, and is there anything we should be on the lookout for?
I am up for several roles in upcoming pilots and movies that I can't speak of just yet. I am also one of the leads in Always (aka Inflection), a independent film directed/ written by Derek Ting and shot in Hong Kong that is a fascinating Romeo & Juliet story with a corporate espionage subplot that will be released soon.  I am very proud of the way it turned out. It's on the festival circuit right now. Another project of which I am deeply proud of is Lady Killers, a very dark comedy of deceit and revenge as well as Western Religion, another indie film in which I play a Chinese immigrant caught up in the unpredictable Wild West of the 1800s.
Follow Peter: 
On Twitter: @PeterShinkoda or http://www.twitter.com/PeterShinkoda
On Facebook: http://www.facebook.com/ThePeterShinkoda
On IMDb: http://www.imdb.me/petershinkoda OR http://www.imdb.com/name/nm0793946/
Photograph courtesy Joyce Yung Photography (https://www.facebook.com/JoyceYungPhotography)