In an Oakland, CA youth center on a Sunday morning, while many everyday American folks prepare to eat brunch, I'm in for a different kind of meal. Four Californian men are assembling their signature dishes in a special cook-off.
Harrison Seuga, 45, is warming up instant ramen in a water-filled plastic trash bag and mixing in mayonnaise, mustard, rice and canned chicken. The whole concoction is to be eaten in spoonfuls on top of saltine crackers. Eddy Zheng, 46, is making a three-foot-long ramen casserole with crushed Fritos, rehydrated chicharrones and Doritos. Haro Agakian, 67, is making ramen with tuna and jalapenos. Pete Thao, 39, seems to be making the most easily-recognizable dish: rice with stir-fried bell peppers, onions and Chinese sausage.
Eddy Zheng reveals the Fritos-ramen-casserole. 
This is not a typical cooking competition: The recipes were perfected by these Asian American and Pacific Islander ex-inmates while in prison. To eat in prison means either braving the standard chow hall fare — often expired foods and unrecognizable mystery meat, as the ex-prisoners tell me — or making your own food in your cell, improvising to create cultural or ethnic flare.
"People are trying to relive a time in their lives when it was better, to capture those childhood memories through smell and taste," says Seuga.
But it isn't easy for inmates to make traditional home-cooked food. There's no Whole Foods or Asian grocery store in prison. Prisoners are limited to packaged foods they buy from a canteen — the prison store — or from boxes sent by outsiders four times a year of up to 30 pounds of pre-packed foods. Top Ramen is most commonly eaten, since it's the cheapest item in many prisons at about 25 cents a pack. Instant rice is also common, as are chips, canned tuna and chicken. Recently, California prisons have also added vacuum-sealed Chinese sausages to their canteens. Some inmates ask family and friends to send culturally specific foods such as wahoo, a type of fish, corned beef (requested by some Pacific Islander inmates) or canned dace, fish in black beans that's found in Chinese markets.
The dishes cooked in prison are a mishmash of instant rice, ramen and anything else the inmates can get their hands on, but they have remnants and flavors of traditional dishes. Cooking them involves creative use of limited resources. "If there was a Top Chef competition using instant ramen, these guys would win," says Kasi Chakravartula, a friend of mine who has volunteered in prisons for 10 years and is a member of the Asian Prisoner Support Committee. (Disclosure: I was an early volunteer with the group about 10 years ago.) APSC oversees the Roots 2 Re-entry program, which organized the prison cook-off that day at The Spot, an Oakland Chinatown-based youth center.
"I see food as similar to music — in music, you listen to it to take you back somewhere," Seuga says. "It sort of taps into a memory that you relive in that music. Food is similar. I saw people preparing foods and trying to capture certain tastes that they remember from home."
Cooking food in cells is an exercise in inventiveness. Mandy To, 32, who was in a women's prison for six years, says she learned how to make no-bake cheesecake, tacos, and "fried rice" using just hot water and a plastic bag.
To says she would adapt what she found on the weekly chow hall menu and sneak it back to her cell to make a decent dish. "If there was an item — say, a salad — they would give us a handful of salad during dinnertime, and we would just bring the greens back. We'd wash them, chop them and use the lettuce in tacos." To remembers making Hong Kong-style fried rice by warming up crushed pork rinds, sliced sausages, instant rice, soy sauce and jalapenos. "It came out pretty good, but I messed up so many times. My rice turned into porridge at times."
---
Prison food has long been a source of fascination. It's the subject of multiple cookbooks, including Prison Ramen: Recipes and Stories from Behind Bars and Commissary Kitchen: My Infamous Prison Cookbook; the topic of VICE Munchies videos; a conversation piece for Orange is the New Black fans; and the inspiration behind many YouTube tutorials and news stories about how ramen has replaced cigarettes as the main currency in prison.
Since the United States is the largest jailer in the world — feeding more than 2 million inmates on a daily basis — it's no surprise that so many people are interested in the topic. Though "three hots and a cot" isn't an accurate description of incarceration anymore — many prisons have eliminated the third hot meal and subbed in a bag lunch due to budget cuts — prison food culture is integral to prison life. Some prisons have been sued for causing food poisoning or for giving inmates undefinable food, otherwise known as "cruel and unusual punishment." Prisoners have gone on hunger strikes due to poor food quality.
For minorities in prison, eating mystery meat and bland food means, to some, taking away a part of their culture. Once upon a time, family members of inmates could bring fresh cooked food inside to loved ones during overnight family visits. That practice was nixed in the '90s in California and many other states. This was due to the fact that people could hide contraband items — knives, drugs or alcohol, for example — inside the food. "There's the stereotype of the knife in the cake. A lot of contraband items come in through visitors," says Krissi Khokhobashvili, a spokeswoman for the California Department of Corrections and Rehabilitation. In lieu of that, visitors now buy items from vending machines like burritos, candy bars and chips.
"The point of prison is to punish people, to take them away from their families and their cultures and largely, their history," Seuga says. "So it was kind of cool to see how people were eating their traditional foods and creating new foods. You really can't stop that longing for connection and culture."
Seuga was born in American Samoa, grew up in Hawaii and later moved to L.A. He slipped into trouble there as a teenager, got involved in gang life and was incarcerated. At 17, he was tried as an adult and sentenced to 17 years to life for second-degree murder. He served 21 years and left prison in 2010.
During his time in prison, Seuga received a GED at Pelican Bay State Prison and an associate degree at San Quentin. He graduated with honors from San Francisco State University with a bachelor's degree in sociology in 2013.
In prison, Seuga worked in the kitchen for many years. Outside of the kitchen, most inmates make do with heating water in a sanctioned water boiler ("hot pot") or "stinger" so that all the food cooked in cells are basically things made with hot water and a plastic trash bag. (Pans are not allowed in prison cells.) Ramen is called "soup." The ubiquitous instant noodle packages have become a form of prison money; a currency behind bars used to barter things since they are durable and last a long time.
One of the biggest food events was what Seuga calls a "prison spread" — basically an inmate potluck or communal meal. Prisoners shared their personal stashes bought from the canteen or stuff that people sent them. People snuck fresh vegetables from the chow hall to add to the mix or picked from secretly planted herbs in the yard since inmates were not allowed to plant things outside of sanctioned gardens (taking food from the chow hall back to prison cells was also not allowed). "From time to time, there'd be a plant raid. They would raid the yard and look at any organized growing of oregano or peppers," Seuga says. "People grow things here and there, and you're hoping people don't come and pick off your plants. People collect goose poop so they can fertilize their grounds."
The spreads usually consisted of the same ingredients: instant ramen, instant rice, Doritos, Fritos, lunch meat, cheese, canned tuna and "meat logs" (packaged snack sausages). To top it off, packaged condiments like mayo, mustard, relish and even sriracha would add to the flavor of the dishes.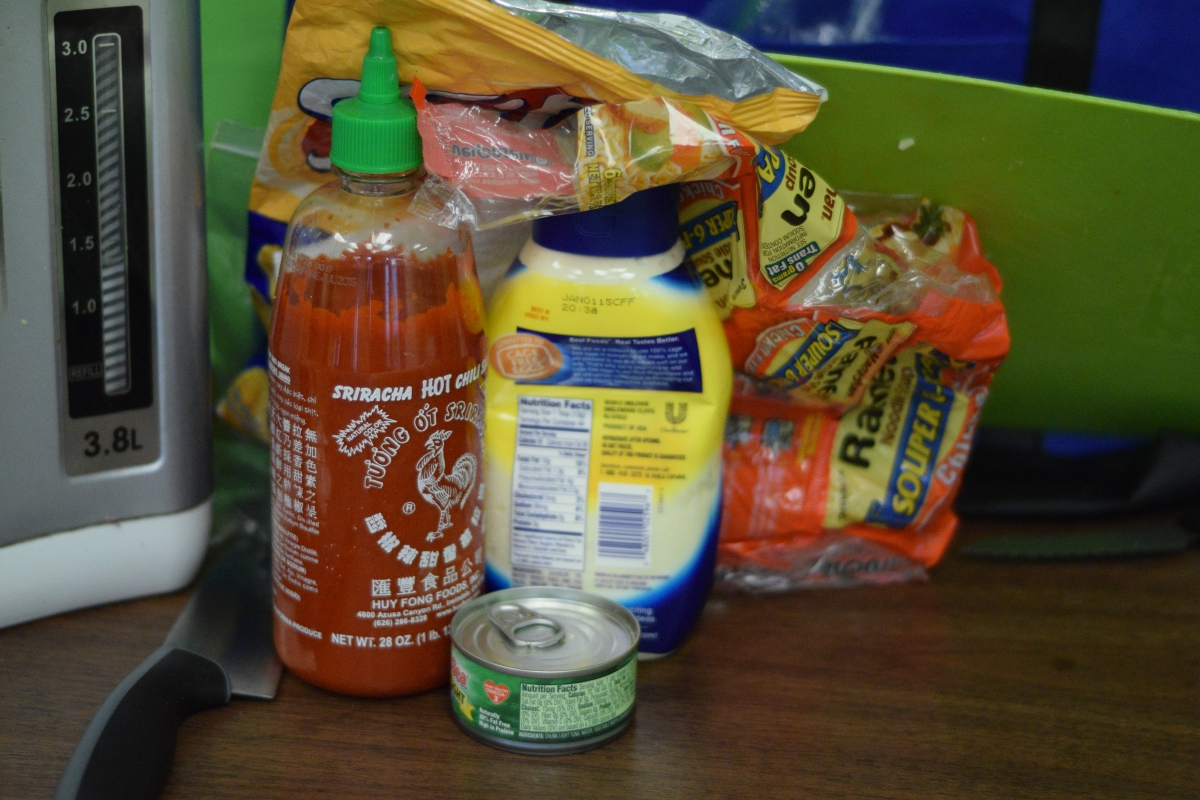 Some of the ingredients from the cook-off.
These spreads were a way for inmates to meet each other, eat, share their bounty and have some fun.
"We would encourage [other API inmates] to come out so everyone could meet each other," Seuga says about the spreads composed of between 20-50 API prisoners at San Quentin. "They could find out some of the programs on the upper yard that they had access to: college, school and other self-help programs."
For Seuga, who helped organize semi-monthly spreads and invited Asian and Pacific Islander prisoners to join and eat, it was a way to create a sense of solidarity among API prisoners. New prisoners would be invited to meet with the lifers and longtime prisoners. "Part of it was an effort to keep people that could potentially slip into trouble out of trouble," he says. In prison, one conflict or out-of-control person could end up locking down an entire section.
"Police didn't see us as threatening," Seuga says about the large spreads. "For the most part, we'd let the cops in the yard know we are not meeting about a riot. We are just gonna eat, and [they're] welcome to it."
The spreads generated excitement, including people who wanted to show off their best prison recipe. But it would eventually lead to a bond between the API prisoners. "Just having people think and talk about what they ate, people would start sharing stories," Seuga says. People who paroled and left prison would sometimes send care packages to inmates to contribute to the spreads.
Beyond the food, there are other reasons some API prisoners don't eat in the chow hall and prefer to stay in their cells: safety. As a small population, Asians are sometimes picked on. Agakian says one of his former cellmates, a Korean American, never ate in the mess hall. The mess hall is where fights can break out and people can get in trouble.
Asian Americans and Pacific Islanders are usually lumped into the "others" category in prisons, which were racially segregated in California. This means that "Mexican," a prisoner category, "blacks," "whites" and "others" are housed separately. "Other" is a catch-all category that includes Asians, Pacific Islanders, practicing Jews, Middle Easterners, Native Americans and even non-Mexican Latinos and immigrants and refugees from Africa. Overall, more than 60 percent of U.S. prisoners are ethnic minorities. The "other" designation makes it hard to track the exact numbers of API prisoners — Seuga himself was placed in three different racial categories during his time in prison: Black, Native American and Asian/Pacific Islander. While numbers are hard to pin down, a study published in UCLA's Asian American Studies Center's Amerasia Journal states that API prisoners skyrocketed 250 percent between 1990 and 2000 nationally.
API prisoners could even be changing the food culture in prisons. In some prisons, ethnicities do get mixed together, whether in their cells, on the yard, in the canteen or in programs. Zheng says he introduced some black inmates to canned dace. The inmates started asking their family and friends to go to Chinese markets and send it to them in their quarterly boxes.
---
As more and more prisoners return to the outside world, food has become an avenue for healing and skills development.
Prison gardening projects have sprouted up from New York to California.
Beth Waitkus founded the Insight Garden Program at San Quentin in 2002, co-designing the first flower and herb garden in a California prison with some of the inmates. A year later, they started planting vegetables. Now the program is in three California prisons and expanding to other states. She found that inmates participating in her curriculum, which includes environmental education, nutrition and mindfulness, had a change in values. Some who get out are hired by Planting Justice, an organization that helps people start their own backyard gardens in the San Francisco Bay Area.
The only rule is that inmates are not allowed to eat anything they plant. Collectively, they have decided to donate their fruits and vegetables to various nonprofits. Some are given to men re-entering society and to their families. "We can't feed 3,900 people with our small vegetable garden at the prison," Waitkus says. "It's an equity issue. I can't give food to some guys and not others."
In recent years, there are more programs training the formerly incarcerated to food industry jobs. At D.C. Central Kitchen, participants are taught a trade in the food industry. Many who have gone through the program end up working in restaurants and elsewhere. D.C. Kitchen also runs a kitchen making 5,000 meals a day for the city's homeless shelters.
The former inmates or "returning citizens" who join D.C. Kitchen need a job. They also need "a stamp of approval," says Alex Moore, chief development officer of D.C. Central Kitchen. The organization helps bridge the gap between restaurants and institutions looking for trained workers. "Initially, it was private restaurants that were the most receptive. Increasingly, we're seeing institutional hirers and hotels have stepped up their hiring of folks with criminal histories as well," Moore says.
D.C. Kitchen participants are self-selected and apply to the training program. One man who oversaw the prison breakfast line while he was incarcerated for 18 years became one of D.C. Kitchen's star students. When he came to D.C. Kitchen three years ago, he saw that they were purchasing prepackaged baked goods that included preservatives. He convinced the organization to fundraise for a mixer and began making whole grain, made-from-scratch breads and other baked goods. "People are loving it. He now supervises an entire shift," Moore says.
Chakravartula, a pediatric nurse by day, sees food as a way to heal past traumas and to help connect with culture. She got the idea to connect food with re-entry when she taught a class with Asian Americans and Native Hawaiian and Pacific Islander prisoners on indigenous forms of healing.
"We asked them what their grandparents did, like if you had a cold or if you were sad," she says. "So much of the medicine was food based, like soups that you would eat or herbs. I was thinking how much food is medicine, how much healing can come from food and how it's really still alive."
Seuga now runs the Roots 2 Re-entry program to support Asian and Pacific Islander prisoners who are re-entering society. Zheng is now co-director of APSC.
Suega also works part-time at Oakland-based coffee roaster Red Bay Coffee. When asked if eating prison spread food disgusted him, he says: "I grew up [in prison]. Even the bad memories are good memories because it allows you to remember how far you've come or what you've been through, that even the roughest times out here can never get that bad."
Others say they can't stand to see a spread or eat ramen again. "I actually hate ramen noodles because that's all they sold [in prison]," To says. "I'm very picky now when it comes to eating certain foods. I think I'm still traumatized because all they served were bland things like baloney, which didn't taste like baloney. I'm not very open to eating that stuff again."
And how did the cook-off turn out? Well, each dish was unique. The stir-fry and rice was definitely closer to what "authentic" Chinese food might be. Thao, who is Hmong American, had the help of a portable stove and frying pan but also put a prison-inspired twist to his stir-fry, using strawberry jelly to sweeten it. Agakian's jalapeno and tuna-mayo ramen dish was more like a pasta salad than soup; the jalapenos added a flavorful kick. He cut up the jalapenos using the lid of the tin can, a true prison cooking utensil. Zheng's Fritos-ramen-casserole was impressive; it was rolled up in a trash bag. Most of it was able to maintain its casserole shape as he sliced it into pieces. Seuga's tuna-ramen mixture, eaten on saltines, was surprisingly tasty as well.
The handful of folks there to support the program and cook-off declared it a tie, seeing as how everyone put in their best efforts while using limited ingredients and cookware.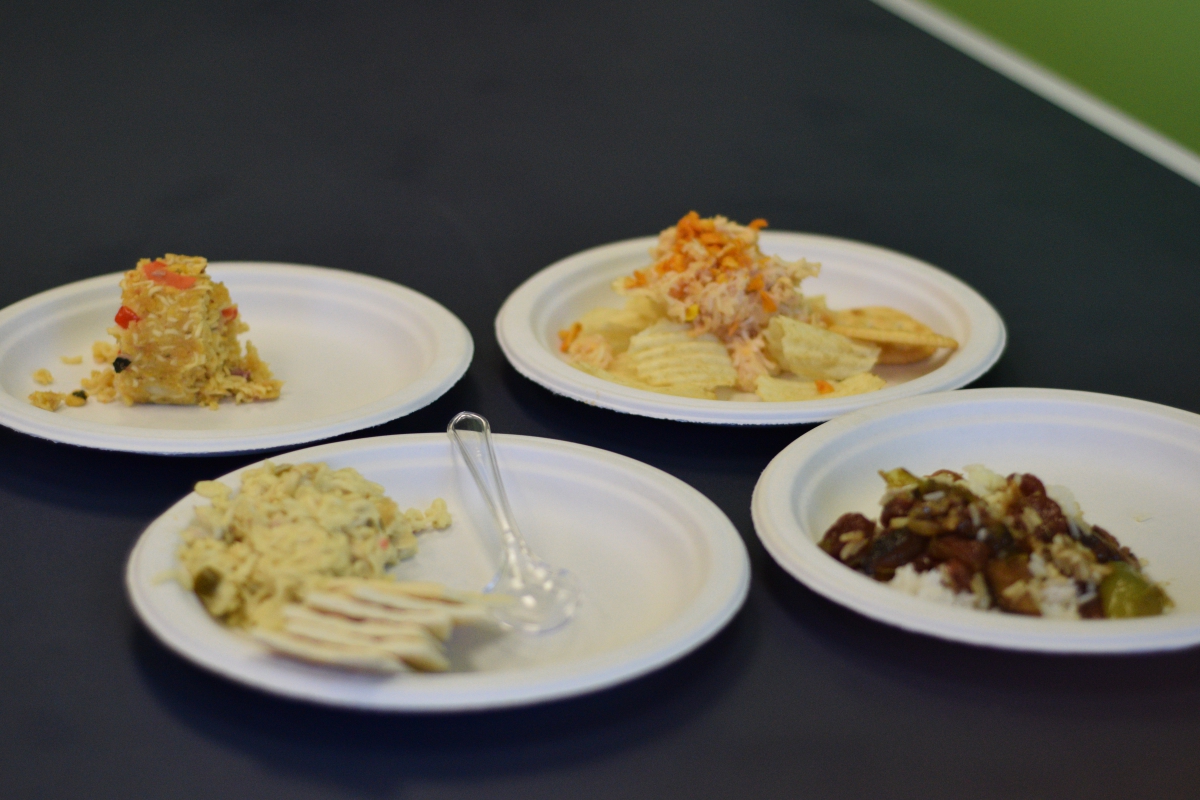 Clockwise from top left: Zheng's Fritos-ramen-casserole, Agakian's jalapeno-ramen-tuna on chips, Thao's Chinese sausage fried rice, Seuga's tuna-ramen on saltines.
I run into all the guys from the cook-off several months later at a friend's vegetarian ramen pop-up restaurant in Oakland. The men are waiting for noodles with fresh maitake mushrooms, eggplant and yams.
"I never thought I'd wait in line to eat ramen," Seuga says. This time, he left his saltines at home.
---
Photos by Kiwi Illafonte.