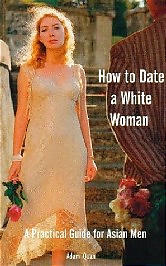 Perhaps you've already caught the link meme about How to Date a White Woman: A Practical Guide for Asian Men
by Adam Quan. Now Amazon.com has "bundled" Quan's book with the classic Ming Tan text How to Attract Asian Women, presumably written for non-Asian men. Although the books are meant for divergent readerships, one could purchase both today for a low price of $44.36.
So wait, do people actually buy this crap? A few more clicks on Amazon.com revealed even more fascinating facts about consumer habits: Customers who bought How to Attract Asian Women also bought such titles as How to Get Laid Today! The System, Korean Bar Secrets II, "Hello My Big Big Honey!": Love Letters from Bangkok Bar Girls and Their Revealing Interviews, The Complete Asshole's Guide to Handling Chicks and Don't Be Afraid to Ask!! How to Date a Beautiful Woman, Third Revised Edition (both exclamation points included). Those who went for Quan also went for such titles as Worse Than He Says He Is: White Girls Don't Bounce and, oh yes, Managing Herpes: How to Live and Love With a Chronic STD.
Quan, an "international business consultant," counts "dating women of many nationalities" as requisite knowledge in "providing the knowledge, framework and tools necessary for an Asian man to understand, to plan, and to put into action the steps to successfully date a white woman." Tan is, sadly, a fellow Chinese American writer who grew up in New York City. She owns an online dating site that specifically hooks up non-Asian men with Asian women—or, in her words, "has helped numerous men understand and attract Asian women." All quease-inducing racial politics aside, the true lesson learned in my online superstore browsing might best be summed up by this Amazon list: "Why I will NEVER Get Married".