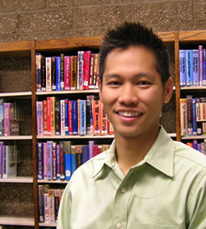 Contestant Jeffrey Sichaleune will represent the Midwest Asian American Students Union at Mr. Hyphen 2007. As a coalition of Asian American student groups, MAASU fosters political unity in the Midwest. It promotes leadership, encourages APIA students to work toward social change, and assists schools with the establishment of APIA student organizations and programs.
About Jeffrey:
Personality-wise, I am like a durian--so weird, but so good.
The Washington-born librarian is no stranger to the pageant circuit. A runner-up in the Mr. Asian University of Illinois at Urbana-Champaign pageant, Jeffrey has taken an incredibly active role in the Asian American community from his days at the Midwest Asian American Students Union and helping develop the UIUC Asian American Cultural Center in 2005, to his involvement with the Asian/Pacific American Librarians Association today. Discovering early in his academic life that engineering wasn't the path for him, Jeffrey eventually went on to earn a master's degree in Library and Information Science. His tenacity and intelligence sure puts the Dewey in our decimal!
I choose all of my activities with deliberate intention and hope to inspire and motivate others ... I would like to continue working with college students and mentor the next generation of conscious Asian American activists. Anecdotal evidence states that college is the best time of a person's life. Research points out that many people develop their Asian American identity in college, so the intersection of these statements can imply that college students are the foundation of the Asian American community. They are going to be our future leaders that serve interdisciplinary interests and are united by their common Asian American identity. ... As a self-identified Southeast Asian, I also think it is important to work with underrepresented Asian American groups to highlight the diversity of Asian Americans.
--
Mr. Hyphen 2007 will take place on Saturday, June 9
at the Oakland Asian Cultural Center.
Buy tickets here.