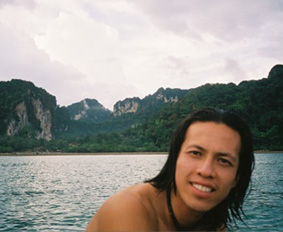 Mr. Hyphen 2007 contestant Jason Woo will represent the California Dragon Boat Association, which provides education and instruction to the general public on dragon boating; enhances bonding and interaction among different ethnic and cultural groups locally, nationally and internationally; and provides youth programs centered on paddling activities and leadership.
About Jason:
At the age of 20, I was blessed with the opportunity to join the San Francisco Fire Department. Being exposed to the real world so early in life, I felt that I had to mature quickly. Life is short, enjoy it. I never waste a second in my life.
Jason Woo can probably kick your ass. An avid snowboarder, cyclist, swimmer and any-form-of-physical-activity enthusiast, Jason was the recipient of the Firefighter of the Year award in 2004 for rescuing people whose boat had capsized off of Ocean Beach. And if that isn't enough, he's mentored youth in Daly City, CA through Asian American Recovery Services and is a member of the Asian Fire Association. However, it is his work with the Dragon Boat Association that has led him to forge cultural understanding using paddling sports, turned him into a high school Dragon Boat coach and ultimately, a competitor at the World Championships of Dragon Boating. Not that he'll use his incredible powers against if you if you don't, but giving Jason a hearty "Woo!" when hits the stage couldn't hurt.
--
Mr. Hyphen 2007 will take place on Saturday, June 9
at the Oakland Asian Cultural Center.
Buy tickets here.