It's Philip Lim for GAP! 
Here's the real ad, if you can't tell that it's him on the billboard: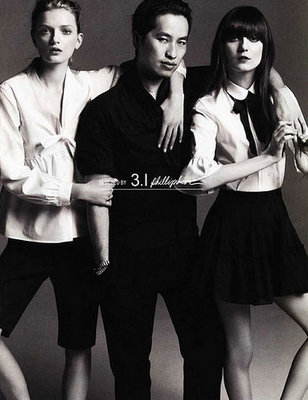 I was reading up on the campaign and apparently it's a "shirt" thing where GAP invites prominent designers to do a spin on the classic white shirts. 

Traditionally, we only see the pairing of Asian females with Caucasian males. This ad breaks that monotony. 

I showed the picture to my friend, who's Asian American himself, and he said that he doesn't like it when people put so much emphasis on seeing an Asian face at noticeable places. But I can't help feeling excited when I do. Sometimes, it's not even an excited feeling, but more just "hey, this dude is Asian." When I open a catalogue or a brochure, sometimes, that's just where my eyes go. They focus on the person with features like mine (or a really, really good looking handbag). My friend says that it shouldn't matter, because soon, our society is going to look multiethnic, and so will the things that we see. 

I feel skeptical. Just look at Abercrombie's stance on its marketing, and how it's clinging to a society that many of us are not familiar with, even in the face of the changing colorlines of America. 

I make a note of these things because I feel that it's relevant, to me. These things don't dictate the way I live, as they're mere encouragements. How do you feel about it?