This year's Work in Progress featured "Give Up Tomorrow," directed by
Marty Syjuco and co-director Michael Collins. The documentary began
over four years ago and is still in production, and is Syjuco and
Collins' first feature-length film. Shot mainly in Spain and the
Philippines, it centers around the island of Cebu's "crime of the
century" and 11–year imprisonment of Paco Larrañaga. Larrañaga is a
young mestizo (mixed race) man questionably accused of raping and
killing the Chiong sisters, two Chinese Filipino women. Paco's case
garnered international interest from human rights organizations and the
UN. The film includes footage of squalid Filipino prison conditions and
interviews with Paco's family, international lawyers and activists, and
Paco himself.
After the screening of a 10-minute trailer and series of clips, Greg
Pak offered his own praise and feedback for the co-directors' work,
then opened it up for statements from the audience. The hour-long
discussion touched on numerous aspects of the filmmaking process, such
as narrative, editing, interviews, use of music, pacing, protagonist
development, and the role of filmmaker partiality. The co-directors
also had a chance to "get inside the heads" of the audience, asking
questions ranging from emotional reaction to whether we liked the film
title.
From the segments I saw, "Give Up Tomorrow" is technically strong and
instantly compelling (although pretty clear from the get-go that the
filmmakers are advocating Paco's innocence). The story sparked my
interest not only in Paco's fate, but in the underlying issues of
colonialism, race, class and judicial corruption, and how these
influenced public hysteria surrounding the trial. It was very cool to
witness the analysis process and hear constructive suggestions from the
audience, which the filmmakers appeared to take very seriously. Syjuco
and Collins are returning to the Philippines in two weeks, and it seems
the workshop will be very influential on their final product, which I
eagerly await.
"Gone Shopping"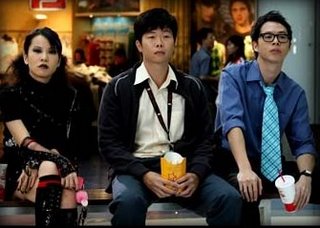 Afterwards, I headed uptown to the Asia Society to catch the US premiere of "Gone Shopping" (2007), Singaporean Writer/Director Li Lin Wee's first feature film. It's been nominated for AAIFF's Emerging Director Award, and selected for competition in the 11th Annual Shanghai International Film Festival. The DVD will be released next month in Singapore. Although Li Lin Wee was unable to make it, her sister read her introduction to the film, in which she said she'd been "preparing for this story my whole life… the call of the mall is always there."
Gone Shopping is set in various Singaporean malls and follows several characters whose lives briefly overlap. It features a great cast, such as Kym Ng as Clara Wong, a pretty and shy tai tai (wealthy woman of leisure) whose life and rites of passage truly revolve around the mall: for her there is "no truer home." As a child, she would only stop crying when taken to a store. She met her husband at the mall, her estranged mother works at the food court, and her father even died on the mall bench. She desperately hugs boutique salesgirls, her closest approximation to friends. Clara sleepwalks through a loveless marriage (her husband is rumored to have a secret wife and kid in Taiwan) until she happens upon old flame (and hot stud, might I add) Valentine Tan (Adrian Pang), who manages the bedding & linens department. It is only with Valentine that she doesn't feel the urge to shop. 
Sword-toting male lead Aaron Hu (Aaron Kao) is a young office drone who criticizes "yuppies" for their consumer culture. He skips work and hangs out at the mall with his best friend and alluring younger sister, Hui Hui (Magdalene Tan) who prefers to be called "Princess Hayumi," and is an avid practitioner of Tokyo Haru street fashion (think goth kinderwhore style).
 
Seven-year-old Renu (Sonya Nair) is perpetually lost by her parents. She spends her days and nights in Little India's Mustafa mall and has several run-ins with (my favorite character) a drag queen (Rizman Pitra) who prays to mannequins and steals shoppers' jewelry. Naughty tranny!
Overall, I loved the film's vibrant imagery, attention to detail and ethereal soundtrack, which are interwoven well with the film's multitude of cultures and languages (English, Cantonese, Mandarin and Tamil), emblematic of Malaysia's cultural intersections. Some of the dream-like sequences remind me of my favorite scenes from Lee Chang-Dong's "Oasis" (2002). "Gone Shopping" is also full of colorful characters, playful humor, and snappy dialogue. Especially memorable is a hilarious scene when Clara has a knock-down, drag-out, hair-pulling catfight with another territorial tai tai.
 
Director/writer Li Lin Wee gracefully explores the mall as a site of fantasy, refuge and security. Expectations are clear and exchanges in a buyer-seller relationship are predictable, unlike the outside world. The mall, in all its passivity, can also function as a replacement for family, for friends, for love. But it can also be eerily inescapable: at various points the characters either physically or emotionally cannot get away from the mall. The film also examines the connections between consumerism and happiness: can it be bought? Are people more fulfilled through things than each other? 
Aaron Kao, who is actually a jewelry designer, came up for an audience Q &A after the screening. Apparently, this is his first time acting, and he gave a stellar performance. He met Li Lin Wee while taking a film elective, and she later wrote Aaron Hu's character with Kao in mind. When asked by the audience what films he would be working on next, he seemed pretty uninterested in following an acting career. 
"Gone Shopping" also made me kind of nostalgic. I don't know about y'all, but growing up, the mall was the SPOT, and I was there just about every weekend. I knew its layout like the back of my grubby consumerist hand. My favorite places to hit up were Orange Julius (99 cent onion rings!), 5-7-9 (shut up) and the Zumiez sale rack (for that Stooopid Big XXL T-shirt fashion aesthetic). Sometimes when a store closed (alas, Garden Botanika), it would be like losing a friend.
Although I like to think I've classed it up a bit since then (H&M Soho—holla!), I still find comfort in the familiarity of malls—that ubiquitous baked pretzel smell, earring explosions at Claire's, and of course, the throngs of shoppers. I now live in NYC, where malls are not the typical setting for a shopping experience, but the rituals remain—retail therapy—what Clara Wong calls a "shopping bond" shared by all Singaporeans, and what lead actor Aaron Kao feels is a universal human trait.
 
Anyone wanna share their relationship to malls and shopping? Fond memories?  How do people take comfort in the mall and its offerings?

Cynthia Brothers is guest-blogging for Hyphen.

This blog entry is graciously sponsored by Toyota Matrix. Check out
their Director's Chair website dedicated to the best in Asian American
film.