Asian American identity politics plays a recurring role in the
film, and it's easy to see where C-dub's worldview overlaps with Tsai's. At a celebrity panel on Saturday, he engages in mild
disagreement with fellow actor Aaron Yoo, co-star of the controversial
blackjack heist film "21." The film came under fire for mostly
whitewashing the cast of a true story based on a group of Asian
American MIT students, and while Yoo defends the choice of Jim Sturgess as the lead, citing Hollywood norms and colorblind casting, Tsai doesn't mince words about the way he feels.
"My big disappointment with the film — when you have names like Kevin Spacey and Lawrence Fishburne — this would have been the perfect place to stick in Asian Americans [as leads]," he says.
Gesturing at Yoo and panelist Leonardo Nam ("Sisterhood of the Traveling Pants"), he adds, "There are two right here."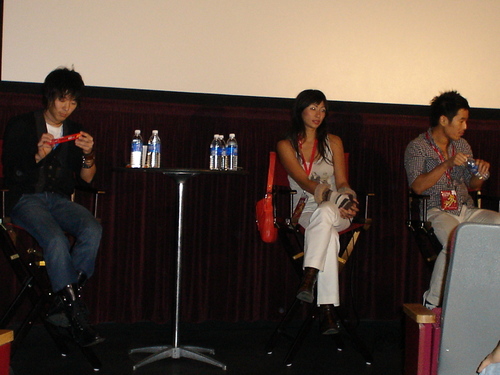 L-R:Aaron Yoo ("21"), Smith Cho ("Ping Pong Playa," "Knight Rider,"), and Leonardo Nam ("Sisterhood of the Traveling Pants" 1 & 2) at the SDAFF celebrity panel on Oct. 11.

This blog entry is graciously sponsored by Toyota Matrix. Check out their website dedicated to the best in Asian American film.