I admit I'd much rather stuff my face than my stocking. For those who feel the same, I recommend the Chinatown Ice Cream Factory in New York City. An award-winning Chinatown landmark for over 20 years, they offer handmade ice cream with distinctly Asian flavors like tarot, pandan, black sesame, and my personal favorite -- almond cookie. They also sell ice cream cakes, red velvet cupcakes (with a portion of profits donated to API organizations), and gift coupons that can be redeemed for scoops. In your face, Haagen Dazs.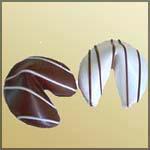 Chocolati Cafe, with multiple locations in Seattle, specializes in hand-made gourmet truffles by Chocolatier Christian Wong. Popular ones include Mint Espresso Dome, Kahlua, and Raspberry's Revenge. This place is no joke: the truffles have over 80 percent cocoa content and a rich semisweet ganache. At $1.35 per truffle, they're much more affordable than some of those other fancy-pants choco joints. I should know -- because I -- uh, used to work there. And I ate up half the whole dang stock, which is totally unrelated to why I am no longer employed there. Anyhooz, they also make flavored hot chocolates, gift certificates, and plenty of holiday-themed and pre-wrapped chocolates for easy gift-giving. Chocolati's Downtown Library location also donates some proceeds to the nonprofit Fare Start, so you can satisfy your conscience and your sweet tooth (you gluttonous beast).


Mavin Foundation, the nation's leading resource on multiracial individuals and families, offers a bunch of cool products for the mixed and mixed-affiliated in your life. The Multiracial Child Resource Book is chock full of info for parents and health professionals on raising healthy mixed heritage youth. You can also get back orders of Mavin Magazine and "hybrid vigor" shirts. The documentary Chasing Daybreak follows a group of youth traveling cross-country in an RV to raise awareness about multiracial issues, Road Rules style. The DVD also includes an interview with then-Illinois Senator Obama.
For your aspiring filmmaker friends (and who isn't in New York), buy a membership to the Asian American Film Lab. For $30 a year, they get to participate in free filmmaking workshops, discounts for ImaginAsian Theater screenings, discounted entry to the 72 Hour Film Shootout, reduced tickets to the Asian American and New York Korean American Film Festivals, and last but certainly not least, $2 off a subscription to Hyphen!
Be sure to pick up Love is Growth, the new album by Taiyo Na, a New-York based emcee, singer, and songwriter. Drawing on varied influences, from Nas to Curtis Mayfield, Taiyo switches effortlessly between soulful R & B, praise songs for his immigrant moms, and head-nodding hip-hop. The album also features collabs with NYC artists like Koba, Vudoo Soul, and jazz violinist Jason Kao Hwang. Love is Growth women's tees will be available for order next week. Take a sneak peek here.
For some holiday reading, grab a copy of Hanalei Ramos' Letters to Martha (Stewart), written during the homemaker's incarceration. It's a powerful (and hilarious!) post-break-up account of the author's struggles with co-dependency and depression.

If you've ever worked as an office drone, Ed Park's Personal Days will make you both laugh and cringe with familiarity. Park perfectly captures the fear and loathing towards middle management, email blunders, and existential anguish of the New York cubicle grind.