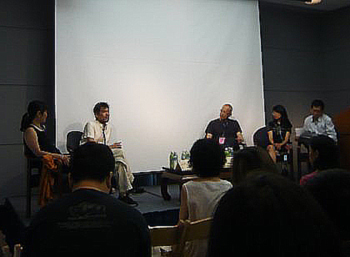 I met up with Hyphen's publisher Lisa Lee for some of the events going on at the AA International Film Festival in Manhattan. For those who haven't been to the Asia Society building, it is this huge, futuristic, stylish building in Manhattan's Upper East Side (70th at Park) that hosts all sorts of events throughout the year. Lisa has been at the festival since the start and been to many screenings. We went to the opening night afterparty at Forbidden City bar, then I joined her for films one day, and also a round table discussion the next day, as well as other random activities.

The films we saw were 'Heart Squared' and 'Option 3'. 'Heart Squared' was a nice short that was surreal, eccentric, and very stylish, and since there's no easy way to explain the film, I won't even try. 'Option 3' was a full length movie directed by Richard Wong, who was there for the screening and gave a brief talk at the beginning. Unfortunately, I couldn't sit through the entire thing, and though I kept waiting for it to get better, I ended up leaving midway. It wasn't bad per se; I just didn't personally enjoy it very much.
The next day was a very interesting panel discussion on
Asian and Asian American aestheti
cs, with David Henry Hwang (playwright, M. Butterfly), Mary Ping (fashion designer), Billie Tsien (architect), Wayne Wang (filmmaker, The Joy Luck Club), and Dennis Lim (writer, editor) on stage
.

The main topic was about what were Asian American aesthetics in various forms of art and entertainment, however the discussion branched off into interesting admissions or comments regarding identity, race, design, motivations behind their works, a generational gap amongst Asian Americans, how Asian Americans can create a culture or community that goes past an original political reason, as well as some personal anecdotes. For me personally I enjoyed finding out how David Henry Hwang thought/spoke, and finding out Wayne Wang has the best laugh ever.

Some common points were made during the panel, like how Asian American aesthetics right now seem to be whatever the dominant culture in America defines or stereotypes Asian America to be, which we should all know is a reflection of how Asian Americans don't really have their own market or support 'their own' right now, which forces artists to pander to mostly non-Asian consumers, who in turn influence what is considered Asian or Asian American. Another point was about how some of the most famous works in Asian American culture, are basically those that received the most acclaim or commercial success from the dominant culture, as opposed to being chosen by the Asian American community themselves, which can distort Asian American art.

To add a personal comment about the generational gap brought up during the panel, I would agree that the previous generation and younger generation are dealing with different issues, values, and goals, as the younger generation attempts to define Asian American culture.  I found it interesting that Wayne Wang was on this panel and passionate about the main topic, as I had long resented him for 'Joy Luck Club' and the hugely damaging effects it has had for Asian America, Asian men, and stereotypes about Asian sexism/oppression that are rampant in America, that get reinforced through forced readings of Amy Tan's book and screenings of the Uncle Tom film in high school curriculums across the country. The book/film may have been a huge breakthrough for the previous generation of AA artists, but for my generation, maybe I'm speaking only for myself, but I don't think there will be a thank you.

Anyway, I think the panel topic itself was flawed; some of the panelists seemed to go about the solution backwards, first stereotyping or thinking about what Asian aesthetic or culture or behavior was, and then applying it in whatever art field they were in, when I think it should happen in reverse, basically instead of following generalizations or imitations, to be innovative or original or creative, and that by simply being Asian American you are helping to define the Asian American aesthetic. To clarify or explain what I mean, think about what it means to define the Latin American or European American aesthetic, and think about what came first, the creator or the generalization.

By the way, on a totally random side note, Lisa Lee has been doing a great job the entire time promoting Hyphen and hustling for subscriptions.