Upon signing the bill, Obama said:
 
"I sign this bill for my daughters, and all those who will come after us, because I want them to grow up in a nation that values their contributions, where there are no limits to their dreams and they have opportunities their mothers and grandmothers never could have imagined."
 
I found the reference to his daughters particularly moving since black women are one of the lowest paid demographics in the United States, second only to Latino women -- which just emphasizes the point that this new law isn't singularly a flashpoint in women's history, but a stepping stone for all minority groups in this country.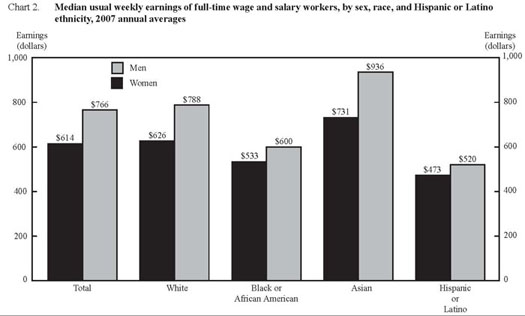 Source: Bureau of Labor Statistics
I don't mean to underplay the significance of gender, however. After all, Asian Americans may be the highest paid demographic in the United States (and that's across occupations, not just in math and science, people), but Asian American women still earn significantly less than their male counterparts -- a fact that I have a hard time rationalizing, considering that, for the last 20 years, more women than men having been earning college degrees.  
 
I guess even model minority status doesn't trump patriarchy.
 
In any event, I'm finding myself getting incrementally less pessimistic about the state of the world every day that Obama is in office. Let's hope that he keeps this up, and continues making our country a safe place for people of all demographics.