[Okay, before I get started on my South Asian pics, I just wanted to have a quick aside about the opening and closing
films of the festival this year. Notice how neither of them are Asian
American? I'm not sure exactly what the politics around this are, but
the impression it gives me is that the festival curators did not think
any of the Asian American selections were strong enough to anchor the
festival. I am a little disappointed because I feel like the SFIAAFF is
one of the places where Asian American narratives are really
celebrated, as opposed to mainstream Hollywood, where Clint Eastwood
has more success making films about our community than we do. But the
SFIAAFF has always straddled this Asian/Asian American divide and maybe
I'm just hung up on identity politics and it should all just be about
the film, right? What do people think?]
Anyway, I digress. This year's festival has more than 16 films from South Asian filmmakers! I think the selection is a marked improvement over the last few years and there are some bona-fide winners. My favorites were in the documentary category.

The Mosque in Morgantown and Project Kashmir make a great pair of docs to watch this weekend. Mosque
tells the story of writer Asra Nomani's struggle for women's rights in
her own West Virginia Islamic community. I'd read Nomani's Standing Alone in Mecca,
which chronicles her controversial activities of coming in through the
front door of her mosque and praying in the same room as men, but this
film is amazing because it doesn't only focus on Nomani -- but gives
insight into this particular Muslim American community. What you think
is going to be a cut and dry story about women's rights turns into a
messy tale about the ways in which we interact inside our ethnic and
religious communities in America. In a similar way, the complicated
issue of Kashmir becomes even more nuanced through the relationship of
filmmakers Senain Kheshgi and Geeta V. Patel, and their own questions
of identity and political conflict. Shot by Ross Kauffman (Academy
Award winning cinematographer of Born Into Brothels), Project Kashmir
captures the ruined beauty of this militarized paradise and some really
emotional and frightening moments between the two friends, and also
with the Indian military. Both of these films really shed light on the
complexities of being South Asian American in ways that I felt haven't
been explored before. It wasn't just about the difficulty of
assimilation, but the difficulty of our identities in a shifting global
world.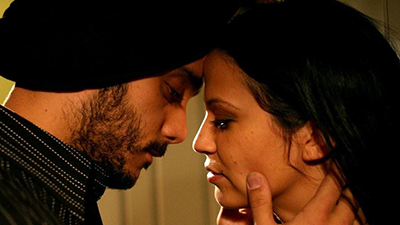 Of course, the narrative films haven't yet reached this level of complexity, but I found Ocean of Pearls'
simple story of a second generation Canadian Sikh doctor and his
identity/faith crisis to be actually quite compelling -- think Grey's Anatomy
meets South Asian Identity 101. Sure, there are some ridiculously
melodramatic scenes like the one when main character Amrit is being
detained by airport security because of his turban and then suddenly a
child stops breathing and Amrit is the only one who can save him -- or
the scene, a la Ghost's pottery scene, when a white girl
interested in Amrit's culture asks if he will wrap her head in a
turban. (Really??!?) Melodrama aside, Iranian American actor Omid
Abtahi carries the film with his brooding good looks and director Sarab
Neelam -- himself a Sikh doctor -- helps keep the medical drama side of
things authentic and sharp. Look out for Navi Rawat of Numb3rs and James Earl Jones' look-a-like Ron Canada in supporting roles.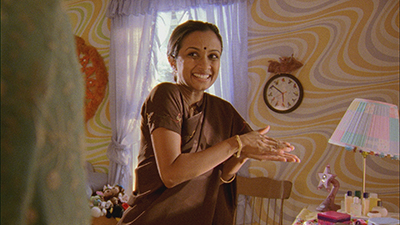 Karma Calling,
on the other hand, tried to do way too much, and none of it very well.
Apparently, the film was a continuation of a short focused on a Mary
Poppins-like Indian auntie who comes to live with a dysfunctional
Indian American family in New Jersey, but I found the acting to be
forced and the Call Center and wannabe Indian rapper jokes to be done
to death. [Though the little Indian girl whose dream is to have a Bat
Mitzvah and the wannabe Indian rapper's album is titled: "Hapa Means
Weed in Japanese" -- that made me laugh.] There was some good talent
from Loins of Punjab Presents,
but overall, I wish that Indian Americans would leave the whole
jokey/magical realism thing alone and focus on a different kind of
narrative -- something grittier. I didn't get to preview Deepa Mehta's Heaven on Earth, but am wary of it's over-familiar tropes of immigration, marriage, domestic violence and magic.
The 3rd-i Shorts are always a must-see, and this year USC-film school graduate Sushrut Jain's gripping Andheri -- about a runaway maid in Mumbai -- will stay with you for weeks afterwards. Australian Tala is also a great short exploring family breakdown. I've also heard a lot of great things about South Indian film Kanchiveram.
So, don't sleep this is the best South Asian line-up at the SFIAAFF in years -- get out there!
This blog entry is graciously sponsored by Toyota Matrix. Check out their website dedicated to the best in Asian American film.