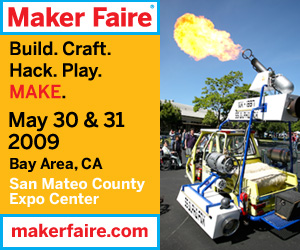 Hyphen and Maker Faire, the world's largest DIY festival celebrating creative innovation, invite you Hyphenites to share your answers to "What would you do to reMAKE America?"
10 lucky readers with the most intriguing and thoughtful answers will receive one free weekend pass (worth $50) to this two-day extravaganza where entrepreneurs, risk-takers and artists collide amidst flamethrowers, indie fashion, rock bands, and rockets on May 30 and 31.
Email your groundbreaking answer to han(at)hyphenmagazine(dot)com by: Friday, May 22, 2009.
Please also include your name, age and mailing address in case you win the prize.